Dismantling Racism: A Toolkit for Parents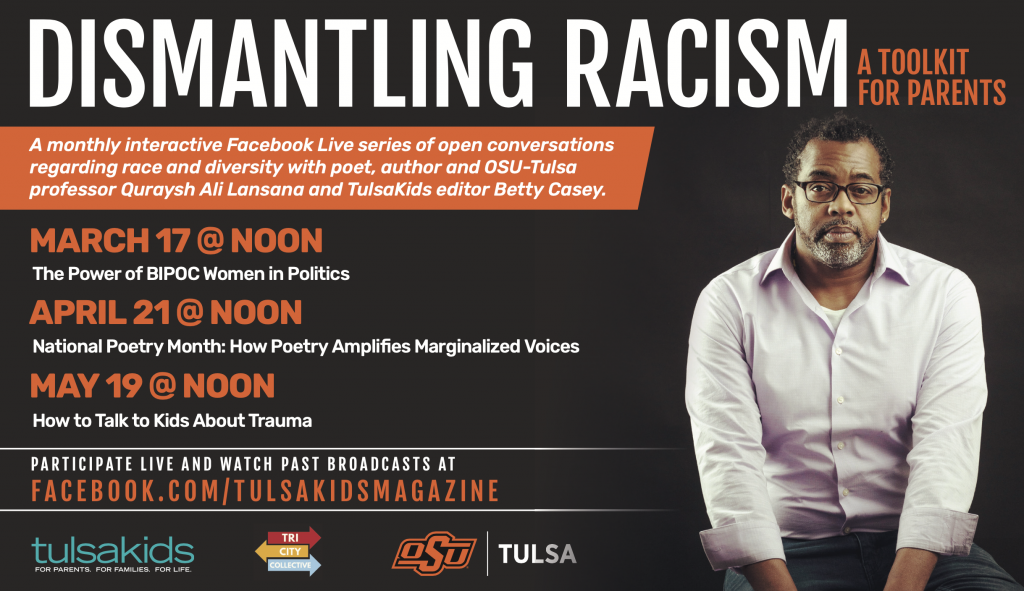 In August 2020, Quraysh Ali Lansana, a poet and professor at OSU-Tulsa, joined TulsaKids Magazine for a weekly Facebook Live series designed to help parents understand systemic racism and how to address it with their children. OSU-Tulsa, Tri City Collective and TulsaKids Magazine rebooted the Dismantling Racism series in October 2020 as a monthly series, which ran through March 2021. Watch past videos below.
This session provides overview of systemic racism, white privilege and anti-racism.
Session 2: Teens Talk about Racism
Quraysh Ali Lansana are joined by a small group of teenagers from different schools and backgrounds, who will discuss their experiences and understanding of racism.
Session 3: Racism Toolkit
This session will present practical approaches to addressing systemic racism with your kids using art, games, curriculum and other resources.
Quraysh Ali Lansana and Betty Casey moderate a panel discussing the upcoming election and how it will affect the lives of local families. Panelists include Andee Cooper, who has a son with disabilities; Hannah Middlebrook, who has a transgender daughter; and K. Luna, a Latina college student. Watch this informative discussion here.
Quraysh Ali Lansana and Betty Casey are joined by members of the Native American community to discuss the origins and common misconceptions of Thanksgiving.
About the panelists: 
Elisa LeSieur: Elisa LeSieur is an Academic Counselor and Pre-Collegiate Coordinator for OSU-Tulsa and member of OSU's Native American Faculty and Staff Association (NAFSA). Elisa grew up on the Menominee reservation in Wisconsin, where she spent the entirety of her childhood and a large portion of her adult life. Now living in Tulsa, she works with students from different backgrounds and always tries to encourage them to embrace their heritage.
Anissia West: Anissia West is an educator and equity consultant. She serves as the Coordinator of Student Life and Engagement for the Tulsa Public Schools district and provides equity centered school design and intercultural development coaching for organizations locally and nationwide. Through her work, she aims to build bridges toward healing and reconciliation.
Local religious leaders join Quraysh Ali Lansana and Betty Casey in discussing representation during the holiday season.
About the Panelists: 
Imam Mohamed Herbert: Imam Herbert was born and raised in Baltimore, Maryland. At the age of 12, he completed his hifdh from the Islamic Society of Baltimore. He later moved to Irving, Texas to learn Arabic and continued his studies at the Qalam Seminary. He graduated from the seminary certificate program in 2014 and began his service as the Imam of the Mansfield Islamic Center. He then continued his studies full-time in the Alimiyyah program at Qalam while still serving as the Imam. In 2019, he graduated from the Alimiyyah program and moved to Tulsa, Oklahoma where he currently serves as the Youth Director and Assistant Imam for the community.
Rabbi Lillian Kowalski: Hailing originally from Albany, NY, Rabbi Lillian (Lily) Kowalski was ordained in May 2019 from Hebrew Union College-Jewish Institute of Religion in Los Angeles, CA. She holds an MA in Jewish Education from the Rhea Hirsch School of Education at Hebrew Union College, and a BA in Judaic Studies, Music (Cultural Studies), and Women and Gender Studies from Brandeis University in Waltham, MA (outside of Boston). Her published graduate school work focused on the intersection of the creative arts and sacred texts as well as the power of language in influencing our relationships. Her work both before and during graduate school numbers a dozen different Jewish organizations in different areas around the country, from New York and California to Washington (both state and DC) and Arizona. She currently serves as one of the Rabbis and Director of Education at Temple Israel here in Tulsa, OK.
Rev. Amy Venable: Rev. Amy Venable is a native Tulsan, and a graduate of Booker T. Washington High School. She studied French and International Studies at Washington University in St. Louis, and spent a year abroad at the Université de Caen in France. She has a Master of Divinity from Perkins School of Theology at SMU in Dallas. She was the Senior Pastor of St. Stephen's United Methodist Church in Norman, Oklahoma, for seven years, and served as Primary and Middle School Chaplain at Holland Hall School here in Tulsa. She is now Minister of Pastoral Care at Boston Avenue United Methodist Church in Tulsa. She has ridden her bicycle across the state seven times on Oklahoma Freewheel, and loves to be in plays. She welcomed her sister into her home from the National Tour of "Frozen" eight months ago, when the tour had to shut down and all of the pit musicians and actors were sent home. She's grateful for the companionship during this pandemic time.
Orisabiyi Oyin Williams: Kristi Williams a.k.a. Orisabiyi is the great great granddaughter of Creek Freedmen, 1874 Supreme Court Justice Jesse Franklin (Dawes #1567) and also the great granddaughter of Cherokee citizens Lillie Vann (Dawes #2736) and Abraham "Abe" Mayberry, a World War 1 Veteran.
She is a community activist/advocate/organizer, political consultant and campaign manager for Tulsa's District 1 Councilor Vanessa Hall Harper as well as author of Healing Me for Me, published in 2015.
She serves as Chairperson of the Greater Tulsa African American Affairs Commission and is a member and organizer of the 1921 Tulsa Mass Graves Investigation Committee. Her previous affiliations as the Chair to Tulsa's Coalition for Social Justice spearheaded the efforts to rename the Brady District in Tulsa, Oklahoma and prevailed.
In 2014, she was awarded, "Community Activist of The Year," from the Alpha Phi Alpha Fraternity. She has been a featured speaker for YWCA's Stand Against Racism Campaign, Embrace Yourself Foundation as well as a panelist for race relations and activism/advocacy.
She has worked with Lebron James Spring Hill Company and CNN Films documentary, "Dreamland: The Rise and Fall of Black Wall Street." And is currently working on a documentary with PBS about Greenwood. She remains driven and encouraged to speak out against injustices on all fronts.
---
Betty Casey and Quraysh Ali Lansana are joined by Nekki Reagan-Neeley, Assistant Vice President for Community Engagement and Student Services at OSU-Tulsa and Reverend Dr. Robert R.A. Turner, pastor at Historic Vernon AME Church. Nekki Reagan-Neeley also represents OSU-Tulsa on the Dr. Martin Luther King Jr. Commemoration Society. They discuss the words of Dr. Martin Luther King, Jr., how the Tulsa community could do better in terms of honoring his legacy and more.
Reverend Dr. Robert R.A. Turner: Rev. Dr. Robert Richard Allen Turner is a millennial who is passionate about his calling to serve this "present age" by speaking truth to power, and by following the Word as printed in Isaiah 61 to "preach good tidings to the poor…heal the brokenhearted…proclaim liberty to the captives, and the opening of the prison to those who are bound."
Currently, Dr. Turner is the pastor of Historic Vernon A.M.E. Church, in Tulsa, Oklahoma, which has the only edifice which survived the 1921 Race Massacre on Greenwood. Additionally, Dr. Turner is now the Academic Dean for Jackson Theological Seminary, in Little Rock Arkansas. He sits on the National African American Reparations Commission, Board of Trustees for the American Village, the 1921 Race Massacre Centennial Commission, Tulsa Mass Graves Oversight Commission,  President of the Historic Greenwood Main Street District, the Board of Directors for the Grit for Democracy, Terence Crutcher Foundation, North Tulsa Task Force, Demanding a Just Tulsa, and the Advisory Board of the Blackburn Institute of the University of Alabama and the chairperson of the board for the Turner Ministry Association 501(c)3. Learn more here. 
Nekki Reagan-Neeley: Nekki Reagan-Neeley is a native Tulsan; born and raised in North Tulsa. She is a proud graduate of Booker T. Washington High School. She holds degrees from Tulsa Junior College, Northeastern State University, and the University of Oklahoma. She currently serves as the Assistant Vice President for Student Services and Community Engagement Oklahoma State University-Tulsa. She is also an adjunct professor of Communications at Tulsa Community College and serves as a board member on the Martin Luther King, Jr. Commemoration Society.
---
TulsaKids Editor Betty Casey is joined by the authors and illustrator of "Opal's Greenwood Oasis" to talk about the process of creating this beautiful book!
The book is available for purchase at https://thecalliopegroup.com/product/opal/ and will be officially released in February 2021.
About Skip Hill: Skip Hill is a mixed-media visual artist in Tulsa, Oklahoma whose art is in public and private collections throughout the U.S., Europe, and Latin America. His early inspiration for making was established in childhood through a love for reading and when his father introduced Hill to the collage works of Romare Bearden (1911 –1988). Beyond his artistic innovation, Bearden's activism and commitment to the Civil Rights Movement influenced Hill's commitment to using art and art education as a vehicle for affirming positive personal and social change. That commitment and inspiration is at the heart of his process and in every line of the illustrations for Opal's Greenwood Oasis.
About Najah-Amatullah Hylton: Najah-Amatullah Hylton teaches English in Oklahoma City Public Schools. Her goal is to encourage kids to let their creativity work for them instead of getting them in trouble. She also seeks to bridge the gap between teachers, students and the community.
Hylton has written for several magazines and online publications– The Loop Magazine, OKC.net, VANE Magazine, Urban Roots and Soul Medicine among them. Her first poetry book, The Risk to Bloom, was published in 2014. In 2015, Hylton wrote the poem "Black Future" for the hip-hop artist Jabee, who turned the poem into an album: "In the Black Future There's a Place So Dangerously Absurd," released in 2016. Hylton is also a member of Tri-City Collective, an education and arts group.
About Quraysh Ali Lansana: Quraysh Ali Lansana is the author of eight books of poetry, including The Skin of Dreams: New and Collected Poems 1995-2018 from Calliope, in addition to textbooks and works for children, including A Gift from Greensboro, also illustrated by Skip Hill.
A former faculty member of both the Writing Program of the School of the Art Institute of Chicago and the Drama Division of The Juilliard School, Lansana served as Director of the Gwendolyn Brooks Center for Black Literature and Creative Writing at Chicago State University and was an Associate Professor of English/Creative Writing.
Lansana currently fills several roles at Oklahoma State University-Tulsa: Acting Director of the Center for Truth, Racial Healing and Reconciliation; Writer in Residence for the Center for Poets & Writers; Lecturer in English and Africana Studies. He is also a Tulsa Artist Fellow and the co-founder of Tri-City Collective.
---
In honor of Women's History Month, Betty Casey and Quraysh Ali Lansana are joined by Dr. Tiffany Crutcher, Councilor Vanessa Hall-Harper and Alicia Andrews, Chair of the OK Democratic Party. The discussion begins by examining a quote by Shirley Chisolm, "If there's not a seat at the table, bring a folding chair."
Dr. Tiffany Crutcher: Dr. Tiffany T. Crutcher is a native of Tulsa, Oklahoma who was thrust into the national spotlight following the death of her twin brother, Terence Crutcher, who was shot by a police officer in Tulsa, Oklahoma, while holding his hands in the air. The murder of her brother compelled Tiffany to speak out against police brutality, particularly the killing of unarmed black men. She has chosen to turn her personal tragedy into an opportunity to bridge fear, mistrust, and help transform a justice system that has long perpetuated injustice dating back to the 1921 Tulsa Race Massacre where mobs of white rioters burned down her great grandmother's prosperous community known as Black Wall Street. Dr. Crutcher has remained committed to organizing coalitions throughout the country that promote the interests of minority communities. Crutcher is the Founder of the Terence Crutcher Foundation and the Demanding A Just Tulsa Coalition. The foundation's primary focus is criminal justice and policing reform, providing scholarships to African-American students, community & youth development, and policy advocacy. Learn more here.
About Vanessa Hall-Harper: Vanessa is a Tulsa Native who graduated from Thomas Edison High School in 1989. Vanessa attended Jackson State University in Jackson Mississippi where she earned a Bachelor of Arts degree in Political Science/Pre-Law in 1993. She also received a Certificate in Paralegal Studies from The University of Tulsa in 1995.  In preparation for running for the office of City Council, District 1 (2014), Vanessa returned to school and earned her Master of Science in Management (MSM) degree in 2013 from Southern Nazarene University.
Vanessa Hall Harper is currently a Manager for The Tulsa Health Department and a Political Science Adjunct Professor at Tulsa Community College. Vanessa has been married for 25 years to Lt. Marcus Harper (Tulsa Police Department) and they have one 19 year old daughter, Kaylyn. Learn more here.
About Alicia Andrews: Alicia Andrews is now serving her first term as Chair of the Oklahoma Democratic Party. Most recently, she served one term as the Secretary of the Tulsa County Democratic Party. As a staffer on the 2018 coordinated campaign, she was privy to the party structure on a statewide level and was compelled to run.
Alicia has long been an advocate for causes she believes in. She volunteered for Big Brothers and Big Sisters of Green Country and canvassed for several campaigns.
Alicia is currently a Realtor with a corporate background in strategic planning. Alicia was raised in the Oklahoma City metro area, graduated from high school in Tulsa, and ultimately graduated from the University of Oklahoma with a BA in Psychology. In addition to her corporate work, Alicia ran a consulting firm specializing in writing business plans for bank financing for startups throughout Oklahoma.
Her motto is: I want to ensure that everyone has free and fair access to the ballot box, are educated when they get there and that their vote counts.
---
Along with these three sessions, you can find a
Dismantling Racism: Toolkit for Parents
online at tulsakids.com. We will provide resources such as books and activities that parents will be able to access at any time, as well as information about the value of a more diverse & inclusive curriculum and how art can be used with kids to help understand difference.
---
Quraysh Ali Lansana is author of twenty books in poetry, nonfiction and children's literature. Lansana is a Tulsa Artist Fellow, Writer in Residence and Adjunct Professor at Oklahoma State University-Tulsa, and a former faculty member of the School of the Art Institute of Chicago and The Juilliard School. Lansana is executive producer of KOSU/NPR's Focus: Black Oklahoma, and his forthcoming titles include Those Who Stayed: Life in 1921 Tulsa After the Massacre and Opal's Greenwood Oasis. He is a member of Tri-City Collective.