COVID-19 Vaccines for Kids 5-11:
Q&A with the Tulsa Health Department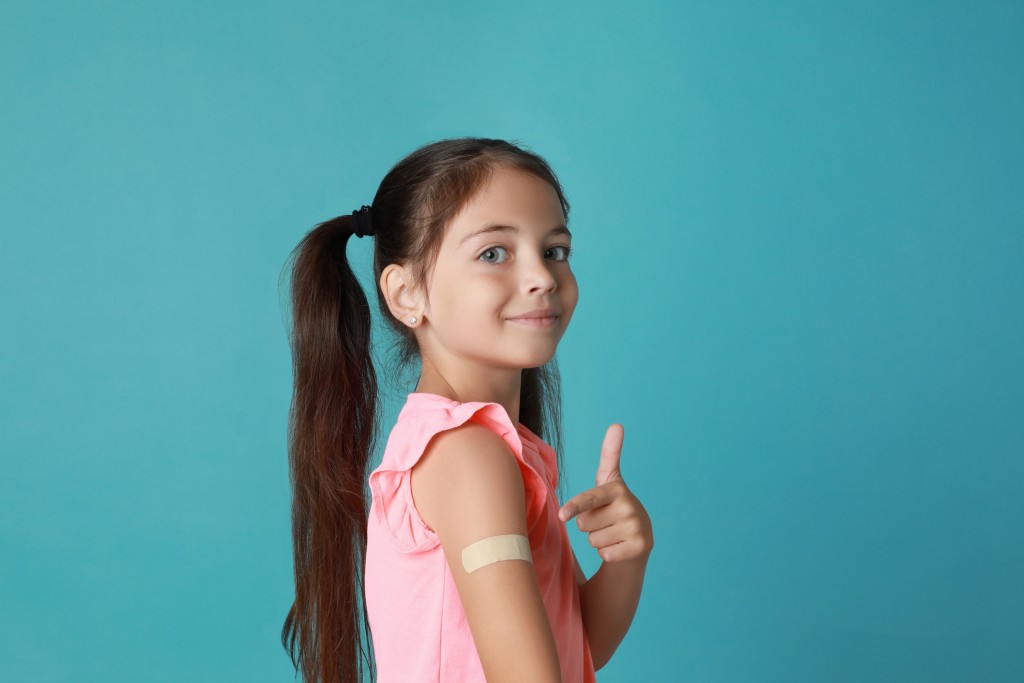 Thank you so much to Ellen Niemitalo, nurse and clinical services manage with Tulsa Health Department, for answering our questions about COVID-19 vaccines for kids 5-11.
1. When can kids 5-11 begin receiving the COVID-19 vaccine?
Children age 5-11 are now eligible to receive the COVID-19 vaccine, with parent or legal guardian present.
2. How can parents schedule a vaccine for their children?
There are more than 300 local providers in Tulsa County who are eligible to administer the vaccine. Parents can check with their child's pediatrician or family medical provider. Appointments are available at four different Tulsa Health Department locations as well, and can be scheduled online at www.vaccinate918.com or by calling THD at 918-582-9355.
3. How does the kid's Pfizer vaccine differ from the adult version? Does it differ from the vaccine approved for kids ages 12+?
The dose for children age 5-11 is one-third of the dosage of the vaccine for older adolescents and adults.
4. How do we know the COVID vaccine is safe for kids? What was the testing/approval process like?
Clinical trials including over 3,000 children age 5-11 demonstrated a vaccine efficacy estimate of 90.9% for prevention of symptomatic COVID-19. Follow-up with the study participants indicated no serious adverse events related to the vaccine, and no deaths reported in any trial participants.
The approval process has several steps, each providing an opportunity to review the clinical trials and recommendations. The Emergency Use Authorization (EUA) request, including the study and the conclusions, were reviewed by the independent FDA committee, Vaccines and Related Biologic Products Advisory Committee (VRBPAC), who weighed the known and potential risks and benefits and approved the EUA. The CDC committee the Advisory Committee on Immunization Practices (ACIP) reviewed the FDA approval and the studies and recommended approval by the CDC of the EUA. The CDC director signed the approval.
5. What is some of the most common misinformation circulating about the COVID vaccine?
Studies show that the risk of reinfection is lower for individuals who have had a prior COVID-19 infection, but that over time their immunity may wane. Numerous studies show that the immune status of individuals previously infected is enhanced and that vaccination reduces the risk of subsequent reinfection, including by other variants.
6. Why would kids need a COVID vaccine? Do the benefits really outweigh the risks?
Children continue to experience infection, serious illness and hospitalizations, including ICU admissions. Vaccine prevents COVID-19 cases and hospitalizations in children. Additional benefits include possible prevention of transmission of COVID-19 and greater confidence in a safer return to school and social interactions. Risks include local and systemic side effects to the vaccine and rare serious events after a COVID-19 vaccine.
7. What are the risks, if any, of a child receiving a COVID vaccine? I know some people are concerned about heart-health risks.
No cases of myocarditis occurred in the clinical trials of the 5-11 year-old age group. Incidence of myocarditis following vaccination in the 12 year and older age group is rare, but most common in males age 12-29 years of age.
People receiving mRNA COVID-19 vaccines, especially males aged 12–29 years, should be made aware of both the possibility of myocarditis or pericarditis following receipt of mRNA COVID-19 vaccines and the possibility of myocarditis or pericarditis following SARS-CoV-2 infection, and should be counseled about the need to seek care if symptoms of myocarditis or pericarditis develop after vaccination. People should seek medical attention immediately if they develop any of the following symptoms after receiving an mRNA vaccine, particularly in the week after vaccination:
Chest pain
Shortness of breath
Feelings of having a fast-beating, fluttering, or pounding heart
8. Some parents may want to "give it time" before scheduling their child's COVID vaccine. In general, is this a good idea? Why or why not?
Parents want to make the best decision for their child and their family. Parents should discuss vaccination with their trusted health care provider. The protection available through vaccines begins after receipt, with full immunity reached after about 2 weeks.
9. Should parents consult with their child's pediatrician before scheduling the vaccine?
Parents are encouraged to discuss any questions or concerns with their health care provider. That provider knows each child's unique health history and concerns and can provide advice that is in the child's best interest.
10. How do you anticipate the vaccine availability affect mask-wearing requirements in schools? Is it still a good idea, at least for now, for vaccinated individuals to continue masking and social distancing?
THD recommends a layered approach to the COVID-19 pandemic. While that layered approach includes wearing a mask indoors, maintaining social distancing and practicing frequent hand washing or sanitizing, the most important component is receiving a vaccine.
11. What kind of reactions might a child have after receiving a COVID vaccine? Will it generally be okay to send them to school the day after their vaccine?
Possible side effects include pain, redness or swelling at the injection site. Additional side effects include fatigue, headache, muscle pain, chills, fever and nausea. These are normal signs that their body is building protection. Some people have no side effects, and severe allergic reactions are rare.
12. Now that booster shots are available for adults, do you have any idea of when kids might need COVID vaccine boosters? Is this going to be an annual shot, similar to the flu?
There are no current recommendations for Booster vaccines for individuals under age 18 years. Studies will continue to determine recommendations for regular additional vaccines
13. Is it okay to get a child's COVID vaccine and the flu vaccine at the same time? Why or why not?
Children who have not received a seasonal flu vaccination or need other recommended childhood vaccinations can receive them at the same time as their COVID-19 vaccination.
14. Once a child has both doses of their COVID vaccine, what are the Health Department's recommendations as far as what to do if that child is exposed to COVID-19? For example, in the classroom. Do they still need to quarantine?
According to the CDC, individuals who are fully vaccinated and have close contact with someone with COVID-19 should get tested 5-7 days after that exposure and wear a mask 14 days after exposure. If that individuals develops symptoms, they should stay home, isolate and seek testing.
15. Is THD working with area schools to set up vaccination clinics?
THD works with several community partners to provide vaccinations in area schools.
16. Parents of kids younger than five might be wondering about when their children can get the COVID vaccine. What can you tell us about trials and a timeline for that age group?
Studies and clinical trials are currently being done with younger children. Those trials must be completed before the process begins for approval of vaccine in that age group. Current predictions are for early 2022 at the soonest.
17. What would you advise as far as family visits and travel over the holidays?
THD recommends a multilayered approach to protecting yourself and your family during the holidays. The most effective measure is for all who are gathered to be vaccinated; at least those age 5 and older.
18. Is there anything else you'd like to add?
Parents want to make the best decision for their child. The amount of information and misinformation can be overwhelming. Talk to your child's pediatrician or family medical provider to make the best decision for your family.
---