Commemorating the 1921 Tulsa Race Massacre:
Community events and resources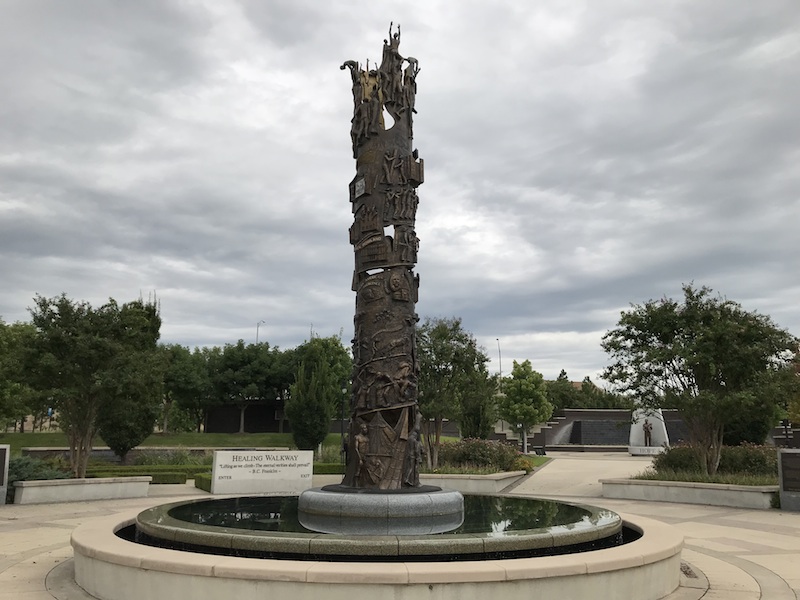 This is a list of upcoming events commemorating the 1921 Tulsa Race Massacre in Tulsa, Oklahoma. It also includes some community educational resources and other related events. If you know of an event we should add to this list, please email our web editor, tara.rittler@gmail.com. Thank you!
---
When: May 26, 5:30-8:30 p.m.
Where: Circle Cinema, 10 S. Lewis Ave.
Get your tickets now for the theatrical World Premiere on Thu 5/26 at Circle Cinema!
5:30-6:30p: Red Carpet Reception including meet and greet with the filmmakers and artists, live DJ, and drink specials
7:00p: Film screening and Q&A with members of Fire in Little Africa
In the early 20th century, Tulsa's Greenwood neighborhood, known as 'Black Wall Street,' was a thriving mecca of black business unlike anywhere else in the world. In 1921 white Tulsans attacked Greenwood and burned 40 square blocks of Black Wall Street to the ground, killing hundreds of people and destroying businesses in one of the largest incidents of racial violence in American history. For years Tulsa attempted to erase this part of its past, even as the trauma of the Tulsa Race Massacre still impacts the city one hundred years later.
Fire in Little Africa tells the story of rappers, singers, musicians, and filmmakers leading the path to healing the city with hip-hop. Inspired by the legacy of Black Wall Street, Tulsa's independent hip-hop artists came together to make an album for the centennial of the Tulsa Race Massacre and took it all the way to a deal with the iconic Motown record label. The film serves as an introduction to the unique spirit and ethos of the Tulsa hip-hop scene; taking the viewer inside the legendary recording sessions where over 60 artists took over a mansion once owned by a notorious KKK leader to create and record the 21-song opus.
When: Ongoing
Where: The Greenwood Gallery, 10 N. Greenwood Ave., Suite B
"The Dreamland Theater was located in the Greenwood District of Tulsa and formally established in 1914. As the only Black theater in Tulsa it served African American audiences beginning in 1905 and showed live vaudevillian musical and theatrical revues as well as silent films until the massacre of 1921. It seated 750 persons running up to five shows a day and was operated by Loula Williams, wife of Jon Williams the prominent community activist, machinist, and entrepreneur. During the massacre of 1921, the Dreamland Theater gathered community members to organize Greenwood Negro Leagues (medicine, education, industry) to fight during the pillaging and chaos, eventually succumbing may first to the worst act of domestic terror in America the arson of Tulsa's Greenwood Black Wall Street Tulsa Oklahoma America. In the black resurgence of 1922 that followed Mrs. Williams went by train to the Lowes Theatrical Entertainments Corporation securing the first 'TALKIE' motion picture projection system in Tulsa that year." Purchase tickets here, and learn more at bwsaokla.org/events.
When: May 25-27
Where: In-person and Virtual Options available
"Welcome to the 13th Annual Reconciliation in America National Symposium, "The Case for Education in Reconciliation:  Focusing on Advocacy."  This year, we continue to discuss current issues in the work of reconciliation as part of our scholarly programing, but we also challenge attendees to take on more active advocacy efforts to create the world that only happens when reconciliation is active and intentional.
By convening global scholars and practitioners, the John Hope Franklin Center for Reconciliation hopes to promote a dialogue among those who work to bridge societal divides."
When: May 27-28
Where: Greenwood District
Legacy Festival is a series of events and programs in May commemorating the 1921 Tulsa Race Massacre. Led by survivors and descendants, the festival spreads truth, inspires hope, and extends tradition. Learn more and find a schedule at
blackwallstreetlegacyfest.com
.
When: May 28, 8 p.m.; May 29, 3 p.m.
Where: Tulsa PAC, 110 E. 2nd St.
"The Nacirema Society Requests the Honor of Your Presence at a Celebration of Their First One Hundred Years" is set in 1964 in Alabama and Martin Luther King is coming to spearhead a voter registration drive in Montgomery. But Grace Dunbar, the matriarch of Montgomery's most aristocratic Black family and President of the Nacirema Society, has other things on her mind. Presented by Theatre North
When: May 29, 7 a.m.-6 p.m.
Where: Greenwood Rising, 21 N. Greenwood Ave.
Creating pathways towards better health by addressing health inequities through collaborative conversation and providing access to resources in the community. Find a schedule of events at
facebook.com/events/749506822871734
.
When: May 30, 10 a.m.
Where: Virtual
Join Greenwood Rising for an online event hosted by Phil Armstrong, Interim Director of Greenwood Rising featuring an interview panel with HBO Watchmen's Creator Damon Lindeloff, a feature film produced by local entreprenuer Trey Thaxton, and a special world premier of "I Remember Greenwood!"
When: May 30, 10 a.m.-7:30 p.m.
Where: The Vista at 21, 21 N. Greenwood Ave.
Providing access and information to break down the barriers on the journey of becoming an entrepreneur. Learn more and find a schedule/registration link at
facebook.com/events/5158435744210859
.
When: May 31, 8 a.m.-3:30 p.m.
Where: ahha Tulsa, 101 E. Archer St.
Do you have a child in the 4th-6th grade? Have them join us for Opal's 101st Anniversary Tour & Writing Workshop.
This workshop incorporating "Opal's Greenwood Oasis; a children's book by Quraysh Ali Lansana.
Professor Q will lead the students on a tour of Greenwood based on the "eyes of Opal". Students will discuss Opal's Greenwood as she knew it in 1921 and Greenwood Now.
The students will use what they have learned, with the help of our three instructors, to write their own stories.
Register at tricitycollective.com/event-details/namesake-opals-101st-anniversary.
When: June 13-17, 9:30 a.m.-3:30 p.m.
Where: ahha Tulsa, 101 E. Archer St.
Learn more and register at tricitycollective.com/event-details/free-summer-workshop-for-9-12th-graders.
When: June 25-29, 9:30 a.m.-3:30 p.m.
Where: ahha Tulsa, 101 E. Archer St.
Have you ever wanted to write a children's book? Here's your chance to get an up close look and opportunity to do just that. This workshop focuses on extending the story of "Opal's Greenwood Oasis; a children's book by Quraysh Ali Lansana.
Professor Q will lead students on a writing adventure were participants will imagine the rest of Opal's life and write about the future of the Brown family and the Greenwood District. This is a great opportunity to forge a deeper connection to this Historic District and write about the legacy of this Namesake.
Register at tricitycollective.com/event-details/what-comes-next-for-opal-writing-workshop.
When: May 31, 6:30-9 p.m.
Where: OSU-Tulsa, 700 N. Greenwood Ave.
A time to gather with food, friends, and family to commemorate and celebrate the legacy and future of Greenwood. Dinner is curated by Chef Tiffany Tisdale-Braxton.
When: June 2, 7 p.m.
Where: Lacy Park, 2134 N. Madison Pl.
Join Tulsa Parks and Gilcrease Museum for a collaboration about Felix Cole's mural featured at the Lacy Park Community Center. This 60-foot long mural, originally started in 1973, features 120 African-Americans, including Rosa Parks, Booker T. Washington, and Wayman Tisdale and tells north Tulsa's history. Dr. Brandy Thomas Wells, Assistant Professor at Oklahoma State University, will give an overview of Cole's mural and its importance in north Tulsa. Marsha Cole, niece of Felix Cole, will also be present to talk about the artist and his inspirations.
Capacity is limited and advance registration is required for this free event. Tickets are limited to two per household. Donations are encouraged to help restore this historical mural. Donations can be given on the evening of the event.
If you have any questions, please contact Laurel Benson at laurel-benson@utulsa.edu or 918-596-2783.
When: June 4, 7-11 p.m.
Where: Philbrook Museum, 2727 S. Rockford Rd.
Sneaker Soirée is back! Philbrook is so excited to be partnering with Silhouette Sneakers & Art AGAIN for one of the hottest events of the year! Sneaker Soirée celebrates Black culture, businesses, artists, and more. We've partnered with several Black-owned businesses this year to bring back another unforgettable night in the Philbrook gardens.
When: June 8-12
Where: Greenwood Cultural Center and Circle Cinema
"Greenwood Film Festival is a premiere black film festival that showcases stories of truth that help break down the internalized stigmas. GFF offers a dynamic experience that merges film, art, and civic discourse, and serves as a launchpad for visionaries and innovators."
Tickets can be purchased greenwoodfilmfestival.com." Learn more here.
When: June 16-18
Where: Greenwood Ave., Tulsa
"The Tulsa Juneteenth Festival commemorates African American freedom, emphasizes education, celebrates the rich heritage of Greenwood, encourages healthy and active lifestyles, and advocates community impact." Learn more here.
When: June 17, 8 a.m.-12 p.m.
Where: Historic Black Wall Street
Distances include a Family Recreational 2-mile ride, as well as 100, 50 and 25-mile routes. Learn more and register at bws100.info.
When: June 17-19
Where: Greenwood Cultural Center, 322 N. Greenwood Ave.
Black Economic Expo (BEE) is a diverse event dedicated to assisting ALL businesses BEE great! BEE is about building relationships, economic development and educating business leaders. BEE exists to give businesses the unique tools that are required for business development and financial sustainability.
---
Community Resources
The Greenwood Cultural Center has a page of educational resources, including survivor videos, lesson plans and more.
Visit the John Hope Franklin Reconciliation Park to learn about African Americans' role in Oklahoma's history, leading up to and beyond the 1921 Tulsa Race Massacre.
"A state-of-the-art history center located at the heart of Tulsa's Greenwood District honoring the legacy of Black Wall Street before and after the Tulsa Race Massacre of 1921."
The YWCA Tulsa has published a list of local, Black-owned businesses, including non-profits, retail, health & beauty, restaurants, etc.
Books by Local Authors
These books can help parents talk with their kids about the 1921 Tulsa Race Massacre.