Commemorating the 1921 Tulsa Race Massacre:
Community events and resources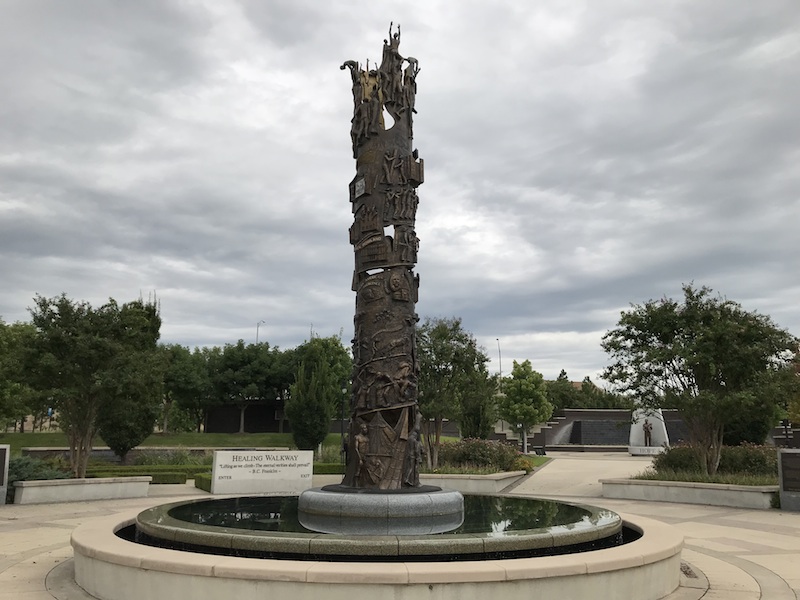 This is a list of upcoming events commemorating the 1921 Tulsa Race Massacre in Tulsa, Oklahoma. It also includes some community educational resources. If you know of an event we should add to this list, please email our web editor, tara.rittler@gmail.com. Thank you!
Live Music/Theater
When: June 3-5, 11-12, 8 p.m.; June 5-6, 12-13, 3 p.m.
Where: Tulsa PAC, 110 E. 2nd St.
This original production about the history of Tulsa's Black Wall Street, the 1921 Massacre, and the experiences of Tulsa today as a result of this history will take you on an emotional ride through a variety of true stories. The play weaves the narrative of the historical account of the Massacre with true stories of people who live in Tulsa today. These stories were collected in 2017 and are told by a company of all-black actors living in Tulsa. The historical narratives were collected by Mary E. Jones Parrish in 1921 just weeks after the disastrous event. All stories are based on factual archival research. Presented by World Stage Theatre Company.
When: June 6, 3 p.m.
Where: BOK Center, 200 S. Denver Ave.
On the somber occasion of the 100th anniversary of the Tulsa Race Massacre, the Tulsa Symphony and Festival Chorus will join forces with world-renowned trumpeter, composer, educator and bandleader Wynton Marsalis and the Jazz at Lincoln Center Orchestra to present All Rise (Symphony No. 1), Marsalis' epic blues suite that "was written themes of unity and spiritual ascendance." David Robertson will conduct the performance, and the chorus will be under the leadership of Damien L. Sneed. This event will take place at the BOK Center on Sunday, June 6 at 3 pm, and is produced in alliance with the 1921 Tulsa Race Massacre Centennial Commission.
"When I was writing 'All Rise,' Kurt Masur, conductor of the New York Philharmonic, told me, 'The line between civilization and barbarism is much thinner than you think.' That's why with everything that you do, you have to decry barbarism and the reduction of people." said Wynton Marsalis. 1921 Tulsa Race Massacre Centennial Commission project director Phil Armstrong voiced, "We are so grateful to have Wynton Marsalis and the Lincoln Center Jazz in Tulsa for the Centennial. Processing tragedy and trauma is complex. For me, music has always been an emotional outlet, and I hope this experience provides just that to Tulsans during this important week of remembrance, resilience and hope.". Keith C. Elder, Executive Director of the Tulsa Symphony Orchestra, added, "We are glad to bring this moving work and these internationally recognized artists to the Tulsa community to commemorate the tragic events of 1921. It will be an evening where the power of music will be used to unite and heal our community.
Marsalis'symphony blends various influences from classical, jazz, gospel, and Latin-based music into a particularly poignant work to memorialize the Massacre. The piece was commissioned by the New York Philharmonic and first performed at Lincoln Center in December 1999. It features three sections of four movements each, which are swing-based and in the structure of the12 bar blues. The first segment is uplifting and energetic, the second set of movements are more dark and distressing, and the final section culminates with the elevating energy of a gospel choir that is titled "I Am (Don't You Run From Me) – God's love is what calls us to rise to the complete fulfillment of who we are. Our choice determines the extent to which we will rise, and the act of rising itself is thanks for His love, which is the source of our life and creativity."
Tickets will go on sale on May 15, 10 am and will be available online at www.TulsaSymphony.org.
---
Art Exhibitions
Dates: Various
Location: Various
"The Greenwood Art Project is an initiative of the 1921 Tulsa Massacre Centennial Commission. Its purpose is to add a cultural component to the many activities and programs the Centennial Commission will host during the centennial year.
The goal of the Greenwood Art Project is to be a catalyst for uniting the city of Tulsa by working with artists, residents, leaders, organizations, and businesses to elevate awareness of Greenwood's history, focusing on the 1921 Tulsa Massacre and the once thriving Black Wall Street.
The Greenwood Art Project strives to create art that activates the community towards healing from our history, rebuilding, and re-cultivating Greenwood Avenue in the most beautiful and authentic way." Find upcoming events here.
Dates: May 7-June 19, 2021
Where: Living Arts of Tulsa, 307 E. Reconciliation Way
"The Tulsa Race Massacre Centennial Project presented by Living Arts of Tulsa encapsulates local artists' response and influence of the 1921 Tulsa Race Massacre over the last 100 years." Learn more here.
Living Arts of Tulsa will host several events tied in to this exhibition. Find the list here.
Dates: May 7-July 25, 2021
Where: ahha Tulsa, 101 E. Archer St.
"Notes from Black Wall Street (Or How to Project Yourself into the Future) is Oklahoma-based artist Crystal Z Campbell's first solo painting exhibition. On the occasion of the centennial of the 1921 Tulsa Race Massacre, Campbell's new commission considers the wake of this event into the present day. Featuring several large paintings and one-hundred small paintings with paint often as thick as scars, this series imagines ways in which histories are embedded and embodied narratives written upon us." Continue reading.
Dates: March 14-September 5, 2021
Where: Philbrook Museum, 2727 S. Rockford Rd.
"Bringing together local artists and artists working across the country, From the Limitations of Now reflects on the important ways art and literature allow us to examine America's past and picture a future in which, in the words of renowned Oklahoma author Ralph Ellison, "we are able to free ourselves from the limitations of today." Spanning multiple galleries throughout the Museum, the exhibition will feature a range of works, including vibrant tapestries and beadwork, vivid photographs, songs, paintings, and videos. These artworks reflect on the violence of American history, the power of ancestors who worked in the face of violence to forge a more just world, and speculate on visions of a future that is still yet to be." Learn more here.
Philbrook will be hosting several community events in conjunction with this exhibition and "Views of Greenwood." See their community calendar at philbrook.org/calendar.
"Promiseland" by Skip Hill
Dates: March 14-September 5, 2021
Where: Philbrook Museum, 2727 S. Rockford Rd.
"Views of Greenwood presents nearly fifty photographs of the Greenwood District by three Oklahoma photographers who, over the last fifty years, have explored change, loss, and resilience within the neighborhood." Learn more here.
Dates: Opens May 4
Where: Rudisill Regional Library, 1520 N. Hartford Ave.
"This curated exhibit offers a unique, immersive way for participants to learn about this tragic historical event as well as the racial and political conditions leading up to and following the Tulsa Race Massacre itself. TCCL is a proud recipient of the 1921 Tulsa Race Massacre Centennial Commission Grant Program. All grants have been made possible from the generosity of WPX Energy." Learn more here.
Dates: June 1-22
Where: OSU-Tulsa, 700 N. Greenwood Ave.
"Featured Artist: Dr. Courtney Skipper
Tulsa Children's Museum of Art presents a new art experience for children, created by children. The exhibition "Greenwood, Black Wall Street, and the 1921 Race Massacre: Through the Eyes of Children" addresses the lack of awareness and education about the historic Greenwood District, Black Wall Street, and the 1921 Tulsa Race Massacre." Learn more.
Where: 10 N. Greenwood Ave., Ste. B
"Black Wall Street Gallery is a conduit for establishing better relations by providing a space for artistic expression, conversation, healing and building community." Learn more at bwsgallery.com.
When: April 2-June 20
Where: 108 Contemporary, 108 E. Reconciliation Way
"My Soul Looks Back and Wonder How I Got Over" is a thoughtful visual dialogue that uses art to examine how the pervasiveness of a collective past informs our present, and how the persistence of hope and collective purpose positively redeems us to our present, and our future. Hill and Huckaby use collage and fiber and for this specific body of work are influenced by the Tulsa Race Massacre of 1921." Continue reading.
When: May 7-June 1
Where: Liggett Studio, 314 S. Kenosha Ave.
"In response to the 1921 Massacre, 100 years ago, Liggett Studio will present an exhibition of new artworks created by Tulsa African-American Artists. We asked them to: TELL THE WORLD THROUGH YOUR 4-5 ARTWORKS HOW YOU FEEL ABOUT WHAT HAPPENED 100 YEARS AGO WITH THE EVENT CALLED THE "1921 TULSA RACE MASSACRE". And the exhibit will be their expressions." More information available here.
When: May 22-June 2021
Where: Gathering Place, 2600 S. Riverside Dr.
Gathering Place and Greenwood Cultural Center are hosting one of the largest and most prestigious African American art and history collections in the world beginning May 22 through June 2021 in the ONEOK Boathouse! This one-of-kind art installation is free to experience.
The Kinsey African American Art & History Collection is a traveling exhibition with a wide range of art and artifacts, including books, documents, photography, paintings, fine art, and personal belongings that tell the story of African American struggles, triumphs, and accomplishments from 1595 to present day. The collection is composed of more than 700 rare primary source historical objects and artifacts.
This is the first time the Kinsey African American Art and History Collection is on exhibit in Oklahoma! Its debut is made possible by Gathering Place in collaboration with the Greenwood Cultural Center.
When: Through 2021
Where: 100 N. Greenwood Ave.
The Marvin Blades Sr. FACES OF GREENWOOD Timelines Experience, a project of the Black Wall Street Alliance, seeks to give viewers a more comprehensive perspective of the Greenwood District, dating from 1890 to the present day. Learn more at https://www.bwsaokla.org/.
---
When: May 28-June 19
Where: Greenwood District
This is history.
One hundred years after the first destruction of Greenwood, we come together for three days of powerful events to elevate the stories, honor the history and commit to upholding the legacy of THE Black Wall Street.
Three days of events will culminate in a call for action and justice as we work to right the wrongs of our past.
Legacy Fest will feature musical performances by John P. Key, PJ Morton and Fire in Little Africa.
Special guests include Jay Ellis, Alfre Woodard, Brandan "BMike" Odums, Senator Cory Booker and Representative Sheila Jackson-Lee.
The Festival will highlight several events, including concerts throughout the day at the World Culture Music Stage (Greenwood & Archer), the Main Stage (OSU-Tulsa Lawn) and inside Silhouette and Lefty's.
A two day Black Wall Street Legacy Summit will take place inside Greenwood Cultural Center on Friday and Saturday, featuring expert panelists from around the country.
The experience will kick off with a memorial march through Greenwood on Friday morning and end with a screening of Making HBO's Watchmen on Sunday night.
1921 TULSA RACE MASSACRE CENTENNIAL COMMISSION Events
Some events are listed in the previous sections. Find additional events here.
When: May 28, 5:21-7:21 p.m.
Where: John Hope Franklin Reconciliation Park, 321 N. Detroit Ave.
Join at 5:21 p.m. for the official ribbon-cutting for the new "Pathway to Hope" connecting the Greenwood District to John Hope Franklin Reconciliation Park.
The event includes a march to the park and a program in the park after. Meet at Greenwood Ave. and I-244.
A statewide unity program for the community of faith to reflect on the history of the Greenwood District in conjunction with the 2021 Commemoration. Look for upcoming details here.
When: Canceled
Where: ONEOK Field, 201 N. Elgin Ave.
When: May 31, 10:30-11:30 p.m.
A solemn ceremony commemorating the start of the 1921 Tulsa Race Massacre. Keep an eye out for additional details here.
When: Wednesday, June 2, 11:30 a.m.-2:29 p.m.
Where: Greenwood Rising, 10 N. Greenwood Ave., Suite 2021
Join the 1921 Tulsa Race Massacre Centennial Commission for the official unveiling of Greenwood Rising: The Black Wall Street History Center.
---
When: Thursday, June 17, 7-8:30 p.m.
Where: Virtual
Join renowned writer Claudia Rankine for a reading and conversation reflecting on her book "Citizen: An American Lyric," winner of the 2014 National Book Award. "Citizen" powerfully reflects on racism in the United States. Rankine's groundbreaking prose poem interweaves personal testimony, representations of events in mass media and contemporary art. As Rankine writes, "You can't put the past behind you. It's buried in you; it's turned your flesh into its own cupboard. Not everything remembered is useful but it all comes from the world to be stored in you." This virtual, free program is an NEA Big Read event. In partnership with Fulton Street Books, Magic City Books, PEN America, Philbrook Museum of Art, Tulsa City-County Library and the Tulsa Library Trust. Register online or email register@tulsalibrary.org to receive a Zoom invite.
More Information Here
---
Additional Events
When: May 26-29, 2021
Where: In-person and Virtual Options available
"Welcome to the 12th Annual Reconciliation in America National Symposium, "The Future of Tulsa's Past: The Centennial of the Tulsa Race Massacre and Beyond." This year, we commemorate the centennial of the 1921 Race Massacre and have assembled celebrated authors, activists, educators, and journalists to discuss the story of the Tulsa Race Massacre and how we can work toward the intentional journey of reconciliation.
By convening global scholars and practitioners, the John Hope Franklin Center for Reconciliation hopes to promote a dialogue among those who work to bridge societal divides." Register here.
When: May 30, 7-8:30 p.m.
Where: 700 N. Greenwood Ave.
BLACK WALL STREET LEGACY FESTIVAL in partnership with MAGIC CITY BOOKS presents an evening of shared experience and conversation on the lawn with WATCHMEN creator Damon Lindelof and Emmy-winning writer CORD JEFFERSON.
When: June 1, 3:30-6 p.m.
Where: Fulton Street Books & Coffee, 210 W. Latimer St.
Meet the author – local Tulsa historian, Carlos Moreno – and the A Kids Book About publishing team who helped bring the book to life. Get a limited edition, author-signed copy of the new book A Kids Book About the Tulsa Race Massacre, and listen to a panel discussion. Find more details and register here.
When: June 12-14
Where: Greenwood Cultural Center and Circle Cinema
"Greenwood Film Festival will not just commemorate the tragic events of 1921, but continue to build a strong and vibrant art, culture, and film community in the Greenwood District. The Festival will give local filmmakers and others a platform to connect with their community, encourage identity, increase film-making skills, ownership, and engage in hot topics in the Let's Talk Panels. Tickets can be purchased www.greenwoodfilmfestival.com." Learn more here.
When: June 17-19
Where: Greenwood Ave., Tulsa
"The Tulsa Juneteenth Festival commemorates African American freedom, emphasizes education, celebrates the rich heritage of Greenwood, encourages healthy and active lifestyles, and advocates community impact." Learn more here.
When: June 18, 8 a.m.-12 p.m.
Where: Historic Black Wall Street
BWS100 and BIKE CLUB Tulsa will host the 2021 BWS100. Distances include a Family Recreational 5K Ride as well as 25K, 50K and 100K routes. Learn more and register at https://bws100.info/.
---
Community Resources
The Greenwood Cultural Center has a page of educational resources, including survivor videos, lesson plans and more.
Visit the John Hope Franklin Reconciliation Park to learn about African Americans' role in Oklahoma's history, leading up to and beyond the 1921 Tulsa Race Massacre.
"A state-of-the-art history center located at the heart of Tulsa's Greenwood District honoring the legacy of Black Wall Street before and after the Tulsa Race Massacre of 1921."
The YWCA Tulsa has published a list of local, Black-owned businesses, including non-profits, retail, health & beauty, restaurants, etc.
Books by Local Authors
These books can help parents talk with their kids about the 1921 Tulsa Race Massacre.