Childhood Obesity in Oklahoma
Tulsa County Wellness Partnership wants to cut the fat.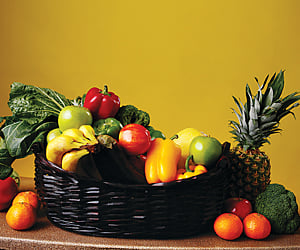 Since the early 1900s each generation of Americans has seen an increase in life expectancy.  The average citizen's life expectancy increased from 47 years of age in 1900 to 76 years of age in 2000. But this trend may not continue.
"Research is showing that this generation may be the first that will not have the life expectancy of their parents because of the health consequences of childhood obesity," said Sara Malone, a clinical dietician who also works with programs at Saint Francis and the OSU Family Health and Nutrition Clinic.
In Oklahoma one in three kids between the ages of 10 and 17 are overweight or obese, according to the 2011 to 2012 National Survey of Children's Health. Oklahoma is predicted to have the highest obesity rate in the country by 2018 according to America's Health Rankings in 2009. Malone said statistics like these are what moved her to join the Tulsa County Wellness Partnership (TCWP).
The Oklahoma Tobacco Settlement Trust has funded the Tulsa County Wellness Partnership since May of 2011. The partnership's mission statement says it is made of up a group of individuals who are "dedicated to changing policy and environments in Tulsa County to make healthy nutrition and fitness the easy choice in schools, workplaces and communities."
Malone is part of the committee that has reached out to Union, Jenks and Tulsa public school districts. So far, several positive policy changes have occurred, including the decrease of sodium, fat and sugar content, the transition to whole grains and an increase in the amount of fruits and vegetables offered in school lunches. One area that the committee hopes to improve is the amount of time students are given for meals.
"If you're not getting adequate time at lunch, we've found that students are not going to be eating the healthier choices like baby carrots or whole apples because they usually take longer to eat. They are going to go for the things that are easier to chew like the carbohydrates," said Lauren Bradley, another member of the partnership's school outreach committee.
In their observation at local schools, Bradley and Malone found that many students were receiving only five to 10 minutes to eat. Encouraging children to eat rapidly could increase their risk for obesity.  The organization is working toward the "gold standard" of 20 minutes for lunch. According to Malone, it takes about 20 minutes for our stomach to stretch and send a cue to our brains that we are full.
Another area of concern is the lack of nutrition education in Oklahoma schools. Oklahoma is one of two states that does not require health education in public schools. Bradley said this lack of education effects parents' ability to model good eating habits.
"Children look up to their parents. They want to do what they see their parents doing," Bradley said. "But how can we expect them to know about portion sizes or to model healthy eating when they've never had the education themselves?"
Both Bradley and Malone work with the Saint Francis ShapeDown Program, a six-week program that involves exercise and nutrition education for the whole family. During the program, families are taught things such as meal planning and how to find healthier options when grocery shopping.
But even with this increased education, it could still be very difficult for families to make healthy lifestyle changes depending on where they live. Malone says it could take up to three hours to get to a grocery store and return home for families in north or west Tulsa that depend on public transportation. Organizations such as the Tulsa Food Council help by bringing mobile food markets to those areas a few times a week. The Tulsa County Wellness Partnership is also trying to find permanent funding for a program called "Double-up Bucks" which gives food stamps double the purchasing power when used at local farmers markets.
"The rates of obesity rising are in part related to the change in our community. It's increasingly harder to be physically active and it's harder to eat healthy," said Dr. Colony Fugate, who represents OSU as a coalition member.
The TCWP is working with the city to make physical activities such as walking and biking easy and safe options. Families are encouraged to get 60 minutes of physical activity regularly but without safe sidewalks or parks, many are unable to achieve that goal. The organization sponsored a media project and video series that helped demonstrate the need for sidewalks and how they impact seniors, children and health, safety and economic development.
"Over the years we've become a more sedentary population," Malone said.  "We don't even get up to change the TV channel any more. We just hit a button."
Childhood obesity rates have tripled in Oklahoma since 1980, according to the 2008 State of the State's Health Report. Studies have also shown that 80 percent of obese adolescents will grow up to be obese adults. Dr. Fugate says the TCWP works with several organizations and resources in three main area schools, the community and the workplace to help combat these statistics.
"Our mission has been to help make the healthy choice the easy choice. You can't do that on an individual level; it really has to be addressed at a policy level, a global level," Dr. Fugate said.  "Our partnership tries to help implement policy changes that will, in turn, make it easier for families to lead healthier lives."