Cascia Hall students campaign to save Oklahoma Science Fair
The Oklahoma Science & Engineering Fair lost state funding, but Cascia Hall students are determined to keep it going.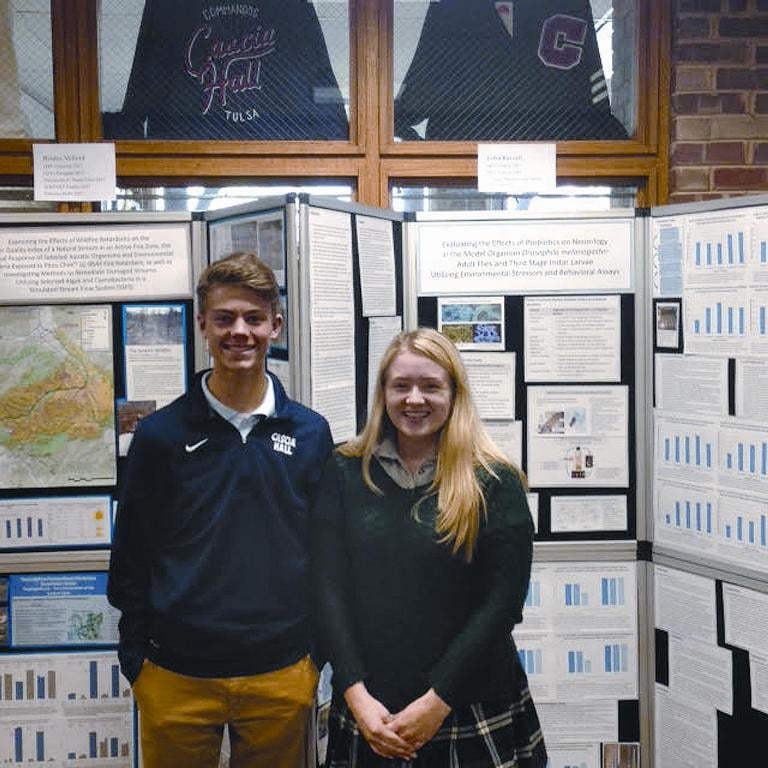 Oklahoma's Science and Engineering Fair is among the myriad victims of the state's budget crisis.Virtually all of the system's funding has been cut, singling Oklahoma out as the only state in the country without a science fair program.
That said, a handful of Cascia Hall Preparatory School students have refused to idly watch the program disappear into memory. In comes Oklahoma Students Advocating for Statewide Science (OSASS), a student-led organization centered on not only gaining funds, but also promoting science across the state.
"When we learned there weren't any plans to bring the funding back, we decided to go the corporate route," Cascia student and OSASS member Braden Milford said. "We're searching for some corporate sponsors and then we're connecting them to potential sources of funding for the science fair."
Braden argues that the fair is crucial for any student who is passionate about exploring science and technology.
"In the classroom itself, you might do a lab here and there, but you're really just getting the facts in the textbook," he said. "The research aspect really lets you explore what's actually possible in the scientific community."
Cascia student and OSASS Financial Director Erika Ravitch says that this kind of hands-on approach naturally leads students to being more inquisitive about their own work.
"It has helped kids like myself get into the mindset of 'when I go to college, I am going to need to think and problem-solve for myself,'" she said. "A lot of those skills are really embedded in the research process."
The statewide program  serves as an opportunity for students who may not otherwise get the chance to participate in these sorts of project-oriented activities.
"It's not just us in Tulsa or some people in Oklahoma City," Braden said. "There are kids in Poteau and Wilburton and Idabel – it really provides an outlet, and it can be the only outlet for these kids who live out in rural communities to get involved in science in a more in-depth way than you would in just your normal classes."
With aspirations of becoming a doctor, Braden maintains that his involvement in science fair research projects shaped most of his passion.
OSASS itself has some fairly ambitious goals, too, not the least of which being the implementation of some form of mentor program. Erika says the organization has begun putting together a list of students who have been involved in science research projects – students who "have quite a bit of experience and would be willing to mentor younger children."
Simply getting the word out about the lack of funding is considered to be its own victory, too.
"We're trying to get the message across that there's a big need for science in our community," Erika said. "We hope that if we get a huge support base, then it will encourage corporations and families to get more involved in supporting the science fair system."
Additionally, the organization aims to challenge the perception that Oklahomans – and Oklahoma students, especially – don't value scientific curiosity.
"I think a lot of times, we just hear about all of the budget cuts and how Oklahoma isn't really far up there in national education rankings," Braden said. "But we've had first-place, second-place award winners at the international fair with 76 countries; this is just something that we really need to support if we want Oklahoma to keep contributing to the scientific community."
The Oklahoma State Science and Engineering Fair held its last pre-budget-cut awards ceremony this past March. Beyond its ability to serve as an outlet for students to express their passion, the state fair also provides winners with tangible benefits in the form of college scholarships.
Dr. Tiffany Neill, Oklahoma's director of Science Education, applauds the OSASS campaign for its sheer ambition.
"You see these particular students taking this initiative on their own to really support something that they have been a part of and that they love and they want to continue to see happen across our state and be available for other students," Neill said. "I think you just have to commend students who are willing to do that."
The student organization has begun development on a fundraising event for the $50,000 required to maintain a science fair program. Additionally, OSASS launched a page on crowdfunding website GoFundMe in January. As of April 11, the group has raised nearly $3,000.
Erika says that all funds donated to OSASS will go directly to the East Central University Foundation. The state science fair is held on East Central University campus.