Car Seat Safety for Winter (Plus Eight Tips for Year Round)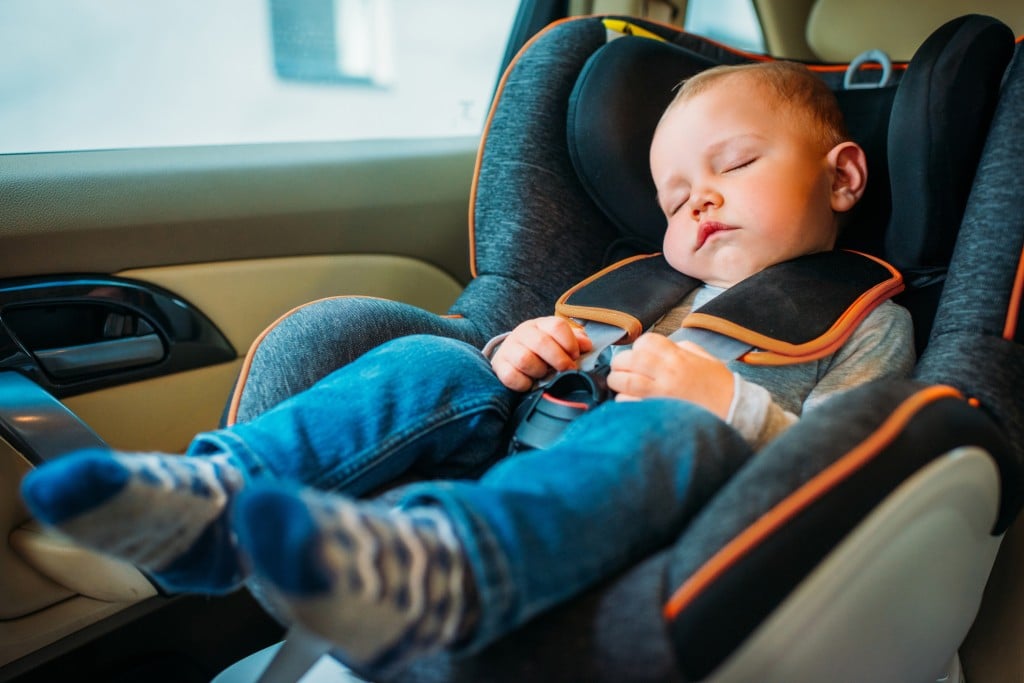 With the temperatures in Tulsa predicted to be below freezing in the mornings next week in Tulsa, I thought it was a good time to review a few car seat safety rules. You may be wondering what freezing temperatures have to do with car seats. It does seem like a strange tie-in, but there's some logic involved, I promise!
When it's cold outside, it's only natural to bundle our kids (and grandkids) up before we rush to the car. But before you strap them in the car seat or booster seat, take their coat off! It goes against my instinct to take a coat off a cold kid, but once I understood why, I also understood the importance. It feels like the car seat is nice and snug when you strap your child into the seat wearing their winter coat, but the impact of a crash will flatten the coat fabric and leave a dangerous gap between the child and the seat harness. The space will allow a child to slip through the straps and possibly be ejected from the car. It's a hassle to take their coat off, there is no denying that fact, but the more important reality is that your child's life is worth the extra time it takes to remove the coat before strapping them into the seat.
If I didn't convince you to take a few extra minutes to remove your child's coat before putting them in their car seat, please watch this video from the Today Show. It is dramatic, and it made an impression on me!
So what are you supposed to do to keep your kid warm enough when the weather dips into the twenties and thirties? If you're lucky and have a garage, your car won't be quite as cold, but many of us don't have that luxury. One recommendation is to put a blanket on the child over the car seat straps. This isn't a good idea for an infant, as they could be at risk for suffocation if the blanket becomes stuck over their face. For an older child, maybe put their coat on backward after they have been buckled into their seat. Don't forget to use mittens and hats to have a warming layer that doesn't interfere with the car seat straps. Also, ensure you have warming supplies in your car all winter just in case of an emergency. Keep dry clothes, blankets, non-perishable snacks, a bottle of water, hats, and gloves. Always make sure your phone is charged in case you need emergency assistance. The American Academy of Pediatrics has a more thorough list of winter travel safety tips; click here to read.
Car Seat Safety Basics
While we're talking about car seat safety, it's always good to review the basics. I'm not so old that I didn't use car seats for my children, but by the time my grandchildren were born, the rules had changed, and I needed a refresher course. The first time I took my grandson on an outing, I posted a picture of him in his car seat. I was fortunate that a concerned friend privately messaged me and told me I had positioned the chest strap too low. I was thankful and corrected it immediately. Here are some guidelines for car seat safety.
From birth until 2-4 years, your child should be in a rear-facing car seat in the back seat of the car. Check your child's car seat for height and weight requirements for when they can move to a forward-facing seat, but keep them rear-facing as long as possible. It's the safest position for young children. Watch this video to see how remaining in the rear-facing position significantly reduces serious injuries in young children.
After outgrowing the rear-facing infant seat, they should be in a forward-facing seat in the back seat until at least age five. Again, check your child's car seat for height and weight requirements.
After a child outgrows the car seat, they should ride in a booster seat until the seat belt fits them correctly without the use of the booster. This usually happens between the ages of nine and twelve, but it can vary by car.
When using rear-facing and forward-facing car seats, make sure the chest strap is at the correct place, which is armpit level. (see graphic above)
The straps should be fairly snug. You shouldn't be able to pinch any excess fabric in the harness.
Until the age of thirteen, the back seat is the best option for children.
Always use a car seat, booster seat, or seat belt (whichever is age-size appropriate) when traveling in a car. Even for a short trip, it is essential. Most crashes occur within six miles of home and going at the relatively slow speed of thirty miles an hour.
If you must use a car seat that has been used previously, make sure it was not involved in a wreck and check the expiration date that is printed on the car seat.
In parenting, there are some gray areas. Some days you let some things slide. Maybe you let the kids have dessert first or give them an extra hour of screen time. It's OK; most of us have occasionally given in to the demands of our captors, I mean kids. However, being properly restrained in the car is one of the rules that should never be compromised. Your child's life may be saved because of being properly secured in a car seat.
---