Budget-Stretching Pasta is Perfect for Families
Make-Ahead Spaghetti, Easy Cheesy Veggie Pasta, Bowtie Pasta with Peas and Proscuitto and Taco Pasta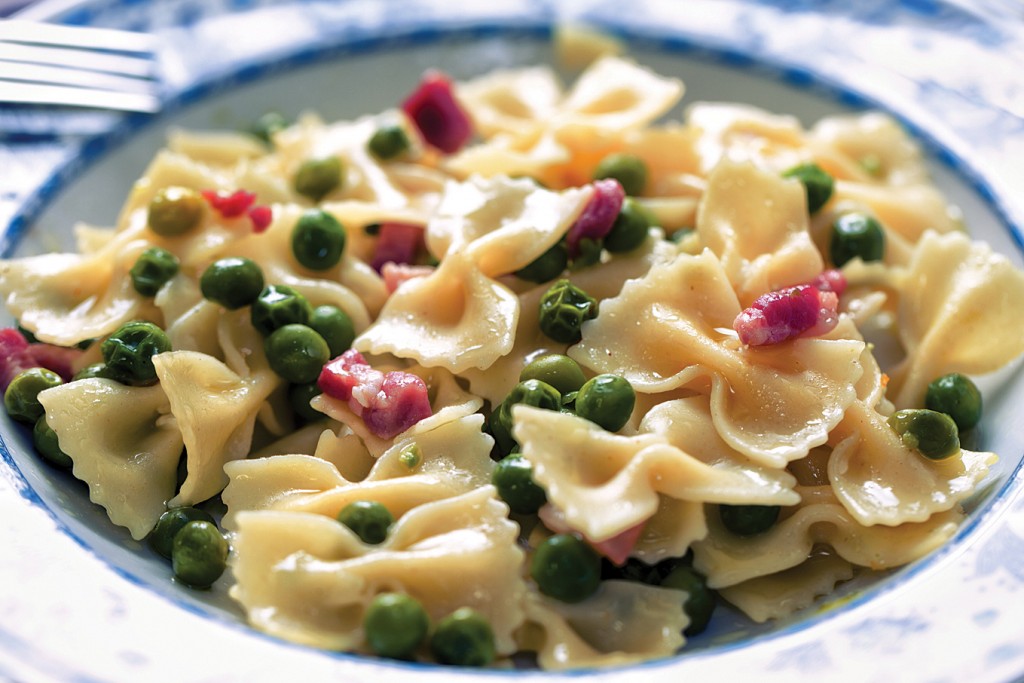 Parents of big families have some of the best tips for tightening the food budget.
A friend with six children once showed me her monthly grocery budget, and I was shocked she was spending considerably less than I was feeding my three kids. She gave me several tips, including sticking to my grocery list, cutting down on packaged snacks and finding meals that can be stretched.
And her tip for the best way to stretch any meal is using pasta.
My kids love pasta, so it's something we eat nearly every week. Whole-wheat pasta with salmon or roasted chicken sausages are favorites. We also eat a lot of basic pasta dishes, like spaghetti with meat sauce. Taking the time to double the sauce and freeze it for future meals always pays off.
Using pasta to stretch a meal is a trick many parents have up their sleeves. This works great when there's not enough chili left for everyone to have a bowl. Three-way chili for dinner is a favorite of one of my kids. Chili poured over spaghetti and topped with cheese is worth a try if your kids have never tried it.
A new favorite for my kids is taco pasta. This is a one-dish dinner, where the taco meat and pasta cook in the same pan. It's a good way to feed unexpected guests if your kids invite friends over. If your kids like tacos, give this one a try.
---
This family favorite comes from the book "Once a Month Cooking." Make the sauce on a slow day at home, then freeze for later.
Make-Ahead Spaghetti
Makes 6 servings
1 pound Italian sausage
1 1/2 cups finely chopped onion
2 (6-ounce) cans tomato paste
3 (28-ounce) cans crushed tomatoes
2 cups water
4 teaspoons minced garlic
4 bay leaves
2 tablespoons sugar
4 teaspoons dried basil leaves
2 teaspoons dried oregano leaves
1/4 cup chopped fresh parsley
2 teaspoons kosher salt
1 (16-ounce) package spaghetti
In a large pot, cook and stir the sausage with onions until the meat is brown, about 15 minutes, then drain fat. Add remaining ingredients, except the spaghetti. Bring sauce to a boil; reduce heat. Cook in a slow cooker on low for 4-6 hours. Or, simmer on stove, partly covered, for 2 hours, stirring occasionally.
Allow sauce to cool. Freeze.
To prepare spaghetti, thaw 4 cups sauce, then heat in a saucepan. At the same time, cook spaghetti according to package directions, drain and pour sauce over.
---
This simple recipe is perfect for toddlers.
Easy Cheesy Veggie Pasta
Makes 2 small servings
1/2 cup uncooked pasta spirals
2 tablespoons peas
2 tablespoons corn
1 tablespoon grated carrot
1 tablespoon grated zucchini
2 tablespoons heavy cream
1/4 cup grated Parmesan cheese
Cook pasta according to package instructions.
Meanwhile, steam or boil veggies until tender.
Mix veggies with pasta. Add cream and parmesan. Return to heat, stirring, until cheese is melted.
---
This pasta dish is super easy to make on a weeknight. And leftovers are great in a lunchbox the next day.
Bowtie Pasta with Peas and Prosciutto
Makes 4 servings
2 tablespoons olive oil
2 tablespoons butter
1 onion, finely chopped
1 cup frozen peas
2 cloves crushed garlic
2 tablespoons chopped fresh parsley
1 cup chicken broth
4 slices prosciutto, finely chopped
16 ounces bowtie pasta
1/4 cup grated Parmesan cheese
Heat the olive oil and butter. Sauté the onion until softened. Add peas, cooking for a minute. Stir in garlic and parsley, cooking another minute. Stir in chicken broth, bring to a boil, then reduce heat and cook 4-5 minutes. Stir in the prosciutto.
Cook pasta in a large pot of boiling water until al dente. Drain pasta, and add to onion and pea mixture. Stir in cheese.
---
It's all the flavor of a taco stretched with pasta to feed a bunch of hungry kids.
Taco Pasta
Makes 6 servings
1 pound ground beef
8 ounces uncooked pasta, such as rotini or elbow macaroni
1 can whole kernel corn, drained
1 can (14.5 ounces) diced tomatoes, undrained
1 1/2 cups water
1 package taco seasoning
1 cup shredded cheddar cheese
Brown meat in large skillet on medium-high heat. Drain fat.
Stir in remaining ingredients except cheese. Bring to boil on high heat. Reduce heat to low; cover and cook 15 minutes or until pasta is tender, stirring occasionally.
Sprinkle top with cheese. Cover. Cook 5 minutes longer or until cheese is melted.
Natalie Mikles is a mom of three. She writes about food, sharing recipes for busy families and picky eaters. She has been recognized for her food columns as well as features on families and issues affecting local children. She loves pizza and movie nights with her family.
---