B'nai Emunah Preschool: Where Kids Dig in the Dirt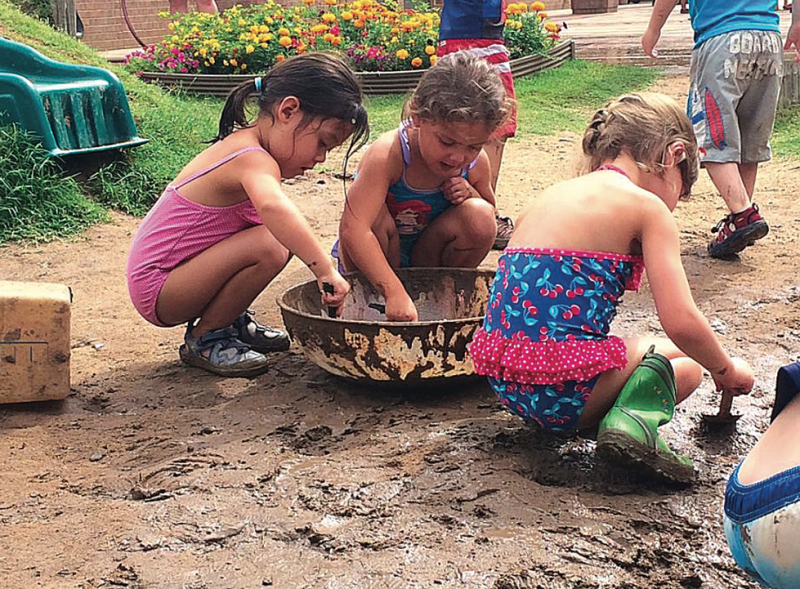 Four-year-old Colin Ihloff's favorite thing to do on the playground at B'nai Emunah Preschool is dig in the dirt. Practically every school day, barring bitter cold temperatures or spring storms, Colin and his classmates slide on their mud boots and explore their school's natural playscape or garden. Asked what he finds when digging in the dirt, Colin said without hesitation, "dirt."
Every student has a uniform requirement at the preschool: rain/mud boots. The kind of boots that can be slipped on with ease, rise over the calves and can withstand puddle jumping and mud pie making. "We tell our parents, when your child goes outside, there is a chance they will end up getting messy, so don't send your child to school in anything you do not want to get dirty. We play here.  We don't shy away from mud. Every child is required to have mud boots," said B'nai Emunah Preschool Director Shelli Wright.
"We believe children learn by their own doing, their own discovery and we as teachers are here to guide them. Our school, both inside and out is all about hands-on discovery," Wright said. "That is why we place so much emphasis on playing outside in the natural world and bringing that natural world inside into our classrooms."
The preschool's classrooms are alive with student art and educational materials carefully selected to enhance a child's curiosity. In the infant and toddler room, there are no high chairs. Instead, lots of cushioned floor space entices scooting, crawling and wobbly walking. "We want our children to be in natural settings and be on the floor exploring and moving around," Wright said.
Beads are an open-ended learning material used in every classroom. Beadwork hangs from the ceiling or is adorned in art on the walls. "Beading is pre-writing," Wright explained. "It builds small motor skills and offers so much for the imagination."
Children have created a taste of the outdoors in their classroom by taking natural and recycled materials and modeling them into trees. And each classroom has a pet, ranging from a very active hamster to a tank of colorful fish.
Another important part of the classroom environment is the "peace table," where children learn to work through conflicts. "If two children are having a disagreement, they go to the peace table in their classroom. We have certain rules when the children enter the peace table," Wright said. "They cannot yell, but must work out their conflict through talking and role playing. We want to empower them to use their verbal skills to come to a resolution. And our teachers gently guide them if needed. "
Each classroom opens up to a patio with a picnic table for lunch and several big baskets to store muddy rain boots.
The playground, while it has traditional play equipment, also is a playscape with natural items for the children to create their own play scenes. "We have many loose parts on our playground," Wright said. "Everything is recycled. When a tree is cut down, we ask the guys to leave the stump or logs. We have milk crates that the kids stack and ropes that the kids have hung to swing from."
There is an outdoor mud pie kitchen and a playhouse without walls. "The children requested just a roof but no walls. They like it open," Wright said. "In fact, just the other day, they drug a wooden palette into the playhouse and pretended it was a boat and all acted like they were rowing."
Across the street from B'nai Emunah Synagogue is the school's garden. There are five raised garden beds, a bamboo patch, a climbing apparatus, several fruit trees and a coop for Ella and Ginger, the school's chickens. Also in the garden is a GaGa Pit. GaGa translates to  "touch-touch" in Hebrew and is similar to dodge ball but played with one ball. The game is popular in Israel and was built by the Synagogue's Hebrew School.
"Our children love to play ball in it as well as scale planks up the side of the wall, which is great for balance and gross motor skills," Wright said.
In the spring, with the help of the teachers and parents, the children plant seeds in the raised garden beds. They tend to the garden on a daily basis and eventually pick the vegetables and herbs and use them to prepare a class lunch.
Ella and Ginger are not only school treasures, but have become somewhat famous in the neighborhood surrounding the Synagogue over the past year. Teachers wheel infants loaded in strollers to the garden to observe the chickens.  Older students help tend to the chickens, making sure they have food and water.  Last spring someone vandalized the chicken coop and Ella and Ginger escaped.  A parent found Ginger in the middle of Peoria Avenue.
"The parent literally stopped on Peoria, got out of her car and scooped up Ginger to safety," Wright said.
Ella had a bit more of a journey. "She was nowhere to be found," Wright said.  The students made posters with a drawing of Ella and a number to call and hung them on trees and telephone poles. Wright asked neighborhood groups to keep their eye out for a wandering chicken. Within a day, Ella was spotted a mile east of the school.
"What a reunion we had when Ella was returned to the school," Wright said. "Students, parents and teachers all greeted her. We were so happy to have her back and safe."