Tulsa: A Bike Friendly Community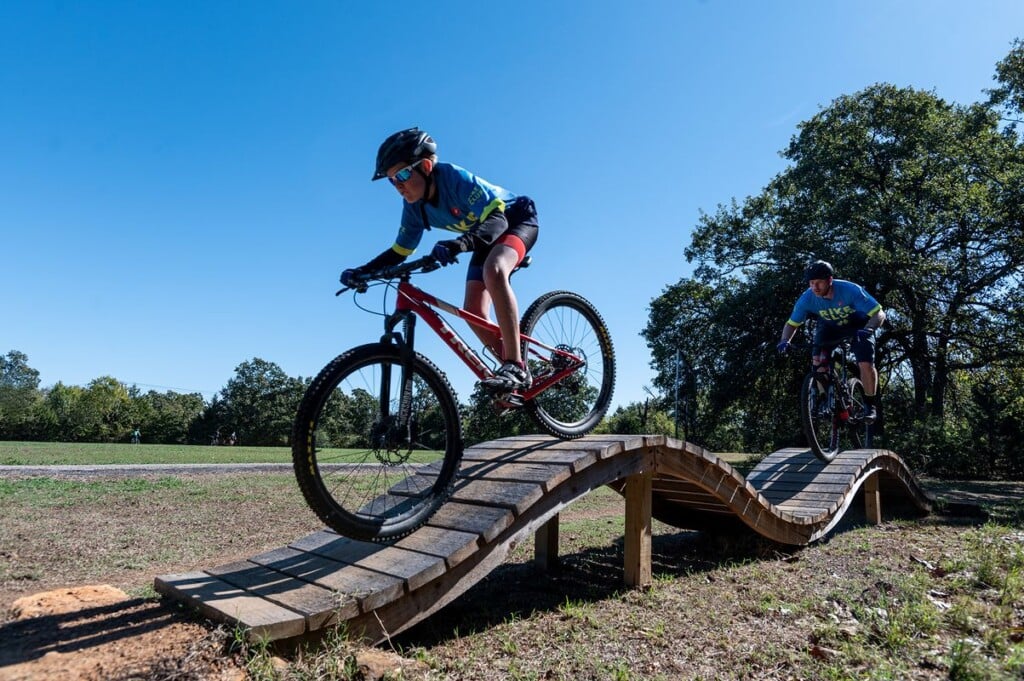 Most Tulsans have noticed clearly marked bike lanes being carved out on city streets, creating safer pathways for bikers and pedestrians as they navigate around town. Residents in surrounding towns may see pathways and trails connecting more seamlessly, beckoning families to get out on a trail. Making the Tulsa Metropolitan area, including 11 surrounding cities, walking and biking friendly is the goal of the GO Plan, a Bicycle/Pedestrian Master Plan. Community members and leaders envisioned the idea and began planning in 2014. The plan was adopted in 2015 by the Indian Nations Council of Governments (INCOG).
A Bike Friendly City
"A good and safe biking and pedestrian community is a community that prioritizes people of all ages and abilities and families' health, safety and quality of life over motorized vehicles," Jane Ziegler, INCOG senior transportation planner, says. "When planning and implementing for the safety of all is prioritized, great neighborhoods and cities are healthier and more engaged. Think of your favorite city, or favorite street or corridor in the Tulsa area. More often than not, the city or street evokes a sense of 'place.' There are probably street trees, maybe a bench to sit on, a buffer between you and moving vehicles, and something interesting to look at such as public art, outdoor cafes or shops."
Ziegler points to Sapulpa's Dewey Ave., Broken Arrow's Rose District and the Tulsa Arts and Greenwood Districts in Downtown Tulsa as examples.
If families want to get involved with biking or support biking, Ziegler encourages people to enjoy the many cycling events and groups in and around Tulsa, either as a spectator or as a participant.
"Tour de Tulsa and Tulsa Tough have different distances for families and all levels of bicycle riders," she says, "whether you're dusting off you bike, or it's well tuned up."
Groups to be involved in include Tulsa Tough's Divas program for women "who are bike-curious but may not feel comfortable riding a bike by themselves or want some one-on-one advice or help." She also suggestions youth racing teams with organizations such as the Oklahoma Flyers, which provides teamwork, structure, equipment and leadership. Bike Club is an after-school activity at many Tulsa Public Schools locations.
Bike Club
Now in its ninth year, Bike Club has expanded from one elementary school to 31 schools and approximately 400 kids, targeting mostly fourth and fifth graders. After helping start the club at Council Oak and volunteering for seven years, Jonah Panther is now the Program Manager for Humble Sons Bike Company, the parent organization for Tulsa Bike Club.
"We try to meet once a week," Panther says. "We shoot for about 20 meetings a year. In the fall, we focus on how to ride safely on the streets and in groups. Spring is focused on off-campus field trips. We might ride to Braum's to get ice cream, or to Gathering Place to play. We've been able to give the students who go through Bike Club until the end of the year a free bike and helmet."
In addition to the after-school programming, Bike Club provides a four-lesson unit on biking during PE class to every third grader. "About one-third of third graders don't know how to ride," Panther says. "And we're teaching the other kids to ride more safely."
Besides providing kids with equipment and knowledge, Bike Club volunteers are mentors. "The bike is our tool to positively influence kids' lives," Panther says. "We are trying to teach the kids to be safe on streets around traffic because it expands the world for them. They can ride their bike to a park. They may never have left their two- or three-block radius around their house, so it opens the world for them."
Another purpose of Bike Club is to provide access to trails where kids may not have had access before. On May 6, Lubell Park and Bales Park Trails were connected to create Mooser Creek Trails, creating 8 ½ miles immediately west of Turkey Mountain. "It's easy to get from Bales Park to Turkey Mountain," Panther says. "One of our goals is to give kids places to ride."
Trail Riding for Beginners and Beyond
"The best place to start [for beginners] is River Parks Trail," Panther says. "We're really fortunate to have that. There are lots of great beginner mountain bike trails," he added. "Lubell Park has the best loop for beginners in Tulsa. The two loops on Mooser Hollow are total beginner."
Jane Ziegler's suggestion for families who want to bike beyond an organization is to "just go out and ride on one of the many regional trail systems. These trails connect cities, parks, main streets and places of entertainment," she says. "If you are a parent and do not have a bicycle, but want to ride with your child, check out This Machine, Tulsa's bike share, located along River Parks, Brookside, Greenwood District, Cherry Street, Downtown Tulsa and the Rose District in Broken Arrow."
BMX Track Riding
Ashley Baker's family started volunteering at Sand Springs BMX in 2019, a nonprofit run by volunteers and the longest-running track in Oklahoma. Last year, her husband, PJ, became Track Operator, and Ashley is currently the Communications Director for the Board of Directors.
The track is located inside Case Community Park. "I can't say enough about how amazing the Sand Springs Parks Department is to work with," Baker says. She also credits Sand Springs BMX's success to the talented, hard-working volunteers.
For those unfamiliar with BMX, it can be freestyle or racing. "At Sand Springs BMX, we race, so you ride a track with a start gate and a finish line," she explained. "A typical race will be three laps around the track, with first through third place receiving a trophy."
Baker encourages anyone of any age to try out BMX. "If a kid can walk, they can use a balance bike, and there is no age limit in BMX. There also isn't a bench, so you can ride as little or as much as you want. If you try out BMX and want to continue, you purchase a 12-month membership for $80, and then pay to practice or race at whatever USABMX track you want, when you want."
While some BMX tracks around the country are located in parks like Sand Springs BMX, many are not. However, there are pump tracks located in parks around Tulsa and surrounding areas where riders enjoy working on BMX skills outside of racing.
If parents have a kid who wants to try BMX riding, Baker encourages them to come for a free one-day trial in Sand Springs. "We have a fleet of loaner bikes and helmets that are free to use at our track," she says. "You must wear long sleeves (or protective equipment), pants or knee pads and appropriate shoes for riding a bike. You don't have to come with special gear. My kiddos started in long-sleeve tees and sweatpants."
More than anything, Baker says the BMX participants are a community where even competitors will help you with fixing a bike or changing a tube. "If you've been in it a while, you're family."
Cycling for Everyone
With so many options in Tulsa and the surrounding communities, it's easy to find a way to get out and ride. Here are some places to find biking information and trail maps around town.
Need Cycling Gear? Visit Gearhead Outfitters in Utica Square!
---