Behaving Like Animals: Tulsa Zoo's New Playground is OPEN!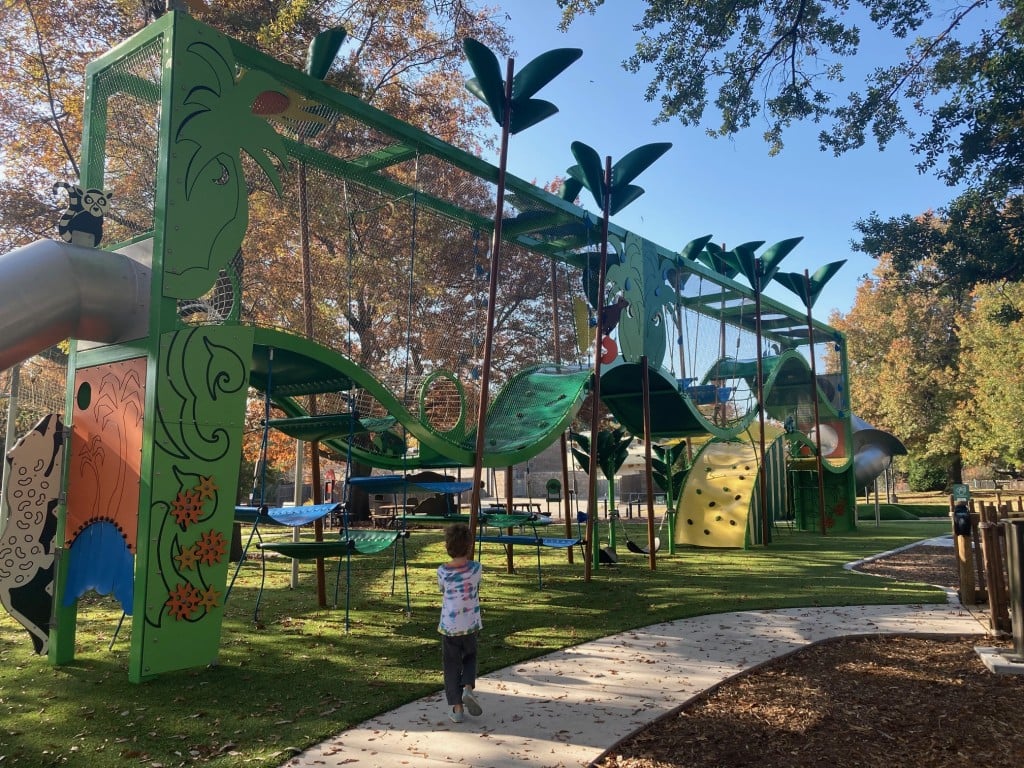 Tulsa Public Schools had last week off to get ready for kids to return to in-person learning. So we took advantage of the break to visit Tulsa Zoo! We were excited to see new arrivals Zoe the giraffe, Sally the white rhino and Booper the Asian elephant. But we were also giddy with anticipation at the prospect of exploring their new "Behaving Like Animals" playground!
I wouldn't have even known the playground was open if it hadn't been for a friend's Instagram post. But we'd been looking forward to it all year.
Ages
Helmerich Playground: Behaving Like Animals has something for everyone. There's a section for the littles (2-5), and several sections for kids ages 5-12. Since Joss is 5, he was on the young side for some of the "bigger" sections. But that might have also just been because he was having a timid day. Once he saw other kids tackling the equipment, he was more gung-ho. I also saw equipment that looked more like workout equipment for adults, like some pretty sturdy monkey bars, etc.
Areas
Each area of Helmerich Playground is designed to get kids thinking about different kinds of animal behaviors. In particular, the ways they move – climbing, jumping, etc. But also where they live and change and other behaviors. There are conversation starters at each section of the playground, as well as animal figures throughout, giving kids an easy visual as to which animal they are "behaving like" when they interact with different structures.
Toddler Area
Here are a couple images from the toddler area, which, although being on the older end of the age range, Joss enjoyed:
I teeter-tottered this with Joss later…ok, it was pretty fun 🙂
I should also mention that there's a nice "stroller parking" area just outside the toddler space.
5-12 Areas
I've heard from a couple people now that they really appreciated how this playground caters even to older kids. There are multiple areas for kids up to 12 years old. My favorites are probably the Rainforest climbing structure and the Arctic-looking one. The whole playground is so colorful, seeing the all-white, ice-inspired section is pretty cool.
So many fun details – both up high and on the ground!
We didn't quite make it, but you can climb up to the top of those green circles, and there are places to sit. Just like lilypads!
Taking a Break
There are several picnic tables in the playground area (as well as disinfectant wipes if needed). So it's perfect for snack time or just parents who need to sit while their kids explore. Also, nearby restrooms and food options.
Supporting the Playground
Through December 31, 2020, you can purchase a plaque in support of the Helmerich Playground. Plaque options start at just $250, for a 40-character sentiment, and range up to $5,000 , which comes with 105 characters in a larger type size. Learn more here.
Tickets and Safety
You still need to reserve advance tickets to the Tulsa Zoo. Do so here. They have many hand sanitizer stations throughout the Zoo, limited admission numbers, social distancing reminders/markers, etc. That said, I was really glad we went first thing on Friday morning. We bee-lined for the playground and were among the only people there for at least 30 minutes. Once it started getting a little busier, I talked Joss into visiting the new animals. Learn more about the Zoo's COVID-19 safety protocols here.
---