Back-to-School Breakfasts to Power Through the Morning
Homemade Instant Oatmeal Mix, Quick Breakfast Bagel Sandwich, Silver Dollar Oat Pancakes, Chocolate Banana Smoothie, Pineapple Mango Smoothie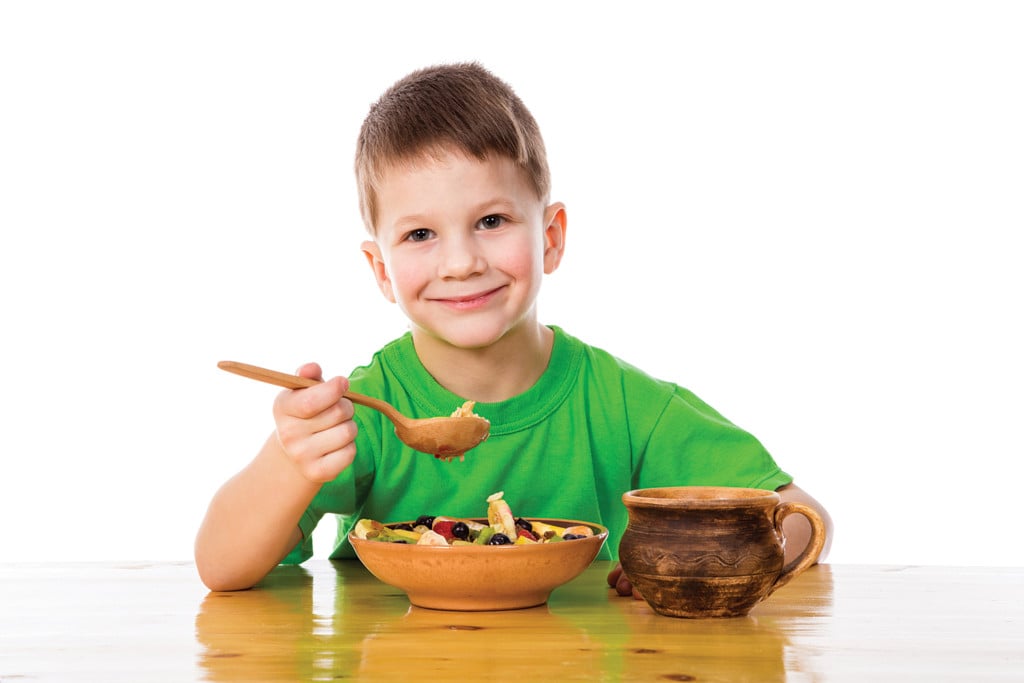 On the weekends, it's fun to go all out for breakfast.
That's when we have time to flip an omelet, make French toast and sizzle bacon.
But when the kids are back to school, breakfast is more likely to be a bowl of cereal, a cup of yogurt or a frozen waffle. And there's nothing wrong with that. But kids appreciate a change from their typical breakfasts. And some kids really need the change.
My son would eat bowl after bowl of cereal if I would let him. But the refined grains in cereal cause a quick spike in blood sugar. So some cereals may satiate at first, but by the time the morning bell rings, kids are hungry all over again. Whole grains are better for breakfast since they help a child to remain full for longer. A combination of whole grains, fiber and protein help keep tummies full all the way to snack or even lunchtime.
Also keep in mind that our kids are growing. Growth spurts are real, and there are times our toddler or teen needs more food than other times. If our kids are full after a few bites of yogurt and toast, let it be. Soon enough they're likely to want more. And when they do, be ready with some healthy breakfast foods. Our recipe for homemade instant oatmeal mix has dried fruit and nuts to hold back hunger. Or make a bunch of silver dollar pancakes and keep them in the freezer for a quick morning treat.
For some kids, a light breakfast isn't enough. If breakfast is your kid's favorite meal, make something more substantial like a breakfast bagel sandwich. Our version uses Canadian bacon and provolone cheese, but it's also great with spinach and cheddar cheese or sausage and pepper jack cheese.
Whether breakfast is the most important meal of the day is debatable, but there's no doubt it gives kids the fuel their brains need to diagram sentences, remember their multiplication tables or sing their ABC's.
---
Packages of instant oatmeal are great for quick breakfasts, but can have lots of added sodium, sugars or unpronounceable ingredients. If you want to know every ingredient that's going into that oatmeal, try making your own.
Homemade Instant Oatmeal Mix
Serves 1
1/2 cup quick oats
2 teaspoons dried milk powder
1 tablespoon brown sugar
1 teaspoon ground cinnamon
1/8 cup nuts or seeds (almonds, crushed walnuts, pumpkin seeds)
1/8 cup dried fruit (cherries, cranberries, raisins)
Combine ingredients in a small plastic bag. Seal bag, and it will be ready to use any time you want oatmeal.
When ready to cook, place ingredients in a small bowl. Add 1 cup boiling water, stirring to combine. Let oatmeal sit a minute or two before eating.
---
Wrap these sandwiches in aluminum foil, and hand to the kids as they run for the school bus.
Quick Breakfast Bagel Sandwich
Serves 4
4 eggs
Salt and pepper, to taste
Dash of hot sauce
4 slices Canadian bacon
4 plain bagels, split
4 slices provolone cheese
Crack eggs into a bowl, and whisk thoroughly. Add salt, pepper and hot sauce. Add mixture to a nonstick saute pan, cooking over medium heat until eggs are set. You can cook these as scrambled eggs, or cook it more like an omelet, and then cut into pieces to fit each bagel.
Warm Canadian bacon in skillet or microwave until warmed through.
Toast bagels. Place slices of cheese, Canadian bacon and eggs on each bagel bottom. Top with bagel top. Keep warm by wrapping tightly in aluminum foil until serving.
---
These little silver dollar pancakes, adapted from the book Good Food for Kids, are just the right size for little ones. If you don't have time for the mess of butter and syrup, spread them with peanut butter or apple butter. If you have kids who prefer a perfectly smooth texture, whirl the oats in a food processor before adding to mixture.
Silver Dollar Oat Pancakes
Makes 16 small pancakes
1/2 cup all-purpose flour or white whole-wheat flour
1/2 cup quick-cooking oats
1 1/2 teaspoons sugar
1 teaspoon baking powder
1/2 teaspoon baking soda
1/2 teaspoon salt
1 egg
3/4 cup buttermilk
1 teaspoon vanilla
1/2 cup cinnamon applesauce
2 tablespoons butter, melted
Combine dry ingredients in a large bowl.
In a small bowl, whisk together the egg, buttermilk, vanilla, applesauce and butter. Stir into dry ingredients, just until moistened. Overmixing will give you dry pancakes.
Pour batter by 2 tablespoonfuls onto a hot griddle. Turn when bubbles form on top. Cook until second side is golden brown.
To freeze pancakes: Allow to cool. Wrap each pancake in plastic wrap, then place each in a plastic freezer bag. When ready to use, place on a baking sheet and bake at 400 degrees for 4-6 minutes or until heated through.
---
Smoothies are a favorite of many kids. Here are a couple to add to your breakfast rotation.
Chocolate Banana Smoothie
Serves 1
1 cup chocolate Greek yogurt
Splash of milk (plain or chocolate)
2 tablespoons cocoa powder
1 banana, sliced and frozen
2 teaspoons honey
Blend all ingredients at high speed until smooth.
Pineapple Mango Smoothie
Serves 1
1/2 cup milk
1 cup Greek yogurt
1/4 cup fresh squeezed orange juice
1 cup frozen pineapple chunks
1 cup frozen mango chunks
2 teaspoons honey
Blend all ingredients at high speed until smooth.
Natalie Mikles is a mom of three. She writes about food, sharing recipes for busy families and picky eaters. She has been recognized for her food columns as well as features on families and issues affecting local children. She loves pizza and movie nights with her family.
---