Amanda Gorman and "The Hill We Climb"
Thoughts on the Inauguration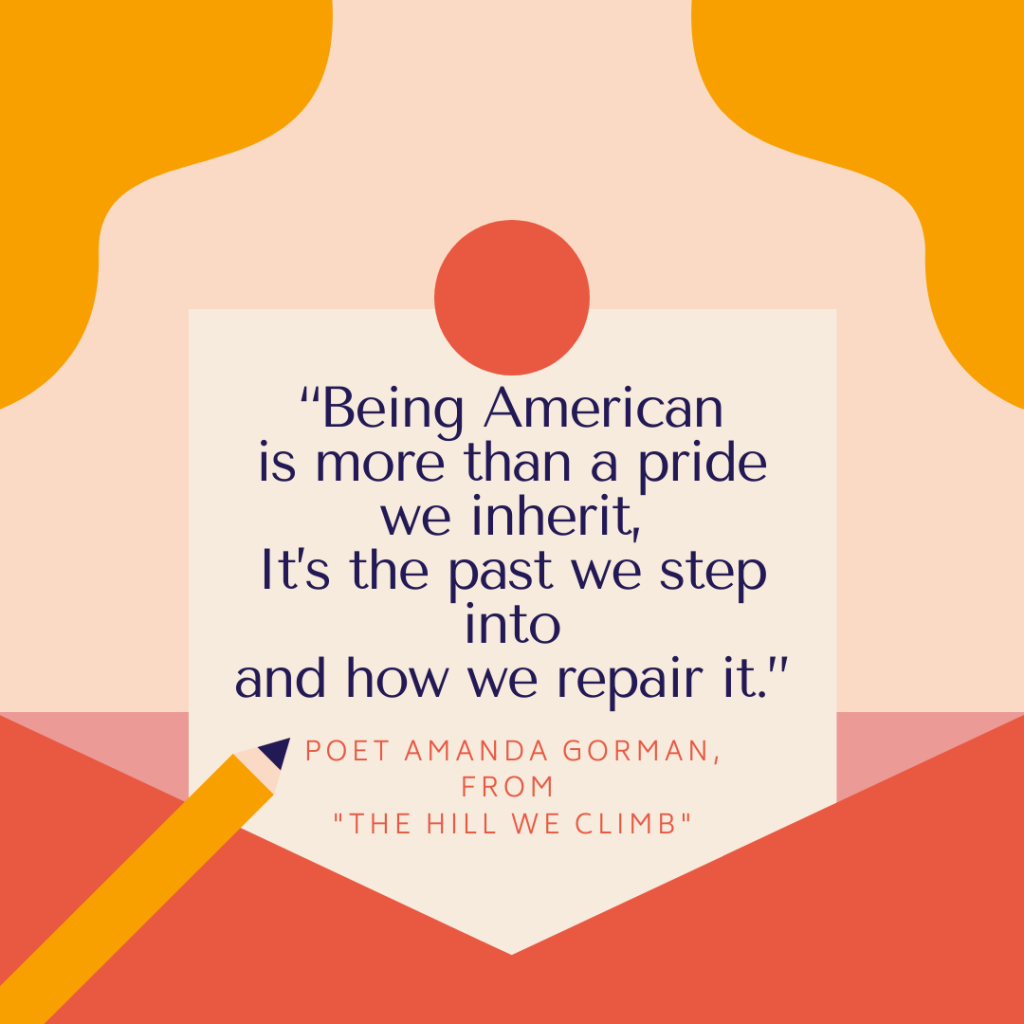 I missed watching the actual swearing-in of President Biden and Vice President Kamala Harris. It's deadline week at work, so although I'd started the NPR Inauguration Day live stream, somehow I missed that key part! But what really stood out was National Youth Poet Laureate Amanda Gorman reciting her original work, "The Hill We Climb."
I love that poetry is included in Inauguration Day! According to this article from the New York Times, "Since John F. Kennedy, most incoming Democratic presidents have invited poets to mark their accession to the highest office in the land."
In an interview with CBS prior to the Inauguration, Gorman said, "Poetry is a weapon. It is an instrument of social change…and poetry is one of the most political arts out there because it demands that you rupture and destabilize the language in which you're working with…Inherently, you are pushing against the status quo. And so for me, it's always existed in that tradition of truth-telling."
As someone who enjoys writing poetry (specifically, sonnets), this is certainly something to keep in mind! Usually, my writing is more personal – I don't expect anyone else to read it, but it does help me think through things. But this is a wonderful reminder of how powerful poetry can be if you're willing to take risks.
So glad Joss got to watch the inauguration with his study group! Front row seat! 🙂
So many lines in "The Hill We Climb" stand out, including:
We will not march back to what was
but move to what shall be
A country that is bruised but whole,
benevolent but bold,
fierce and free
We will not be turned around
or interrupted by intimidation
because we know our inaction and inertia
will be the inheritance of the next generation
Our blunders become their burdens…
"Stamped"
I just finished reading Jason Reynolds' "not-history" book, "Stamped: Racism, Antiracism, and You: A Remix of the National Book Award-Winning Stamped from the Beginning." Based on Ibram X. Kendi's book "Stamped from the Beginning," "Stamped" gives an overview of the history of racist ideas in America specifically targeted towards a younger audience. Reynolds calls it a "not-history" book because the ideas and people discussed influence all of our lives in the present. (Watch Trevor Noah's interview with Jason Reynolds and Ibram X. Kendi here.)
My point is that reading "Stamped" really helped put into context the need to move forward from the past that has bruised us, and to not increase the burden on future generations by staying silent. And as Gorman wrote elsewhere in the poem, "Being an American is more than the past we inherit. It's the past we step into and how we repair it." America has never been perfect or great for all people. But we can do antiracist work today and do what we can to repair the past. I don't want to go off on a long tangent, but I recommend you read either "Stamped" or the original (which I have yet to do). The racist ideas it covers are pervasive and such a part of our culture, it's easy to miss them for what they are.
Learning More Together
If you'd like to learn more about Amanda Gorman, the New York Times put together this incredible "learning lesson." It gives an overview of Gorman's life and work, info about the history of inaugural poetry, a literature lesson on occasional poetry and more. At 22, Gorman is the youngest inaugural poet in U.S. history, but she has an impressive resume beyond that! Plus, she has a children's book coming out in September, "Change Sings." Follow @amandascgorman on Instagram for updates.
Putting this here so I remember to watch later. Gorman's TED talk, "Using Your Voice is a Political Choice."
For parents wanting to discuss this moment with their kids, here's an example of a question prompt from the Times' lesson: "Watch the video of Ms. Gorman reading 'The Hill We Climb.' Then read the poem, underlining its most important words. Explain why you think these particular images are essential to the poem's meaning."
It also suggests students try writing their own occasional poem "inspired by a news event that moves, angers, saddens or inspires you." What would your child choose to write about? What stuck out to them about the Inauguration?
Bonus
Amanda Gorman appears at the end of this video by illustrator Christian Robinson. (Robinson was Tulsa City-County Library's 2019 Books to Treasure illustrator.) This would be a really fun video to watch with younger (or older!) kids. Robinson is talking about how we can use creativity to imagine worlds, especially when it seems like there's so much that is out of our control in this one. And he walks viewers through painting their own imaginative world.
Robinson asks Gorman to imagine a world with her words. The last lines of her poem read, "When this ends, the world will smile sweetly, finally seeing, in testing times, we became the best of beings."
Young People's Creative Writing Contest
This might be a good time to remind readers that the Tulsa City-County Library's annual Young People's Creative Writing Contest starts February 1! If "The Hill We Climb" inspired any of your children to write their own poem or other work, consider entering February 1-28. Details here.
Let me know in the comments, which lines of "The Hill We Climb" resonated most with you? Did your children write any poetry inspired by Gorman's work?
---