A Stargazing Picnic Menu
Summertime Orzo, Barbecued Chicken Salad and Toffee Blondies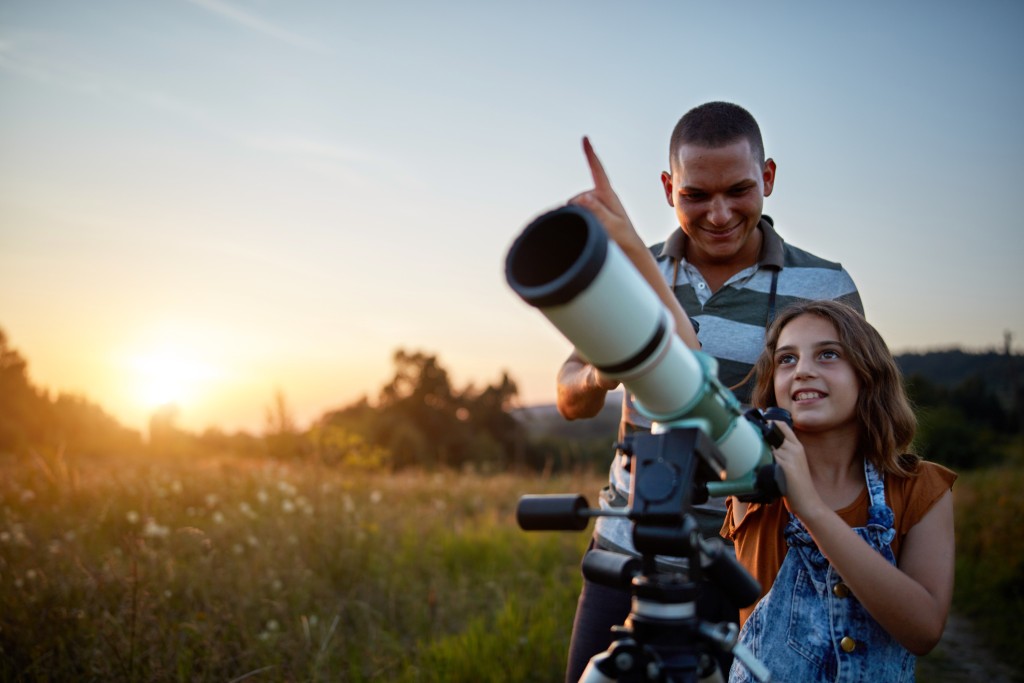 Turn your head to the sky this summer. Skygazing creates lifelong memories for kids and magical moments that can lead to a lifetime of curiosity and appreciation for astronomy.
Seeing the night sky through a child's eyes is one of the joys of parenting and not to be missed. If you're an armchair astronomer, you already know this and are well prepared for what to teach your kids. But even if you can't tell the moon from the Milky Way, you can still spread a blanket on the lawn, put your hands behind your head and look up with your kids.
Talk about what you see, what you imagine it looks like on other planets and whether you would ever want to take a rocket ship to outer space. Check out a calendar of astronomical events to find the best nights this summer for stargazing. Two of those events will take place in June, including the first supermoon of the year on June 14 and the alignment of five planets on June 23.
If you have a decent telescope, you can stargaze in your own backyard. If you live in a big neighborhood or near city lights, you might take your telescope to a more remote area for stargazing. Check the Tulsa Botanic Garden for some of their summertime evening events, as that's a good spot away from lights.
Friends or family who dabble in astronomy are often happy to spend an evening pointing out stars in the night sky. Invite them over, and then feed them a late-night dinner or snacks. If you're leaving the house for a stargazing experience, pack a cooler for dinner (check out our suggestions here) to make the night even more fun.
One more tip for a memorable night of stargazing: Add to the experience by having a moon-rock hunt. Paint some rocks with glow-in-the-dark paint, then hide them around the yard. When the sun goes down, the kids can hunt for rocks. This is core memory making.
---
Kids may surprise you with how much they like this salad. It may be because of the sweetness of the cranberries. It's a good one to pack for a stargazing picnic.
Summertime Orzo
1 pound dry orzo pasta
½ cup olive oil
2 cups fresh spinach, torn into pieces
4 ounces crumbled feta cheese
½ cup dried cranberries
8 fresh basil leaves, torn
½ cup toasted pine nuts
3 tablespoons lemon juice
1 ½ teaspoons salt
1 teaspoon ground black pepper
1 carton cherry tomatoes, halved
Cook orzo in a large pot of boiling salted water, stirring occasionally for 8 to 10 minutes or until tender but still firm to the bite. Drain pasta and rinse with cold water to cool.
Transfer pasta to a large serving bowl. Add all remaining ingredients and toss gently to combine. Serve chilled.
On the go: Pack in a container with a tight lid and keep cool with an ice pack. Stir before serving.
---
This twist on chicken salad includes a kids' favorite – barbecue sauce.
Barbecued Chicken Salad
1 cup plain Greek yogurt
1/4 cup barbecue sauce
1 tablespoon honey
1 tablespoon spicy brown mustard
4 cups shredded, cooked chicken
1 large apple, peeled and chopped
1 tablespoon chopped red onion, optional
Salt and pepper, to taste
Combine yogurt, barbecue sauce, honey and mustard. Add chicken, stirring to coat. Add apple, onion, salt and pepper. Cover, and refrigerate until chilled.
Serve on brioche or buns. Drizzle with a little barbecue sauce.
On the go: Pack the chicken salad in a cooler or ice chest. Spoon between buns when it's time to eat.
---
These sweet bites are great for a portable dessert.
Toffee Blondies
½ cup unsalted butter, softened
1/3 cup sugar
½ cup brown sugar
1 egg
½ teaspoon pure vanilla extract
1 1/3 cups all-purpose flour
¼ teaspoon salt
½ teaspoon baking soda
1 (8-ounce) bag toffee bits
½ cup white chocolate chips
Preheat oven to 375 degrees. Beat butter and sugars until fluffy. Beat in egg and vanilla. Add flour, salt and baking soda, and mix until combined. Stir in toffee and white chocolate chips.
Transfer to a greased and floured 9-inch square pan. Bake 18 to 23 minutes or until light brown. Be careful not to overcook.
Natalie Mikles is a mom of three. She writes about food, sharing recipes for busy families and picky eaters. She has been recognized for her food columns as well as features on families and issues affecting local children. She loves pizza and movie nights with her family.
---