10 Ways to Celebrate 918 Day 2021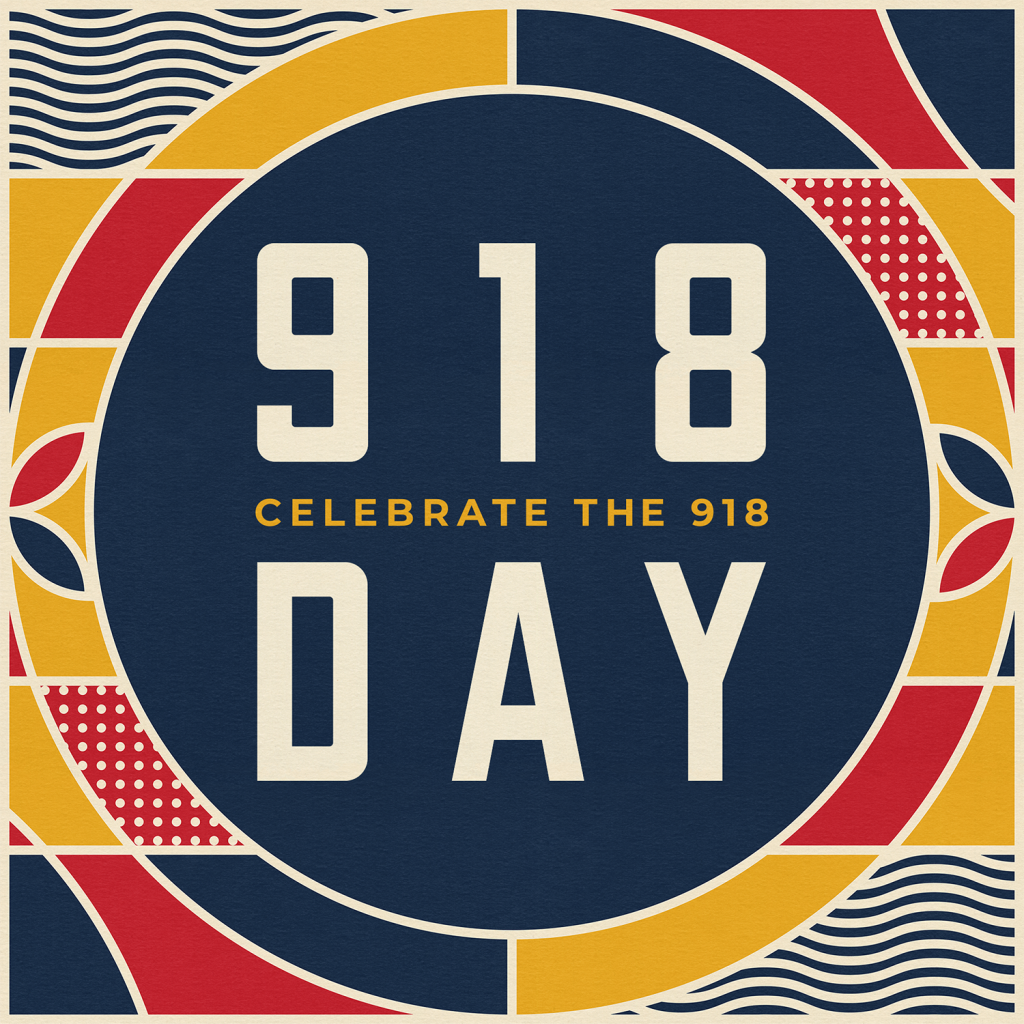 I moved to Tulsa in 2004 to attend TU. I never thought I would move to Oklahoma. Based on the garish red and orange colors (so I thought at the time) in the OU and OSU mailings I received senior year, I had no interest in Oklahoma universities. (I know, I know – and I've written before about how lacking my college admissions mindset was!) However, having switched to a public school for the first time my senior year of high school, I kind of lucked into a more robust college recruitment environment, and ended up in Tulsa. With the exception of a year and some months in 2011-2012, I've lived here ever since, and love it!
Things have changed so much in the 17 years since I moved to Tulsa. It's fun to imagine what college life would have been like, had Mother Road Market and Gathering Place existed at the time. Not to mention all the wonderful local bookstores! Although I still get nostalgic when I drive past the abandoned Borders. 🙁 On the horizon, Tulsa has a new Gilcrease Museum, the OKPOP museum, the Bob Dylan Center and more to look forward to. So, it's an exciting time to be here, overall.
You know you're from Tulsa when…you dress up on a Saturday morning to take photos with Piggy Stardust at Buck Atom's!
So, this Saturday is 918 Day. Joss's school has a grounds cleanup scheduled, so I'll probably need to put in some volunteer hours in the morning. Meaning I'm still not sure how the day is going to go! But here are some things you might want to consider doing on 918 Day:
The Community Food Bank of Eastern Oklahoma is going to be all over town on Saturday! Their storytimes will "share books and information related to families facing food insecurity with young readers." This should be a great way to help younger kids get a broader perspective on our community and the important work this local organization does to help our neighbors. Learn more at okfoodbank.org/events/storytime-Saturday.
Photo from a Community Food Bank of Oklahoma Facebook post
I love the idea of becoming a better photographer. And this is a free class taught by a professional at the beautiful Gilcrease Museum! The class will focus on how to take great outdoor photos on the Gilcrease grounds. Plus, class participants can also participate in a fun social media giveaway afterwards. Preregister here: https://my.gilcrease.org/20199.
This is one I found through the City of Tulsa's 918 Day promo listings. And I'm always a fan of a photo opp! Local artist Matt Bearden will design and draw his 918 Day Mural on 9/17, and you can take your photo with it on 9/18! It will be in Tulsa flag colors, of course!
When: 9/18, during Purple Glaze business hours
Having just blogged about how much we love Purple Glaze, I would be remiss not to mention this! For just $9.18, you can get unlimited studio fees through the end of the year if you stop by Purple Glaze on 9/18. Just stop by either of their locations for this fun promotion. I believe regular studio fees are $4 each time.
I don't need this deal personally, as I'm already a member of the YWCA. But let me tell you how much we love being YWCA members! It's an important part of our weekly routine, as I'm trying to keep Joss in swim lessons year-round, now that they're available again. And as members, it's just $45 a month for two 30-minute lessons a week. He's really improved, which is such a relief to see. Plus, he loves it. After swim lessons, our current routine is for me to go up to the spin room and get a nice 10-mile ride in while he puts on headphones and enjoys some iPad time.
But they also have a variety of classes, including a new Hip Hop Cardio one on Saturday mornings (very intriguing!), spin classes, etc. Here are their newest offerings: ywcatulsa.org/blog/2021/09/13/new-classes.
If you're not ready to sign up on 9/18, don't worry – this promotion is running through 9/28.
When: 9/18, 10 a.m.-2 p.m.
This isn't a specific 918 Day activity. But Turkey Mountain is a pretty significant part of the Tulsa landscape! And this annual event celebrating the monarch migration sounds like a lot of fun. To be honest, I've thought about going for probably the past 3-4 years, but always get worried about Turkey Mountain event parking and haven't made it. Maybe this will be the year?
When: 9/18, 11 a.m.-6 p.m.
Have you heard the news? Mythic Press has moved into The Shops at Mother Road Market! Celebrate the opening of their new store while enjoying superhero character visits, live music, live screen printing – and T-shirts for just $9.18! Hm…after reading their event description, I'm definitely adding this to our 918 Day list.
When: 9/18, 10 a.m.-9 p.m.
Joss and I did this last year. While we sadly didn't win a Golden Ticket, we did get a discount on our next purchase! And really, just the excitement of peeling back that chocolate bar wrapper in hopes of catching a glimpse of gold…totally worth it!
Speaking of Golden Tickets! I'm sad that, as a TulsaKids employee, I'm not eligible to win this one, but we might participate just for fun 🙂 We're doing a special 918 Day Golden Ticket Scavenger Hunt with Celebrity Attractions, and the prize is four tickets to see "Charlie and the Chocolate Factory"! The Broadway show is coming to the Tulsa PAC in early November, and I'm very tempted to go ahead and get tickets for Joss and I. He would love it, as would I.
Anyway, if you want to participate, you can find details at tulsakids.com/contests. But in a nutshell, you just have to take one photo (from a list of categories) and share it on social media using the specified hashtags. Easy peasy!
Supporting small business is a key part of celebrating Tulsa! The TulsaGo Small Business Crawl allows you to do just that, while enjoying over $6,000 in special offers and discounts. Of course, you have to purchase their $10 Small Business Crawl pass to take advantage of the deals. Some I'd be especially interested in:
Common Tart, the pie shop in our neighborhood, is offering $1 off per slice on Saturday.
Big Dipper Creamery: BOGO ice cream scoops
Frio's Gourmet Pops: 10 percent off your purchase
Eleanor's Bookshop, Fulton St. Books and Coffee and Lavender's Bleu are all offering book discounts
Lolly Garden: 15% off storewide
Find the whole list here: tulsago.com/events/small-business-crawl.
Getting in the spirit!
Finally, for more ideas, check out the City of Tulsa's 918 Day Promotions List. (Like, 10% off admission at Tulsa Air & Space Museum on 9/18!) They've also provided 918 Day graphics you can download and use, like the one at the top of this article!
How are you celebrating 918 Day?
---