Painting Pottery at Purple Glaze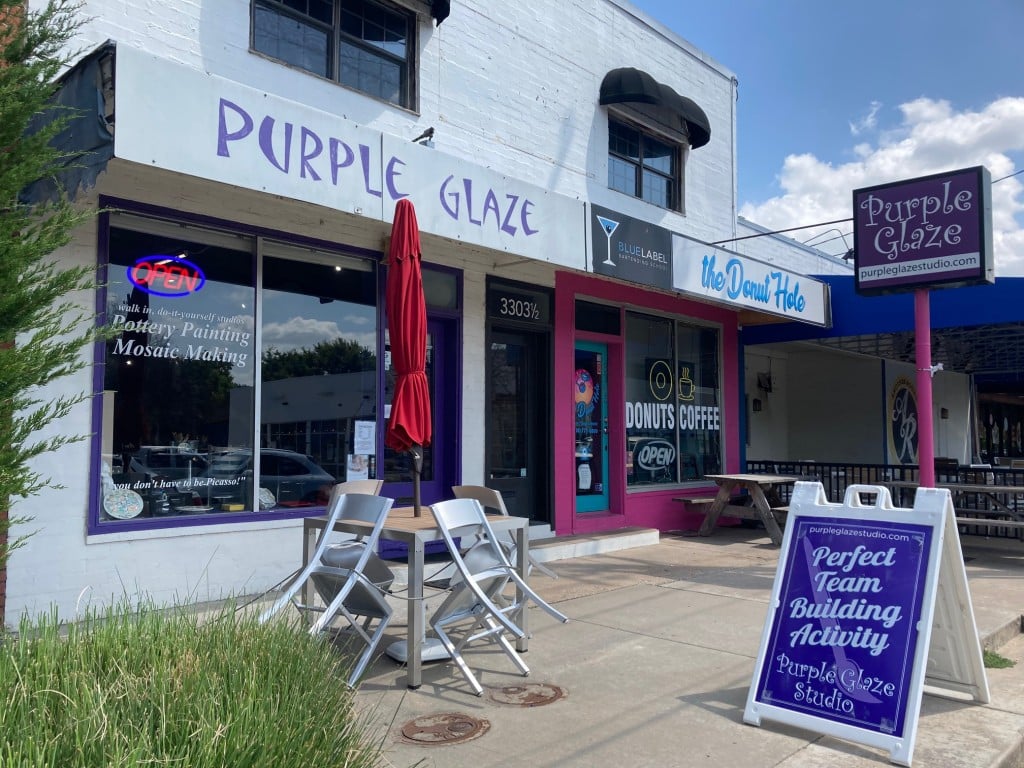 I've been trying to take Joss to Purple Glaze on Brookside for several weeks now. Each time, he pooh-poohed the idea, other things came up, etc. It just sounded like a fun, end-of-summer activity that I knew he'd enjoy if we ever managed to make it! Finally, last week, I skipped my Tuesday workout in exchange for an evening at Purple Glaze. And he liked it so much, he asked, "Can we come here every day?!" While that may be a bit much, he did talk me into doing another round of painting when we went to pick up our original pieces. That's what happens when you don't have any other plans on a Friday night!
Joss's second mug. The first he made to give away and was later bummed he didn't get to keep it. So this one's his very own
Finished product!
As a matter of fact, he was so inspired, that the next day he made a polymer clay bowl that he tried to sell for infinity 9 gazillion dollars. And when he realized no one was stopping to buy the bowl, decided to inside start his own clay business where people could come to our porch and make their own clay creation. The cost on that one was "either 1 cent or $5," but he spent so long coloring the sign that we ran out of time to hype the business.
How it Works
If you haven't yet been to Purple Glaze, put it on your bucket list! They have a wall of unpainted pottery to choose from. Plates, mugs, small and large figurines, you name it! Need a new garden gnome? They've got one! Travel mug? Check! Decorative Kleenex box? No problem!
Once you've chosen your pottery (they range in price from about $5 to $45+, I believe), it's time to choose your paints! On the opposite wall, there's a large poster board showing all of the paint options. From solid colors to speckled specialties to puff paints. Just grab the paint you want from the shelves, take it to your table, and start painting! You can choose as many colors as you want. Each table is equipped with a paper towel, cup of water, multiple paintbrushes and a paint plate. There are extras of everything if needed.
The main things to remember are that two to three layers of paint will show up better than a single layer, and light colors don't work as well when painted over dark colors. We had one iffy moment where a bottle of puff paint exploded onto the mug Joss was painting. But thankfully, I was able to wipe a lot of it off and convince him quickly that he could just paint over it. Whew!
The employee was very friendly and willing to answer any questions. Joss spoke to her at length. He wanted to make sure she had my phone number, which she did, since you have to provide your phone number when leaving your pottery, just in case.
When you're finished painting, you pay and leave your painted piece at the studio. Purple glaze coats it with a food safe glaze, fires it, and it's ready to be picked up in 2-3 days.
Hours, Location, Pricing
Purple Glaze has two locations, once on Brookside and on in South Tulsa. Hours vary by location. Summer hours are as follows:
Brookside
Monday: Closed
Tuesday-Thursday: 12-8 p.m.
Friday-Saturday: 12-9 p.m.
Sunday: 1-7 p.m.
South Tulsa
Monday: 11 a.m.-6 p.m.
Tuesday-Saturday: 11 a.m.-6 p.m.
Sunday: Closed
As far as pricing, there is a small studio fee. The rest of the price is determined by the piece you choose. All the unpainted pieces are clearly marked, so you won't accidentally end up with an unexpectedly pricy item. The travel mug Joss painted was $18. But there are a lot of animal figurines that are just $6.
According to their website, they have curbside and even home delivery options. Learn more about those at purpleglazestudio.com.
Birthday Parties at Purple Glaze
Purple Glaze also hosts birthday parties. Here's their description from TulsaKids' Party Planner: "Purple Glaze painting parties promote creativity, combining the activity and party favor into one unique experience everyone will remember forever. Bring your cake, party supplies and gifts, then let Purple Glaze provide the awesome ceramic painting fun. For only $99.00 PLUS a "Per Painter Fee," parties will include all of your ceramic painting supplies, instructions and birthday invitations. Parties last up to two hours for older kids and about an hour and a half for kids ages four to eight."
Well, that's it! Have you been to Purple Glaze? Tell us about it in the comments!
---