YogaQuest: Encouraging Yoga for Every Body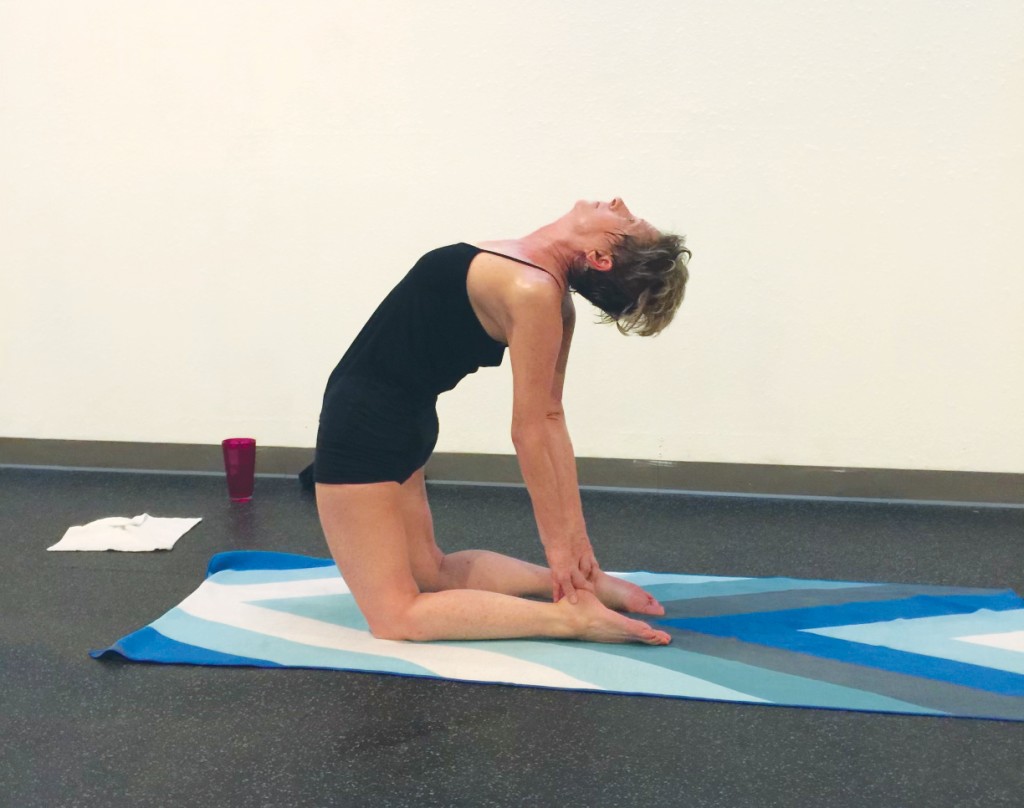 Dee Anne Day, yoga instructor and owner of YogaQuest in Tulsa, spent much of her mid-30s fighting Crohn's disease. "I'm a Crohn's disease survivor because it almost killed me," Day says. She had trouble keeping food down, was in and out of hospitals, had surgery, was bedridden and suffered the aftereffects of taking prednisone. Her health was so bad that her doctor said that she couldn't be helped. At that point, Day traveled to Mayo Clinic, with the help of her sister, and had a second extensive surgery. Six years later, Day trained in Bikram Yoga and learned some information about her own body and about anatomy that could have helped her had she started practicing earlier in life.
"One of the things I'm really interested in is physical health, the spine and how it affects your overall health," Day said, adding that recognizing the benefits of spine health early on could possibly prevent surgeries later. "There are so many ways to heal."
Taking what she has learned from her own journey, Day wants to create a wellness destination within YogaQuest, but also do more community outreach. With the help of Kathy Clarke, a fellow yoga instructor with a corporate background, Day has outlined a series of events and workshops that incorporate her passion for body and mind wellness.
YogaQuest in the Community
YogaQuest has participated in several community events, including being a sponsor of the Route 66 Marathon in 2019 (Clarke led a class called "Yoga for Runners" that year), community yoga at Riverparks with donations going to support Paws in Need Tulsa, Rock & Rescue at Cain's Ballroom and a community parking lot wellness event at 31st & Harvard in front of the studio.
In September, YogaQuest is participating in TulsaGo's Small Business Crawl set for Friday, Sept. 16 – Saturday, Sept. 17. Participating businesses will offer savings to those who purchase a $10 ticket at tulsacrawl.com. YogaQuest will offer free mini-classes for all ages and abilities to showcase the types of classes offered.
"Our mission is educating, creating, exploring and creating community," Day says. "And we want people to know we don't do just hot yoga. YogaQuest is known for hot yoga, but we're expanding away from that. There are many types of yoga. If people are healing from something, you may have to pull back. For example, we have a class that uses very gentle, small, precise movements. It doesn't take a lot to make the body adjust to certain things and be healthier."
"Doing yoga and embracing any kind of physical, balanced living — we're so passionate about it," Clarke says. "I think so many people look at yoga and say, 'I'm not ready for it,' or 'I'm not physically fit for it,' and then you have the other side where people think of yoga as an elitist or religious activity. It's literally for EVERY BODY."
Plans for the Future
Both women would like to see yoga incorporated into elementary schools to encourage children to practice body awareness, balance and health early in life. Day recalls teaching yoga classes to 18- to 21-year-old Tulsa soccer players and being surprised at what their bodies could NOT do at such a young age. While sports and exercise are great, Clarke says getting parents to see the importance of balanced living, of mind/body connection in their kids, could be life changing.
To that end, Day is looking at possibly offering discounted classes or continuing education for teachers. Day and Clarke are also talking about offering kids' classes, parent/child classes, or possibly yoga for the kids while their parents participate in a book group or another kind of class.
YogaQuest has always offered special events and workshops with outside professionals teaching various yoga practices and will continue to do so. They currently are planning a Well Arts Show and Festival later in the year, which will be open to the public. They will also participate in the November TulsaGo event. Day says that besides increasing classes and workshops, the interior of YogaQuest will change to reflect the community wellness mission of the business. Day and Clarke believe that yoga can benefit everyone, regardless of age or ability.
---