Working From Home With Toddlers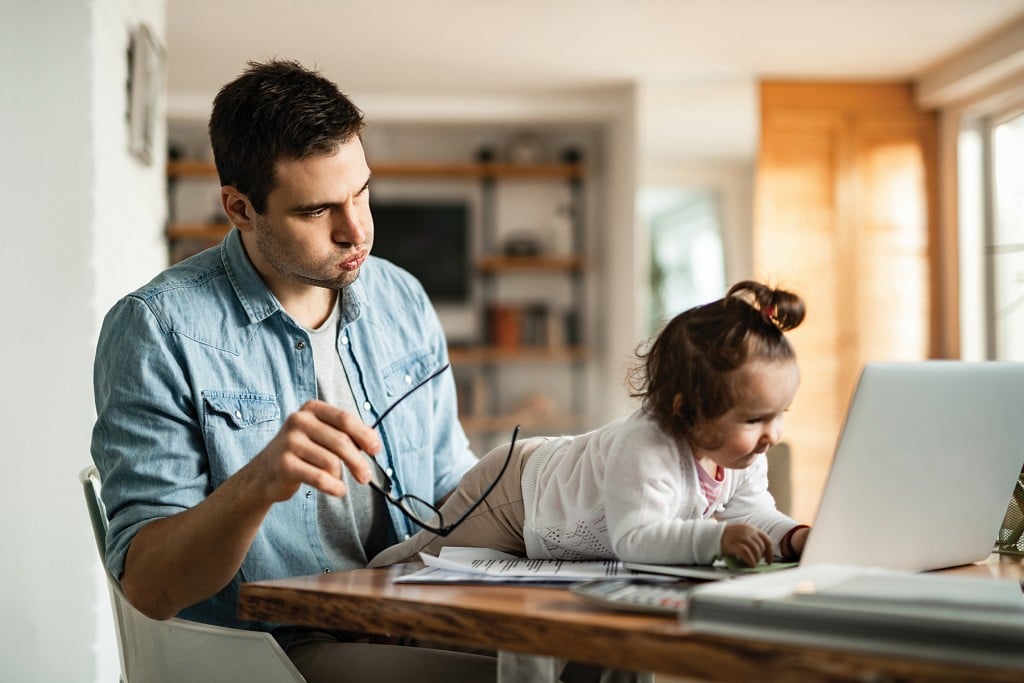 If working from home during a worldwide pandemic isn't stressful enough, add two children to the mix and things get a lot scarier. Fortunately for me, my children are a little older now and can manage some quiet reading time and playtime while I break out the laptop and join my twentieth Zoom meeting for the day. It is not easy by any stretch of the word, but we're making it work one day at a time…sometimes one hour at a time. However, for working parents of babies and toddlers, trying to work remotely and juggle little ones is an entirely different experience.
With schools and daycares closed and employers still encouraging workers to telecommute and work digitally, "take-you-child-to-work day" just got real. So while you're trying to minimize your exposure to the outside world, you're also attempting to keep up with your demanding workload. And all of this can create one major stress migraine. But don't panic just yet! Here are some tips on the best ways to navigate life at the intersection of working at home and parenting.
Create a Schedule
It's important to line up your day carefully, with set "office" hours. How many hours do you hope to work that day? When will you return calls? What can you accomplish while your son or daughter is coloring in the next room? You'll get more done if you work smarter, not harder. But remember that flexibility is okay too. If your child starts fussing during your office hours and it's a beautiful day, it's okay to push assignments aside and play outside for a bit. You can try to catch up on work later when your little one has settled down.
Capitalize On Naptime
Take advantage of naptime for staying productive while working from home. Whether your kid sleeps for one hour or three, use this time to finish assignments that require your complete focus and concentration. This is a great time to try to schedule phone calls.
Separate Parent and Business Roles
If you don't keep your roles as parent and business worker separate, giving each your full concentration for a set amount of time, you'll never feel like you're doing either well. To separate mentally from the rest of the house, set up an office area. It doesn't have to be a formal office, even a converted closet or dining room will do — the key is trying to keep it a kid-free zone to help yourself detach from the rest of your house. Plus, it helps you disengage from your job when you're done. If you don't have an office, try making a list of everything you're going to do the next day, leave it in your workspace at the end of the day, and walk away.
Keep Kids Entertained
Set aside a few cool toys that your kids can play with, or arrange special movie viewings only during your work time. If your children have something to look forward to, they'll be less likely to interrupt you. You can also try setting up an activity center in an area of your home so kids feel as if they have their own designated place to do projects while you catch up on e-mails.
Plan for Interruptions
It's going to happen, you're on an important call and the person on the other line is listening to your child cry instead of your great ideas. If your toddler is fussing while you're on the phone, end the call and reschedule if you can. Also remember to hit the mute button on the phone or video conference call when you're not talking.
Lastly, prepare for the guilt and turn it into a gold medal. You can't be all the things to all the people. Give yourself some grace and a big pat on the back. You're managing a lot and you're doing a great job. Remember that most importantly, your kids are safe, healthy and loved. That's what matters most. Hang in there, friend. We'll all get through this together.
---