Woolaroc Lights and Holiday Fun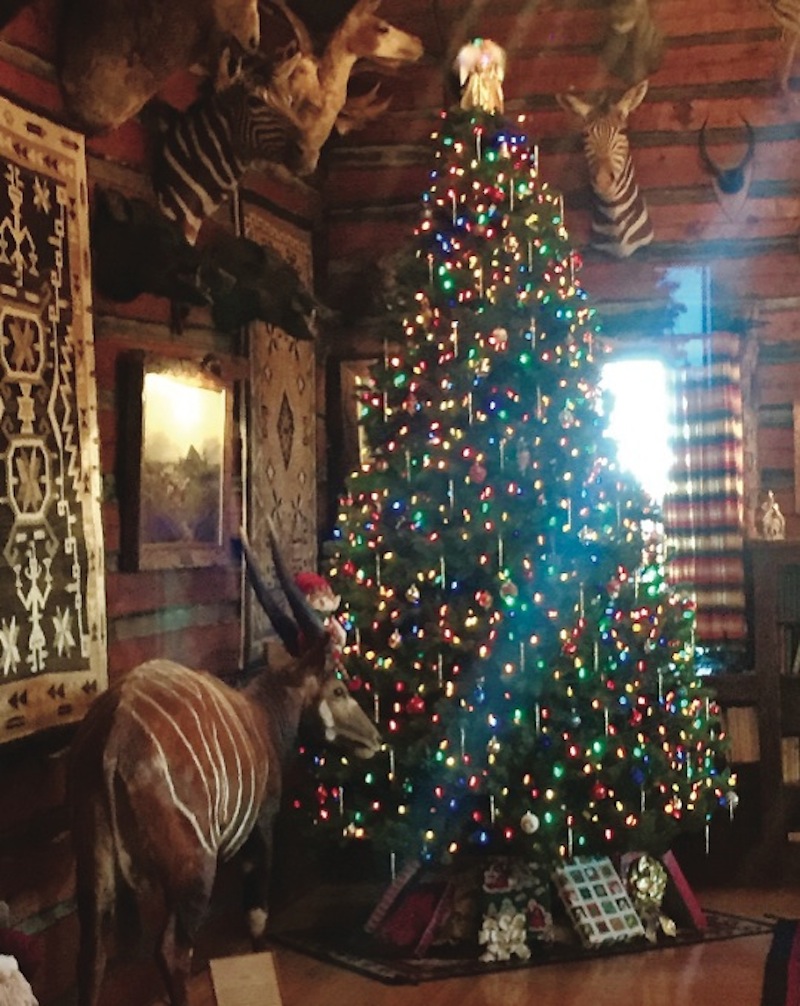 If you're looking to inject some old-fashioned holiday happiness into your "ho-ho-ho," look beyond what is already available in Tulsa and fold in a little family drive to Woolaroc's Wonderland of Lights near Bartlesville, OK. Whether or not you've been to Woolaroc, the Wonderland of Lights is a truly unique privilege to explore.
Woolaroc, a 3,700-acre Osage Hills country estate and former part-time residence of Frank Phillip's, founder of Phillips Oil Company, takes the holiday season to heart, turning the entire place into an illuminated magical fairyland. You and your troops will be dazzled by the more than 750,000 multicolored twinkling lights ablaze on hundreds of tree trunks and branches lining the paved walkways, and dotting windows and rooftops of the buildings and barn. Just try to envision nearly a million lights shining brightly, mirroring the stars above.
In addition to driving the grounds, you can park the car and explore the grounds. Visit Santa Claus in the magnificent museum and enjoy holiday refreshments (available for purchase) in the homey, Christmas-tree-clad lodge. There, you'll find hot apple cider, hot chocolate and freshly baked cookies. The holiday ambiance is beautifully punctuated by music piping through the trees and live performances being held in the Heritage Theater. Children will love the lit-up petting zoo with goats, sheep and miniature horses, and a wagon ride around the property.
"This is truly one of those wonderful family traditions for so many people," said Woolaroc CEO Bob Fraser. "We have families who meet here at Woolaroc each year to celebrate their 'family Christmas' during our lights, and, if you are lucky, you may catch a glimpse of the Holiday Horseman, covered in lights, riding across the grounds. To have the chance to walk the grounds — hearing the laughter of children — this is the way things should be this time of year."
For those who aren't familiar with Woolaroc (a name derived from three words: woods, lakes and rocks), it's been around for nearly a century. Established in 1925, it is the former private ranch of well-to-do oil tycoon Frank Phillips.  Phillips built a rustic, log-cabin style lodge for himself and his guests and then, over time, after amassing a large collection of Southwestern and Native American style art, he created a world-class museum, which is now one of the largest of its kind. The nearly six square-mile grounds have been turned in to a wildlife preserve, where over 30 different animal species indigenous to Oklahoma and the region now roam virtually free. During a recent afternoon visit, I encountered a large herd of bison grazing along the roadside and stumbled upon some deer foraging for food. The grounds are also home to zebras, ostriches, llama, elk and more. Collectively, the Woolaroc Lodge, Museum and Wildlife Preserve are now part of the National Historic Register, which can be enjoyed year round.
What better way to evoke the holiday spirit than to bundle up the kids and make a trip to Woolaroc a part of your annual holiday tradition.