Winter Drink Menus and Other Festive Treats!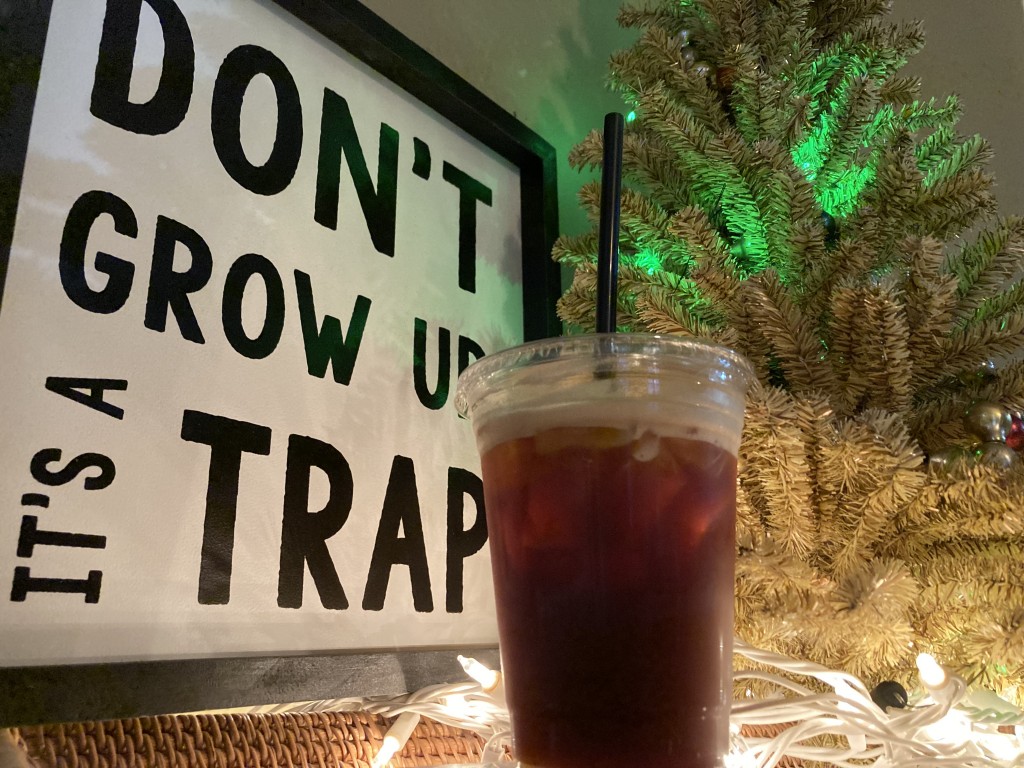 I don't look forward to winter drink menus with the same excitement as fall drink menus. Everything is busier already, and despite Christmas, winter is my least favorite season. Snow. Ice. Bah humbug! And yet, who can resist a little something extra to look forward to? Maybe I just need to take some time out on a morning to grab a unique, warm beverage. What are some of your favorite winter drink and treat offerings this year? Here are some on my radar.
Books, and coffee. These are not just two of my favorite things. If I had to pick my top two favorite, non-human things in the world, these would top the list. And Fulton Street Books and Coffee has both a wonderful, diverse range of literature and fantastic coffee options. Here are their 2022 winter drinks, as announced/described on Facebook:
Passion Fruit Chai: "a vanilla chai base with a sweet addition of passionfruit…⁠"
Campfire Cocoa: "the perfect cold weather drink that is sure to warm you up! With a hot chocolate base, it's accompanied by toasted marshmallow syrup, cinnamon syrup, and Mexican Chile syrup and is topped with mini marshmallows…⁠"
Gingersnap Latte: "the Gingersnap Latte…is like a gingerbread cookie in a cup. It's a delicious blend of nutmeg, cinnamon, ginger, and vanilla paired with our signature espresso. Just like mom used to bake!⁠"
Cirque Coffee never disappoints when it comes to creative flavors! Here is their main winter drink flavor drop post, if you want a peek at all these pretty drinks: instagram.com/p/ClXJwqms9a-/
Flannel PJs – "Espresso, brown sugar, maple, clove and nutmeg"
Peppermint Patty – "Vanilla cold brew topped with peppermint cream cold foam"
Pomander – "white mocha and reduced orange"
HAWT Mocha – "spicy mocha, made with dutch chocolate and chipotle chiles"
Sassy Santa (6th St. location only) – "cold brew shaken with a spiced cranberry, orange and bourbon reduction"
Have you been to Notion Tulsa? It's "Tulsa's Underground Coffee Shop" – you literally descend a ramp to get there. The decor is fresh and clean, with a focus on art. They use high quality ingredients, and…basically, I'm convincing myself I need to make a return visit ASAP! They announced their winter drink menu in this Instagram Reel: instagram.com/p/Cl3xeQmgHin/
Merrymint Latte
Salted Caramel Latte
Gingerbread Latte
Pomegranate Cider
Topeca (Multiple locations)
Topeca posted that their winter menu is now available, but I had to do a little digging on their website to find the current seasonal flavors. These include, as of 12/8 (and may vary by location):
Wintermint Mocha
Eggnog Latte
Spiced Mocha
Presidente Latte
PSL
Winter Fog
Caramel Apple Mulled Cider
Other Drinks to Try
She Brews Coffeehouse: Gingerbread Mocha Latte; Christmas in a Cup ("dark chocolate peppermint latte with whipped cream, mocha drizzle and sprinkles of peppermint")
Glacier Chocolate: Hot Chocolate!
Grassroots Larder: Chai and other seasonal drinks. Yes, chai is widely available year-round at most coffee shops, but I tried a chai at the new Grassroots Larder the other day, and it was possibly the best I've had. There was an extra depth of flavor, I can't identify it…but I definitely want another someday. Plus, they're a new business so why not pay a visit and check it out?
Treats to Try
Rose Rock Microcreamery (as of Dec. 4, flavors change frequently): Pistachio Amaretto, Pecan Pie, Maple with Toffee Cookies, Pear with Cinnamon Ginger
Big Dipper Creamery (as of Dec. 6): Mama's Buttered Rolls (vanilla cinnamon butter ice cream with glazed buttered rolls); White Chocolate Peppermint; Little Debbie Christmas Tree Shake
Alright, let me know in the comments what I've missed! There are so many coffee places in the Tulsa area now, this is by no means a comprehensive list of winter drink menus.
Originally published in 2021. Updated December 2022.
---