Winter Drink Menus and Other Festive Treats!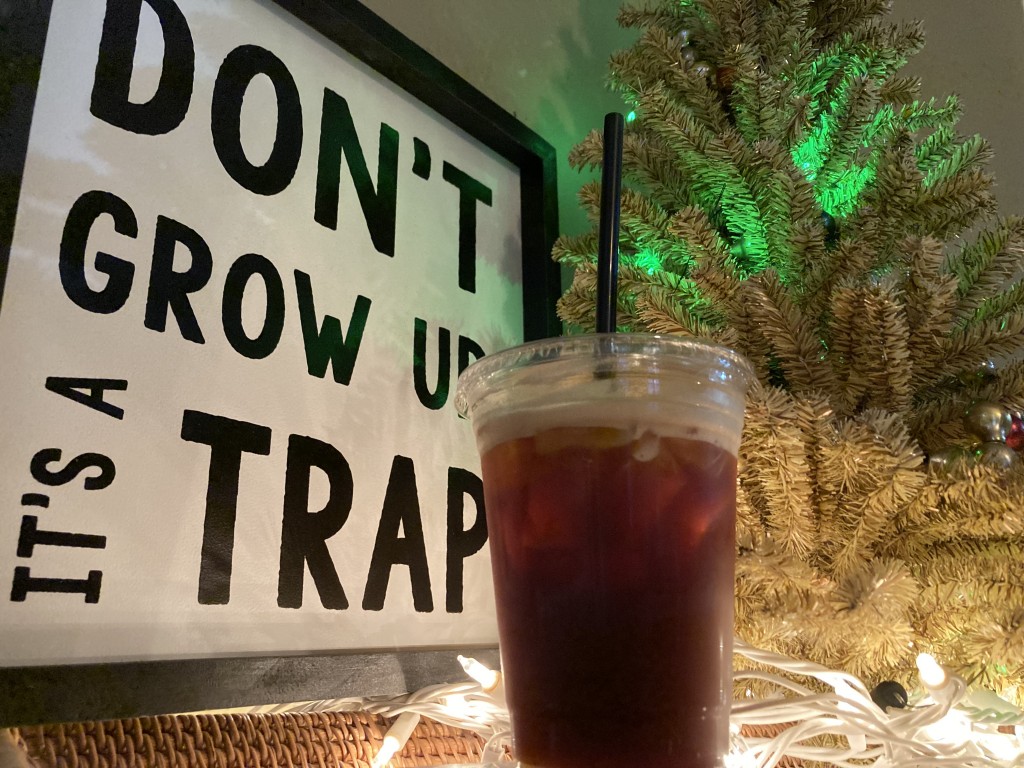 I don't look forward to winter drink menus with the same excitement as fall drink menus. Everything is busier already, and despite Christmas, winter is my least favorite season. Snow. Ice. Bah humbug! And yet, when I saw a Josh's Sno Shack announcement that their Brookside location was doing a soft opening for hot chocolate offerings the other day, I made a snap decision to take Joss for a post-tae-kwon-do treat. What are some of your favorite winter drink and treat offerings this year? Here are some others on my radar.
Queenie's (1816 Utica Square)
I started the morning out with the Jack Frost from Queenie's – a mix of espresso, Topo Chico and pine syrup over ice. I always gravitate toward the most "out there" thing on the menu, and I'd never tried pine syrup before! Although it was a tricky decision because as you'll see from their menu below, all their drinks are creatively flavored! Other winter menu items include:
The Grinch – matcha mocha with optional peppermint syrup
"Chestnuts Roasting on an Open Fire" – smoked vanilla chestnut latte
Orange Spiced Chai – hot or cold
Would you look at that? Triangle Coffee in downtown Tulsa also has a Grinch on their menu! But theirs is a completely different take! Which begs the question – if you invented a Grinch coffee drink, how would it be flavored? Anyway, here is Triangle's winter drink menu, as found in this Instagram post:
Winter Wonderland – 12oz latte with toasted marshmallow and nutmeg
Thyme To Party – 16oz soda with cranberry, orange, and thyme
The Grinch – 12oz latte with spiced pear, black peppercorn, and allspice
The Ever Present Darkness – 12oz mocha with orange spice and black lava sea salt
Winter Cowboy 2.0 – 12oz latte with rosemary, ginger, and molasses
My top picks would be a three-way tie between The Grinch, The Ever Present Darkness and the Winter Cowboy 2.0. Goodness, it's so hard to choose!
If your holiday movie of choice is "The Christmas Carol" over "The Grinch," you're in luck because Cirque downtown offers "The Scrooge." The Scrooge is "Pine-infused cold brew soda sweetened with a cranberry reduction, garnished with a twist of orange peel and a spritz of bitters." Fancy! Their winter drink menus vary slightly by location, so if you're wondering what you can find where, here's their original menu drop post, and here's the one specifically for their downtown location:
Flannel PJs – Warm baking spices, maple brown sugar syrup, and a dusting of nutmeg and chocolate
Sugar Cookie Latte
Ginger Snap Cookie Latte
White Chocolate Peppermint Mocha (classic)
The Fuzz – Matcha with apple spice syrup
Topeca (Multiple locations)
Yet another cookie-inspired drink appears on Topeca's winter menu! I'm here for all of them. Here's the full list, as found here:
Spicy Mocha – A sweet, spiced mocha with a touch of heat
White Wintermint Mocha – Cool and crisp like a winter morning, and just as sweet
Peach Cobbler Latte (what?!) – Like a peach cobbler with vanilla ice cream in latte form
Chai Latte – Our new and improved chai latte, made with Hugo tea
Maple Cookie Latte – Made with housemade maple cinnamon cookie butter syrup – tastes exactly like it sounds
For the first time, Josh's Sno Shack is offering hot cocoa, woot! At least for a limited time. I've yet to see an official announcement on their Instagram page. I only found out about it because I happened to check their Instagram story announcing a soft opening of hot cocoa that very night (Brookside location)! So you might just have to give them a follow to stay in-the-know. But I can confirm that the hot cocoa was delicious, and customizable. Which made a certain Joss very happy. Flavor options include peppermint, cinnamon and caramel.
Edited to add: OK, about an hour after I posted this, Josh's did announce that they're serving hot cocoa at their Brookside location from December 18 through Christmas Eve! 4-9 p.m. Details here.
Other Drinks to Try
Other Treats to Try
I don't know what they may offer specifically for the holidays, but I've been following the opening of Saint Amon Baking Co.'s new location next to Nordaggio's at 81st and Lewis. I've never been here before, but from the engagement they've gotten on their social media pages leading up to the opening – this is THE place to go if you want croissants, baguettes, anything French pastry. Cannot wait to visit!
Alright, let me know in the comments what I've missed! There are so many coffee places in the Tulsa area now, this is by no means a comprehensive list of winter drink menus.
---