We Visited a Real World War II Encampment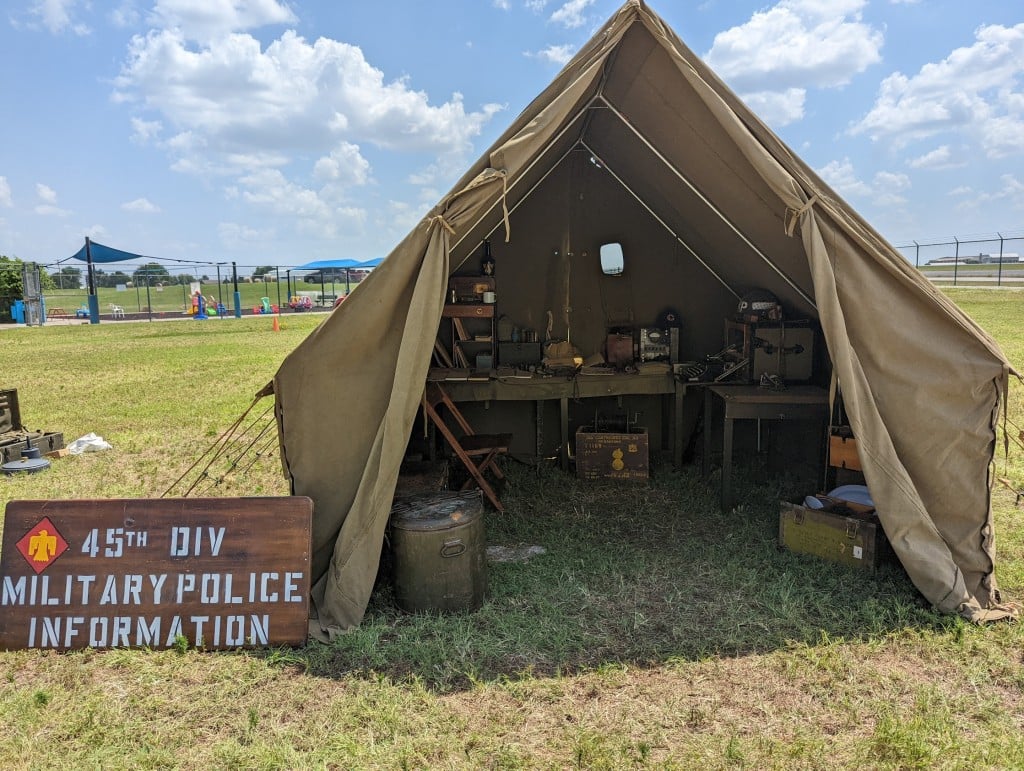 Our family loves learning about history. And with multiple fronts spanning the globe, World War II is one of the most fascinating and complex recent historical events to learn about. This past week, Tulsa Air and Space Museum paid tribute to the veterans who valiantly fought in World War II with a replica of a World War II Encampment, and we had the opportunity to check it out.
World War II Camp
On June 17th, TASM commemorated the recent 76th anniversary of D-Day by inviting a group of World War II reenactors to recreate a World War II camp on museum grounds. The group camped out on Friday night and hung around all day Saturday to answer questions for visitors.
The museum also hosted World War II veteran Bill Parker, an Oklahoma native and Tulsa resident who also happened to be the first soldier to set foot on Omaha beach. The week before the encampment, the museum hosted a group of eight original Rosie the Riveters for their annual convention, a group that included 100-years-young Tulsan Marina Metevelis.
While we didn't have an opportunity to meet Mr. Parker, we did get to walk around the encampment, check out all of the original World War II equipment and vehicles, and speak with the reenactors. It was a fantastic opportunity to enrich our understanding of World War II while getting up close and personal with history.
Outside of the museum, we got to walk through a collection of four World War II Jeeps and a troop transport that looked like they were pulled straight off the set of Indiana Jones, and milling about between them was a group of soldiers in period uniforms.
Set up nearby was a group of soldiers' tents and an MP tent. Inside the military police information tent, 1940s music played from a vintage radio as we explored a soldier's collection of original and recreated items – a Royal typewriter, an MP helmet, an army service mask, a tin cup, a bottle of hooch, and a pack of playing cards were among the lot. Exploring a nearby table, we found a breakfast ration, a shaving kit, Marvis toothpaste, an Italian phrase book, some Beeman's gum, and a radio receiver.
The reenactors are part of the Thunderbirds 45th Infantry Division Living Historians group. Their goal is to honor the veterans of World War II by participating in tactical events and historical reenactments while educating the public. The 45th Infantry Division is a National Guard division that FDR activated along with three other National Guard divisions in 1940 when the US entry into the war was looming. These soldiers hailed from Oklahoma, New Mexico, Arizona, and Colorado, and many were Native Americans. You can learn more about the heroism of this division on the Thunderbirds website.
Exploring TASM
After visiting with the reenactors, we explored the rest of the museum starting with a nearby Korean War-era military helicopter and an American Airlines MD-80 we got to walk through. Inside the museum, we found a handful of cockpits to play out our favorite Top Gun scenes in including a Rockwell Ranger 2000, a two-seat, single-engine cantilever monoplane designed as a prototype for a jet trainer in the 1990s. We even got to check out a few hands-on activities, flying a hot air balloon and landing a plane.
Planes and jets are cool any day, but y'all know I'm mostly interested in making my way through the ionosphere and out of the galaxy to the Coffee Nebula, so I was fairly jazzed to come across all of the space exhibits at TASM. I'm currently working on my proposal for TASM to open a space camp for adults, which I've recently added to my Totally Good Ideas list right under Nadercon, my tornado-themed weather convention.
Even if you're not dreaming of life on the Mars colony, it's definitely worthwhile to stop by the Tulsa Air and Space Museum. While you won't be able to time travel again to the 1940s for a while, there's still plenty to see and experience, and at $11 a ticket for ages 13 and up and $8 for kids ages 5 through 12, it's a great way to inspire your younglings to reach for the stars. The museum is open Tuesday through Saturday from 10 a.m. to 4 p.m., so be sure to check it out.
---