We Visit Carmichael's Pumpkin Patch!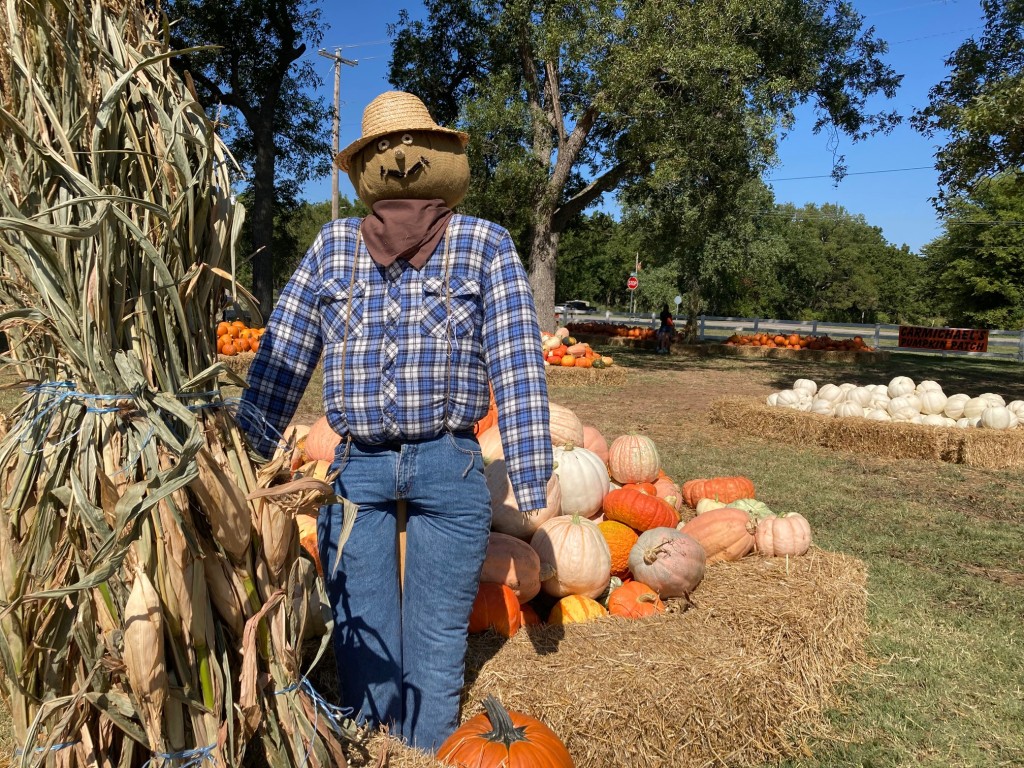 Several local pumpkin patches opened this past weekend, hooray! Pre-COVID, we visited Pumpkin Town on opening weekend, and it was great. The word hadn't quite gotten out yet, so crowds were at a minimum. So although the weather was still a bit toasty, I wanted to make sure we made our pumpkin patch foray on opening weekend. This year, we visited a new-to-us pumpkin patch: Carmichael's in Bixby. Keep reading to learn why we loved it!
Convenient Hours, Reasonable Admission
Carmichael's Pumpkin Patch is open seven days a week through October 31. Hours are Sunday, 10 a.m.-7 p.m., and Monday-Saturday 9 a.m.-7 p.m. The address is 17137 S. Mingo Rd., Bixby.
One of the great things about Carmichael's is that admission is free! The activities – camel rides, cane maze, animal feeding, etc. – cost anywhere from $1-6. So it's pretty affordable. We ended up purchasing a Camel Feed ($2), Parakeet Encounter ($3), Pony Ride ($6), 3 Cane Maze Tickets (total of $9) and Wagon Ride ($3/kid, adults ride free). So $23 altogether, which is quite a bit less than we've spent at pumpkin patches in the past.
Lots of Animals!
There are SO many animals at Carmichael's Pumpkin Patch! We pet goats, sheep, calves and camels! You can purchase animal feed cups for $1 each, or, for $2, a cup of carrot slices to feed a camel. Joss really wanted to feed a particular camel, and we made his dreams come true.
Additionally, there is a whole area of pregnant pigs, or pigs who have just given birth – and their adorable babies! I was really hoping we'd see a pig giving birth, but no luck. However, seeing the teeny-tiny piggies sleeping in a pile or bugging their moms for milk was a highlight of our trip to Carmichael's.
Another highlight was the pony ride. Joss was the solo rider and didn't have to wait in line at all. The ponies were very gentle and sweet.
Parakeet Encounter
Obviously, birds are also an animal, but the parakeet encounter was so unique, it deserves its own subcategory. For $3, you got a popsicle stick covered with a spot of bird seed. Daniel and I got to go in for free, without the food stick. You step into a very large cage, filled with easily 100+ parakeets. They immediately noticed Joss's stick of food and came flocking. However, he was not bombarded by so many birds as to become overwhelmed. The most birds he had on his arms at one point was four, and he was IN HEAVEN.
Thankfully, we didn't get pooped on, which was a concern of mine. And it was definitely a new experience being so close to so many beautiful birds at once.
Cane Maze
Corn mazes – or in this case, cane mazes – are one of my favorite parts of fall. This maze was set next to a gorgeous sunflower field, which was fun! Joss was slightly worried about getting lost, but there was really only one path through. A couple forks, but it was more of a cane path than a maze.
The ground was uneven, and if you have weak ankles, this may be a part to avoid. But otherwise, the cane was all covered with beautiful flower vines, so it was a really lovely walk.
Wagon Ride
We were the only people on our wagon ride. It was a short ride, but again, adults can ride for free. The tractor driver asked if we'd like him to take our family picture set against the backdrop of the sunflower field. So that was really lovely!
Afterwards, he let Joss sit in the tractor so we could get some more fun photos.
Photo Opps
Speaking of photo opps, Carmichael's Pumpkin Patch has several! There's the "how tall are you this fall" photo opp, which is great if you return year after year. And honestly, just taking pictures seated next to a pile of vibrant pumpkins is one of the best photo opps!
Lots and Lots of Pumpkins
Carmichael's Pumpkin Patch sells a large variety of pumpkins and gourds. These range in price from .99 for a tiny pumpkin to specialty pumpkins, which are priced at 69 cents per pound. These are the ones that sound cheap, but you don't always realize just how heavy your pumpkin is till you put it on the scale! (I know this from previous experience; we didn't purchase any pumpkins this time around.)
It's always fun to see the variety of pumpkins and gourds. They come in all shapes, sizes, textures and colors! If you do purchase pumpkins, they have shopping carts and wagons to make sure you can carry everything without too much trouble.
Concessions + Store
If you get hungry during your visit, there is a Freddie's Hamburger counter inside a main building. This building also houses a store with pickles, Halloween decor, bulk candy, etc.
Looking for More Pumpkins?
Carmichael's looked small from the parking lot, but once we got there, it was easy to spend a few hours. It was a relaxed atmosphere, and so much fun. Go to tulsakids.com/pumpkin-patches-in-tulsa/ for our complete list of local pumpkin patches. This list is part of our Fall Family Fun Guide, sponsored by Castle of Muskogee.
Enter TulsaKids' Pumpkin Patch Photo Contest!
And if – or when – you do go to a pumpkin patch this season, share a photo to our Pumpkin Patch Photo Contest, sponsored by Tulsa Botanic Garden! One participant will win a household membership to Tulsa Botanic Garden plus four guest passes.
Let me know in the comments which pumpkin patch you're planning to visit this year, or if you have a local favorite!
---