Washed Ashore:
Tulsa Zoo's new exhibition brings awareness of plastic pollution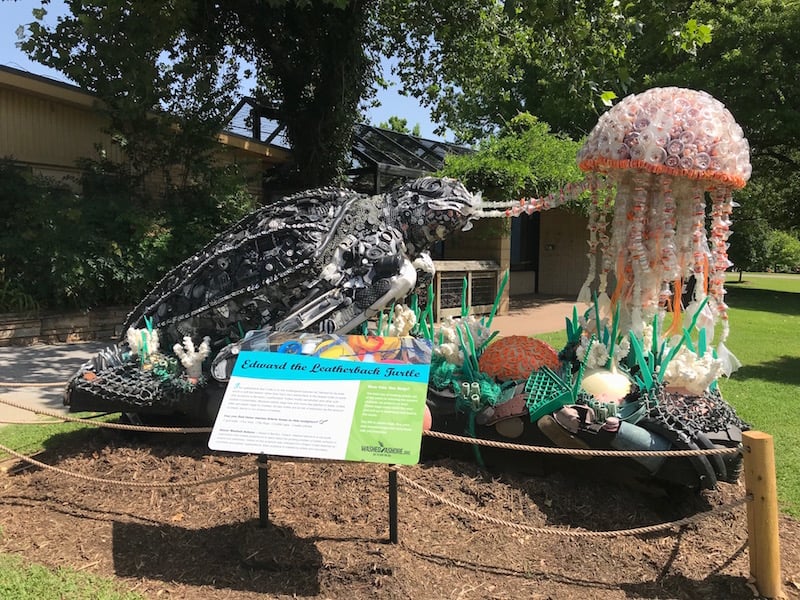 When it comes to plastic consumption and waste, I could do better–a lot better. According to this article on "11 easy ways to reduce your plastic waste today," I'm pulling an embarrassing 4 or 5 out of 11. Margaritte Arthrell-Knezek even wrote a Guest Blog post for TulsaKids last year on "Consuming Less Plastic as a Family," and I have yet to adopt most of her recommendations. No excuses–because it really isn't that difficult.
I'm thinking about this now because I was invited to the Tulsa Zoo for a media preview of their "Washed Ashore: Art to Save the Sea" exhibit when it opened at the end of June, and Joss and I went back to see the rest of the installation a few days later.
Each sculpture is made up of plastic debris washed up on the Oregon shoreline, and while the sculptures themselves are eye-catching (and at times, down-right adorable), the point is to raise awareness about plastic pollution and its effects on our oceans. According to Executive Director John Tannous, who led our media tour, the sculptures are larger-than-life to highlight just how big the problem is. Which is why, when you enter the Zoo through the end of the year, you'll be greeted by an 11-foot Adelie penguin. Though he may look bright-eyed and friendly, this penguin is composed of 2,500 pounds of plastic waste, all of which was collected by Washed Ashore volunteers.
This waste includes toothbrushes, lighters, soccer balls, action figures, flip-flops and of course, lots and lots of plastic bottles.
Part of the problem, Tannous said on our tour, is that we may pay other countries to take our trash (something I did not even know we did!)–but there's no guarantee what will happen to it at that point.
In addition to showing animals that kids will recognize and enjoy seeing (Joss was particularly enthused about the "Miming Memo"), this exhibition is kid-friendly because each installation has a sign in front of it that lists a few items found in the sculpture and encourages viewers to hunt for those items. Built-in scavenger hunt, and also a way to make sure you are thinking about how many items we consume are problematic–and we might not even realize it!
The signs also each provide one concrete way in which families can work to reduce their own plastic consumption, from bringing your own plastic bags to the grocery store to bringing along work gloves and being ready up trash when you go for walks.
Washedashore.org has several educational resources if you want to go more in-depth about plastic production, consumption and pollution at home. Click here to learn about five of Washed Ashore's "Ocean Ambassadors"–animals featured in their exhibitions–and specific ways in which these animals may be harmed by plastic pollution.
Also, click here for a full curriculum on "Integrated Arts Marine Debris." This curriculum covers everything from "using art as a language," to the chemical make-up of plastic, to problems with modern-day packaging, to creating your own conservation art project.
So I thought it might be a good idea to challenge myself (with Joss's support!) to work on reducing our plastic use for the next month. The main area I'd want to focus on is making a point to ask for paper bags instead of plastic (although we do donate most of our plastic bags to Joss's school because they use them for sending home wet/dirty clothes)–and to actually remember to use any reusable bags that I have! Trader Joe's gave me one on my birthday, and I have yet to bring it into a store 🙁
I always feel bad at Reasor's when they ask, "Is plastic okay?" because when they ask it that way, I feel like saying "No, actually, I prefer paper" will be an inconvenience. And maybe it is a little harder to use the paper bags than the plastic ones that are on their nice hooks and all ready to go. But I also want Joss to have a nice world to live in by the time he turns 30 and to be able to have another kid (hopefully? someday?) without feeling guilty that I've brought them into a world that's just going to be a miserable place to live. And all that's fairly selfish because just the thought of sea turtles choking on plastic bags (because they look like jellyfish, a main food source) should be deterrent enough.
So 1) Ask for paper. I want to make a point to ask Joss to remind me to ask for paper, so this is a team effort and we can start having that conversation. And 2) Invest in more tupperware. I don't know where our tupperware goes, but inevitably my supply dwindles down to a couple glass containers over the course of a few years. And it's probably time to restock because I find myself grabbing gallon- and sandwich-sized Ziplocs far too often.
I feel like a hypocrite because my sister has been buying in bulk using her own jars, etc., for ages. My mom rinses out plastic baggies as often as possible so that they can be reused–which is both better for the environment and for one's budget! So I'm long-overdue to make some of these changes. But hopefully putting this out there will be some additional motivation to at least reducing my plastic consumption by way-too-many plastic Reasor's bags per year.
What are some things your family does to reduce your plastic consumption or otherwise care for the environment?
Washed Ashore will be at the Tulsa Zoo through the end of the year and is free with Zoo admission. Look for a special Washed Ashore map + activity sheet in TulsaKids' July 2019 magazine!
"I came to the ocean to heal, but found an ocean that needed healing. Like many people, I walked with blinders on past the garbage, wanting to only see the ocean's beauty…"–Washed Ashore artistic director Angela Haseltine Pozzi
---