Up With Trees
An interview with Up With Trees volunteer John Kahre about the nonprofit's educational programs.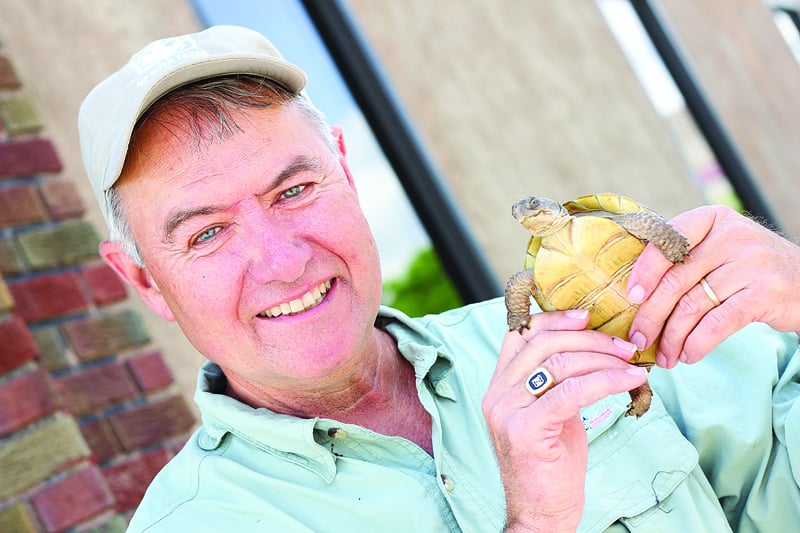 John Kahre has been a volunteer for Up With Trees for over 38 years. During that time, he has helped "grow" the program into what it is today. Currently, Up With Trees encompasses much more than just planting trees – although that is still an important part. In visiting with John, he shares his enthusiasm for teaching kids and adults about horticulture and the inventive ways he has of engaging them in the learning process. Having served in many capacities over the years, he is currently Coordinator of Education.
TK: What is your background?
John: I recently retired from teaching horticulture at Tulsa Community College after 34 years. After retiring, I'm continuing to teach part-time for the college through a program for inmates at Conner Correctional facility. Conner has a horticultural program where I oversee the inmates from both minimum and medium security. The students have really built an oasis at the facility and take pride in their work. Recently, I found a potter's wheel and mold that we will be able to utilize within the program.
TK: What do you enjoy about being a volunteer for Up With Trees?
John: Over the years, their mission has expanded. It's not just about planting anymore. Now the focus is what we call the three P's: Planting, Preserving and People. The "People" part focuses on education. I've always loved teaching, so this is a natural fit for me.
TK: What is Tree School and where is it held?
John: Tree School is a youth education program designed to utilize trees as a cross-curricular learning tool. The goal of the program is to engage students through tree curriculum and hands-on tree planting and care based on the needs of the school. We work with various schools all over Tulsa to educate young people and then plant trees with them where their school needs them the most. Our efforts range from pre-k to high school, and we have planted food orchards, playground shade, and rain gardens to aid in the students' education and their wellbeing. A couple of the schools we have recently worked with are McClain High School, Eugene Field Elementary, Frost CAP Center and Bell Elementary.
TK: What is your favorite part about teaching kids?
John: Sharing the critters. I had to have something interesting to get the kids' attention during my presentations. The critters I take are two turtles, Bonnie and Clyde, along with a tarantula and a gecko. I also have kids thinking about how to help trees. Since trees can't move, I share that trees have to have partnerships. We also talk about insects helping trees. Kids think that insects aren't good; however, the vast majority of insects are good. I am able to show a variety of insect samples in resin and we take magnifying glasses to study the insects.
TK: What do students enjoy about the presentation?
John: The students get really engaged in the planting of the trees. It helps them feel invested in what they learn in the classroom as well as make an immediate impact to their school and community. They also love the turtles, Bonnie and Clyde. The turtles were raised at Conner Correctional facility and I inherited them from a couple of inmates who were released. That's how they got their names. The turtles are very friendly and were raised on bologna. After I got them, I had to teach them how to hibernate. Also, how to feed on leaves, grubs and insects. They are a favorite because they are the least threatening.
TK: What would you like to highlight about Up With Trees?
John: I always stress to people, kids and adults, that one person can make a difference. Sid Patterson was that person; he started the program. In the beginning, it was small and has evolved into what it is today and that is because of the people involved. The Tulsa people are also the reason why we plant. We continue to plant trees and grow Tulsa's urban forest so the community can benefit from cleaner air, cooler summers, improved property values, quality water and a beautiful city.
TK: What other programs should people know about?
John: We have on-going education on a monthly basis for both kids and adults. From our monthly outdoor Tree Walks, to our further education classes, there are always opportunities to learn more about trees no matter your age. Then once you learn about how great trees are, you catch the tree-enthusiast itch and have to come volunteer with us! That includes planting trees, mulching and maintaining our tree sites, painting our wooden signs, assessing the health of our trees and more. And if your schedule is too busy to come out and volunteer, we have lots of opportunities to support Up With Trees by sponsoring our ongoing planting of the Tulsa community.
TK: What keeps you motivated to volunteer with the same organization for so many years?
John: It's fun! I think it's cool that I have gone from teaching college students to children. I enjoy the diversity of the presentations. Meeting and educating different groups never gets boring. It's amazing to see how much people enjoy it. In doing all of this, it is my hope that young people grow up to have an appreciation of the outdoors.
For more information about Up with Trees and the educational programming they offer, visit upwithtrees.org.
Nancy A. Moore is a Public Relations Coordinator at Montreau, Adjunct Professor at Tulsa Community College, and has been writing for TulsaKids for almost 20 years.