Up, Up and Away, Part 2
Enjoying Key West and RokIslandfest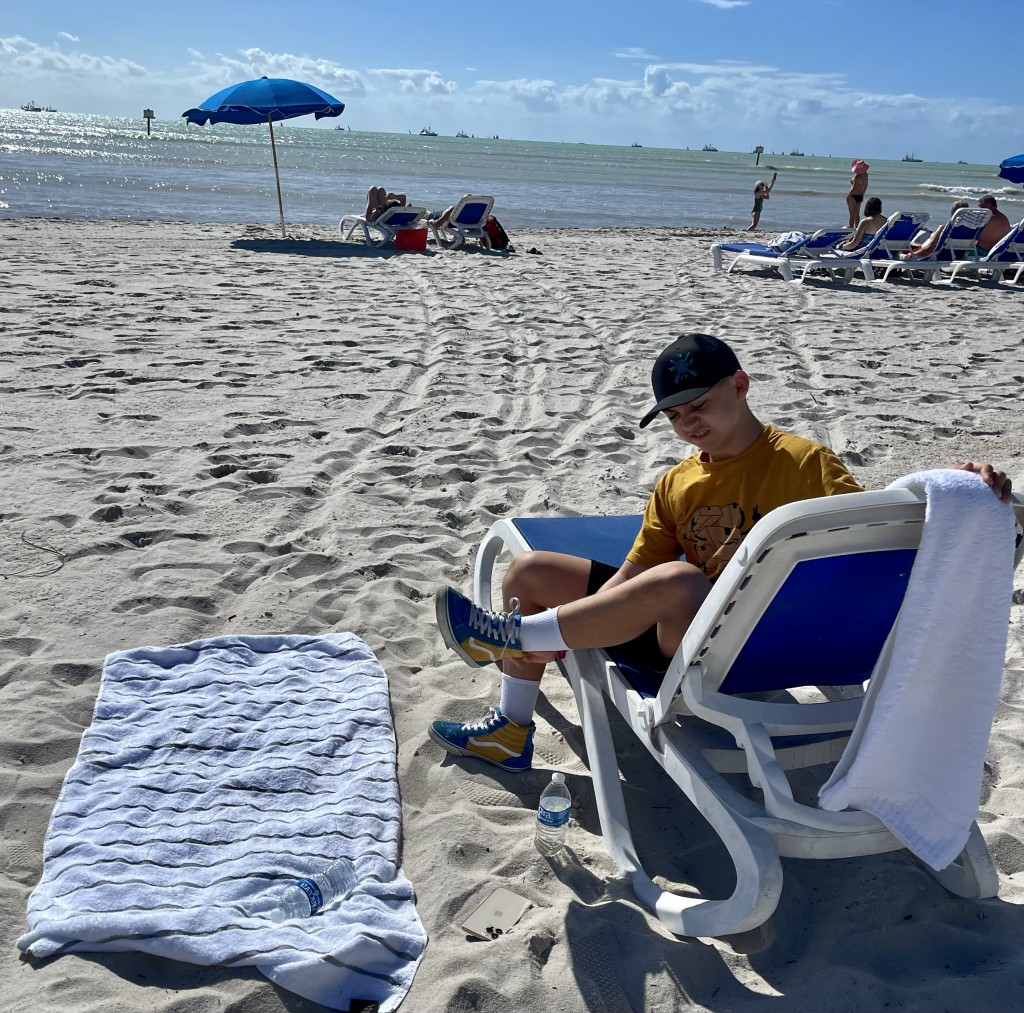 This time last week, my son and I were stuck in Houston International Airport trying to get a connecting United flight to Key West but were delayed 2 hours. It was my son's first time flying and even though we were delayed, he was loving it. Everything about it. The sights, sounds, smells, passengers from around the world, people of the airport and, most importantly, lifting off the ground for the first time! Wheels up!
Although, if you've ever flown with an 11-year-old, you know it's doubly nerve-wracking because you're not only trying to get yourself to your destination but also your child. Once, I got lost as a kid in Kings Island amusement park. Separated from my friends because I was too busy checking out all the "things" in the amusement park world. So, I knew how easy it is to do. I was much younger than my son, and he is pretty good about being by my side. I don't mind him going "too far" from me as long as I have eyes on him, so occasionally, he would ask if he could go check out the gift shop, and I said yes.
This article is "Part 2" from last week. I'll catch you up on some of the things we did and the craziness of the '80s Hair Metal festival we attended in Key West.
___________________________________________________________
"Nibblin' on sponge cake
Watchin' the sun bake
All of those tourists covered with oil" – Margaritaville, Jimmy Buffett
I can't believe the whole time in Key West I didn't have one margarita in Margaritaville! However, my son and I did eat plenty of sponge cake (or rather key lime pie) and watched lots of people baking in the sun on Smathers Beach. It was a trip of a lifetime for us. I had Tulsa Rocks sponsors help pay for it, or there is no way we could have afforded to go.
Have you ever taken your kids on a long plane trip? How did it go? As I said, we had delays on our way there, but it was nothing compared to on the way home. Wednesday we were supposed to arrive back on the red dirt soil of Tulsa at 7:20 p.m., but it was well after midnight before we finally got back.
By then my son was a seasoned traveler and his wonderment of traveling was beginning to fade. I never wanted to simply stick a tablet in front of my kids' faces and let that entertain them the whole time, but this time I was happy he had his cell phone with a decent charge. Still, he was not on it constantly. I tried to make it fun and while we spent four hours waiting for our new plane to arrive. We would simply walk around the airport and check out stuff. We had friends with us, and they didn't care to walk around, so they watched out bags while we explored the airport.
United said it was a maintenance issue. Then a few delays later, they said they have a "new plane" being sent to us from Missouri. We tried to look on the bright side. At least we weren't flying to Colorado Springs. Those passengers had their flight totally canceled, so they were looking at an all-night wait to get home.
The concert was totally awesome! The bands were great, the crowd was rock'n and my son only looked totally bored a few times. For a 4-day festival, that was pretty good. I was proud of him. He made friends with some vendors that sold clothing that he liked. We were there every night for four nights, and the crowd was much smaller than Rocklahoma, so we saw the same peeps, which was kind of cool. There were many people that produce Rocklahoma in Key West because it was put on by the same company. To see so many familiar faces in faraway places was a nice thing. That's one reason why Rocklahoma has such a "family feel;" you're camping near each other and if you have VIP tickets, you're sitting near the same rock fans for a week.
Friends we made
Rocklahoma can have well over 30,000 people, but this festival was about 4,000, which made things much more relaxed and intimate.
A few awesome points for me was seeing Don Dokken (yes, we were Rock'n Like Dokken) and his former guitar player George Lynch perform together again. They've had a very long falling out. Let's hope this sparks a future collaboration. Also, seeing Lita Ford to me is always cool.
Night Ranger
And my son got to meet the rock star that wrapped up the whole weekend. He is a singer I've known for many years, Jesse James Dupree of the band Jackyl. He met my son when he was a baby and remembered him! He's such a cool rock star.
We rented bikes around the whole island, rented jet skis on the ocean, and spent a couple hours on a huge catamaran. The hotel room was smaller than we're used to, but just like when you go to Vegas, you don't go to hang out in a hotel room! The hotel staff were very accommodating, and we had a rooster that hung out with us every morning at the pool enjoying Danishes and coffee.
My son named this little guy, Oliver.