Understanding infant mental health and reminders for parents when getting it wrong
sponsored by 988 Mental Health Lifeline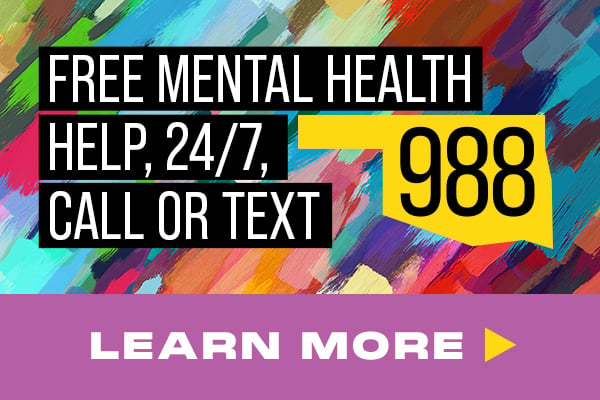 Infant Mental Health is not a familiar term for many people. Images of a baby lying on a couch in a therapist's office may come to mind, but this isn't really what we mean. So, what is it?
Zero to Three, a national organization that promotes practices and policies that support what all infants and toddlers need to thrive, defines infant mental health as: "The developing capacity of a child from birth to five years old to form close and secure adult and peer relationships; experience, manage and express a full range of emotions; and explore the environment and learn all in the context of family, community, and culture."
Scientists tell us that young brains grow at rapid rates, achieving approximately 90% of their adult capacity by age six, and are constantly forming new connections. An infant's or young child's early relationships set the foundation for lifelong health (both physical and mental) and wellness.
What does this mean for parents? Here are three simple things to keep in mind:
All babies are born ready to learn and seeking connection. Babies want and need time with you.
You are enough! No need for fancy toys or the latest gadgets, you have everything your child needs.
When we get it wrong, because we will get it wrong, we can repair the connection.
All healthy relationships practice repair when we misunderstand or get off track. We can't always be there, but by doing our best to respond to their needs in a responsive, caring way, we help children learn critical skills for their future mental health. Through relationships, young children learn about trust, safety, regulation (physiological and emotional), sense of self, social skills, conflict resolution and empathy. One of the most protective factors for reducing the impact of stress and trauma is a nurturing relationship with a caring adult.
One way you can support your infant or young child's mental health is through Serve & Return. This simply means talking, playing, and connecting with your child. Finding small moments of connection during your day lets your child know you are in this together and builds strong brains. If you think about it, there are lots of opportunities to connect with your child every day, from playing a simple game like peek-a-boo to getting ready for bed. These positive experiences provide the foundation for healthy relationships, good self-regulation skills and readiness to learn.
Parenting is hard and you don't have to be perfect. We won't always get it right. As our children grow, their needs are more complex, and we are often pulled in different directions. Research tells us that even the most attuned relationships only get it perfectly right about 30% of the time. When we do mess up, we can recognize our error, acknowledge our child's feelings, and reconnect in a positive way. This helps our children learn what it's like to be in a healthy relationship and lets them know we all make mistakes. These moments are opportunities for learning and growth rather than something to be ignored or feared.
As challenging as parenting can be, you are not alone! Connecting with other parents in your community can be a great support while you're caring for your young child. Creating a positive relationship with your child doesn't need to be complex. Individual time with your child talking, playing and interacting builds a foundation that lasts a lifetime. We know children who experience secure relationships with the important adults in their life are more likely to be able to tackle the challenges that lie ahead.
If you have concerns about your relationship and creating a better connection with your child, call the 988 Mental Health Lifeline for resources in your area. For more information on connection and repair with your young child please visit: https://developingchild.harvard.edu/science/key-concepts/serve-and-return/, https://www.zerotothree.org/resources/for-families/ and https://www.circleofsecurityinternational.com/resources-for-parents/.
Audra Haney, LCSW, is the Senior Project Manager for the Infant Early Childhood Mental Health program at the Oklahoma Department of Mental Health and Substance Abuse Services.