Tulsa School of Arts and Sciences' Music Program Rocks!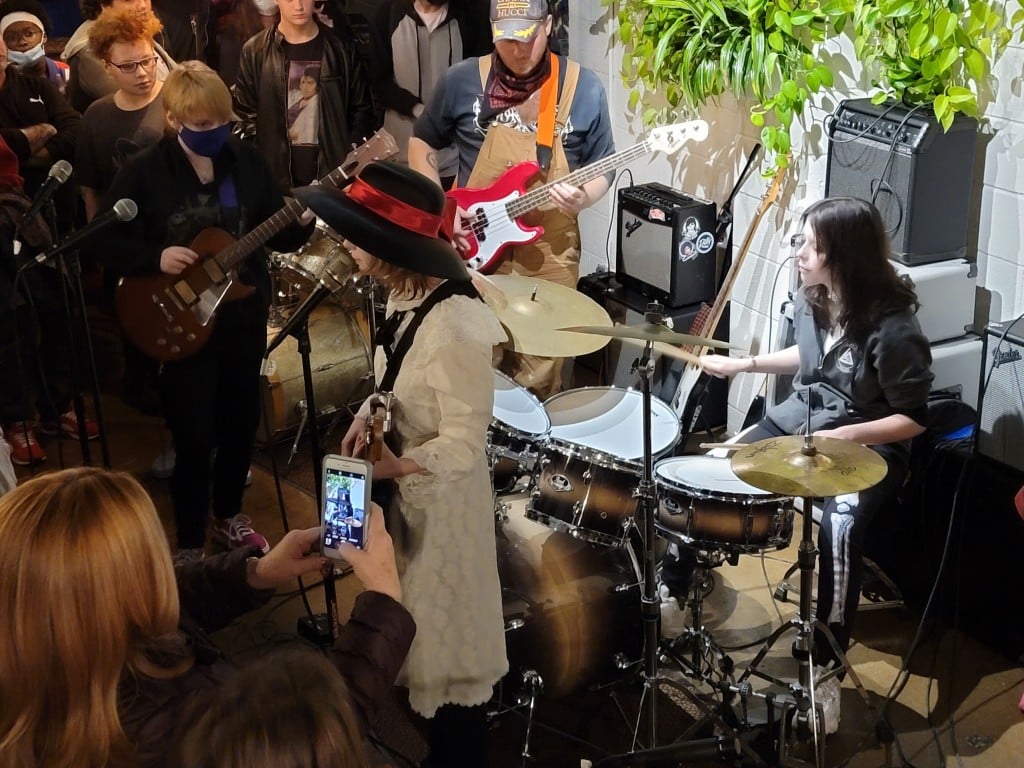 "The main thing about the class is that it's a social literacy class disguised as a music class," Mitch Gilliam says.
Gilliam, a Tulsa musician, is the instructor for the Tulsa School of Arts & Sciences (TSAS) Rock Band program. It's a real-life "School of Rock" where students learn to play, form bands and ultimately perform in front of an audience. Along with the music basics, Gilliam finds plenty of opportunity to teach some of life's bigger lessons.
"A lot of my students have an interest in music because they've listened to a lot of it. To them, music almost seems like magic, or something unattainable from the gods," he explains. "I love to give them a sense of agency by showing them it's magical, but it's not magic. I can teach you how to do it, and this thing you love is within your grasp. Once they have that sense of agency over an instrument, it translates to the real world. If you can do this, you can do anything."
According to Gilliam, TSAS' focus on equality, inclusiveness, compassion, safety and family has been a strong base on which to build the program.
"Their slogan is 'TSAS is Home'," he says. "That is a beautiful starting point."
The class is a mix of grade levels, which enables older, more experienced musicians to interact with younger ones and gives the students the opportunity to find other kids with similar interests.
"If you're really into [metal bands] Acid Bath and Electric Wizard, and you meet a seventh grader who's also into Acid Bath and Electric Wizard, you've found your homie," he laughs.
When a romantic breakup between two members of a class band threatened to implode the entire musical group, Gilliam saw a learning opportunity, sharing stories about Fleetwood Mac, the acclaimed British-American rock band that's managed to survive half a century as a group despite countless instances of personal drama.
"I want these kids to learn to be decent, empathetic humans, and learn how to work in a unit in this living, breathing organism that we call a band," he says. "I want them to learn how to be good people, listen to each other and work through things like that. It's been really cool."
Of course, Gilliam also wants his students to learn to play and perform. Public concerts in real venues are part of the program. Gilliam is grateful to community partners like Chimera, a restaurant in the Tulsa Arts District, which hosted numerous concerts pre-pandemic. More recently, Heirloom Rustic Ales was the setting for an outdoor performance.
For Gilliam, this year's graduation includes the bittersweetness of saying goodbye to his first round of seniors, students who've been with him since the program started. He's proud of what they've accomplished together and thrilled to see many of his students forming their own bands, writing their own music and playing together outside of class.
Although Gilliam's teaching job is only part-time, it's important to him, and he always makes sure his other jobs are flexible enough to accommodate it.
"The class is always my goal. I don't go to church. This is very much my church," he says. "I get bummed out during summer breaks. I feel like my battery's draining, and I'm like, 'Oh, yeah! It's because I'm not hanging out with these kids.'"
Julie Wenger Watson is a freelance writer who's worked in all aspects of music promotion. She's also Co-Director of "Live From Cain's," a public radio show pilot.
---