Tulsa Pediatric Urgent Care
This after-hours pediatric clinic in Tulsa is run by four doctors who have found a way to juggle parenting and practicing medicine.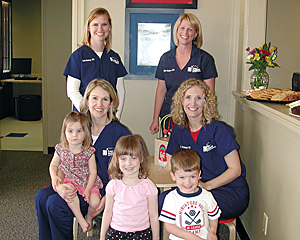 Four moms, who also happen to be doctors, have found a way to be both practicing physicians and involved parents.
In February the women, Drs. Leah Baxter, Erin Grimes, Stacy O'Sullivan and Katie Dalton, opened Tulsa Pediatric After Hours Urgent Care center, located at 7723 E. 91st Street. Being moms, nurturing comes naturally to the doctors, so a practice focusing on healing children was a logical choice. The environment at the center is kid-friendly with cheerful décor in each exam room. Children who need an I.V. can relax in a large reclining chair and watch TV while they receive treatment.
The doctors can take care of anything from broken bones, to stitches to dehydration. In the on-site lab, the doctors can see if the child is fighting the flu, strep, mono or other infections.
"An E.R. [hospital emergency room] has a lot of trauma," said Dr. Baxter. "There are sights and sounds that children don't want to be exposed to. And the cost at an E.R. is much higher."
Dr. Grimes, who has an E.R. background, said that the triage process in an emergency room will often leave the 6-month-old with an earache, or the child who is dehydrated from the flu, in the waiting room for several hours.
The storefront nature of Tulsa Pediatric is also a plus for parents who have a sick or injured child. They can park right in front of the door and easily access the waiting room.
"Our environment is tailor-made for children," said Dr. Baxtor. "Children are not little adults. For example, the way a child responds to a disease may be entirely different from an adult. Children's bodies are different. Their heads are bigger; their bones are much softer. Medications are given differently to children than they are to adults."
"Children are worth the extra time," added Dr. Grimes.
"We're all moms," said Dr. Baxtor. "We all truly love kids."
Tulsa Pediatric Urgent Care

7723 E. 91st St.
918. 895.7808
Mon. – Fri., 4 p.m. – 10 p.m.; Sat. – Sun., 10 a.m. – 8 p.m.