Trekking Through the Transitions
Entering Kindergarten and Middle School can be tough for students and parents alike.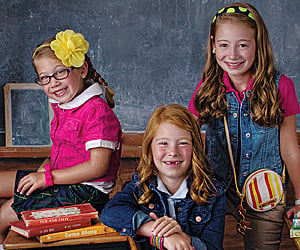 Lenna Coffman thought she knew her son.
At home, he enjoyed structure and clear planning, and constantly seemed to want encouragement and attention. When he entered kindergarten, Coffman feared his teacher would complain he was too high maintenance, or bother her with too many questions.
"When he got to school, he loved the challenge and the structure and he really thrived," Coffman, a middle school teacher and mother of six, said. "In conferences the teachers said he was quiet and such a joy, and I was like, 'Are we talking about the same person?'"
Transitional moments such as the move into kindergarten and the move into middle school can be some of the most important and formative in a child's life, so positive parental involvement and observation can be key to setting a child up for success in the future.
"We know that transition piece can be a big part of future success in children, and schools recognize that," said Andy McKenzie, assistant to the superintendent for early childhood education for Tulsa Public Schools.
Although there are many things parents can do to set their children up for success, not every plan will work for every child.
"The prep work, I've realized, has had to be very different because of what I know about each of my children," Coffman said. "The school does their part, but we have to really know our kids."
Entering Kindergarten
Going into kindergarten is not a transition for many children; it's their first experience in a formal classroom.
"For many students, they're going to be in a class for the first time, and for many of them kindergarten is the first time they're in a full-day academic environment," Matthew Vereecke, school director at Monte Cassino School, said.
Factors that can affect students for the first time in kindergarten include fatigue from being at school all day, learning to operate in a group dynamic after having been home and beginning to complete academic work.
"I explain it to our teachers that it's as if you've been home for the last five years with only your friends and family and then you're put into the workforce," said Brittany Toll, director of early childhood education for Teach for America Oklahoma. "There are a lot of social norms and life functions you haven't been exposed to, and the schedule of the day is more complex than what you're probably used to."
Parents may also begin to develop a clearer picture of who their child is at this time.
"It's a big time for parents to start seeing differentiation between kids—before then, they don't have a lot of data to assess and compare socially and academically where they kids will be," Vereecke said. "I always tell parents not to panic, but if they're getting into kindergarten, they have to ask is my child beginning to develop pro-social behaviors; have they grown out of biting or kicking behavior that might be normal for younger children but isn't OK now? Academically, are they beginning to respond to topics? Do they seem engaged with school work? From a parent perspective, that's really want I want them to look for."
Regardless of the student's background, experts agree that parental involvement is key to preparing the kindergarten teacher to best serve each individual in their classroom.
"That is the big thing for students, that they feel and know their parent and teacher are their two biggest champions and they're on the same page, working together to support them inside and outside the classroom," Toll said.
Developing a line of communication with the child's teacher is  important, but parents should also keep communication open with their child.
"I think a big thing is just to talk to your child and understand how they're feeling and [see] if they're able to articulate it," Toll said. "If there's anything they're nervous or excited about, let them share those feelings."
Children learn 50 percent of the vocabulary they'll learn in their lifetime by the time they're 5 years old, so simply having conversations for the sake of having them can be hugely beneficial for kindergarteners. Students can learn things like where the bus or a parent will pick them up, their address and phone number and other helpful information as well so they feel more prepared to be away from home.
If bigger problems arise as the year begins and it's not something the teacher can handle, parents should contact a pediatrician or family doctor to see if something else might be causing problems for the student, such as a hearing or vision issue.
"The biggest thing I would say is, I hear a lot 'they're just going through a phase,' but we really don't see that academically," Vereecke said. "If they're having trouble performing, it usually means something else is going on either physically or emotionally, so I always tell parents to trust their gut when it comes to those things."
Entering Middle School
Middle school students face not only a school transition, but also a physical and emotional one as they hit puberty.
"Some kids will have it happen sooner rather than later, and they're becoming adults physically, but mentally and emotionally they're still not able to communicate or diagnose what's going on," Vereecke said. "For the first time, they're having to deal with students telling them they don't like them because of the person they are, and that can be really hard to hear."
More so than in their elementary school years, students also face social pressure from peers that can drastically change them.
"It's very interesting to me how kids can be one way in elementary school and hit middle school and then become very different, and their peers can change, shape or damage that," Coffman said.
Besides peer pressure, students also fear embarrassing themselves either in front of peers or other adults, and may begin to try to keep a low profile to avoid humiliation.
"It's a big issue because of their real concern about being embarrassed and not knowing what they're doing, and it is a huge stress for middle school children to the point that they take it out on mom and dad sometimes," McKenzie said.
These social pressures require parents to be even more vigilant about whom their child is friends with.
"Really pay attention to who your kids are hanging out with," Vereecke said. "This is the time they'll begin to forge relationships that will last, and some parents don't have the same value systems and [middle school] is when you'll begin to see those differences."
Many students are also facing very different schedules in middle school, going from a full day with one teacher in one classroom to multiple teachers across the school.
"Academically, they're stepping up to a whole new realm because it's their first time traveling between classes, and  instead of one folder with six papers in it, they're keeping track of six folders with 36 papers," Vereecke said. "There's not really as much I would encourage parents to do. The biggest thing for them to know is its normal: normal to be more withdrawn, friends they used to be friends with to change, and it's the perfect time for them to learn how to handle stress and failure."
Parents can take the opportunity while their child is in middle school to show them what their expectations are and that is OK to fail as long as they try.
"In middle school I really believe you have to be the parent that steps back and knows they're going to make some mistakes and have some failures so they can learn. It's a big step back from their academics and a bigger step into their social world," Coffman said.
Though parents may want to protect their children, interfering too much can hurt them in the long run.
"I worry more than anything about parents who are afraid to ever let their students experience failure," Vereecke said. "Even if you do everything right in your life, there will be moments or circumstances where they don't get their way—it might be getting cut from a team or not getting the lead in a play, but making your student know you love and value them is key."
Getting Them Ready
For either transition, parents can prepare students by communicating with them openly about what is about to happen and assessing any fears or questions they might have beforehand.
Parents can also share with the teacher what they've been working on at home, what their struggles have been or potential future concerns.
"The key [for us] is keeping them busy and working on skills all summer," said Erin Clark, a high school teacher and mother of two. "We also do something educational every day."
Clark and her husband developed a weekly routine with their boys that includes a library day, a trip to the free summer movie series on the river, a day to visit parks and go on walks, a zoo day, and a free day, where the boys get to choose their favorite thing from the week and do it again. While they're doing activities, Clark tries to incorporate learning opportunities, like playing "I Spy" or reading signs they pass by.
Besides keeping students busy, parents can also prepare their student for the upcoming transition by exposing them to the new environment whenever possible.
"Going to the physical location of the school, making sure with young ones they know you're going to be here part of the day and then I'll come back and get you, whatever you can do to set up that routine and procedure will help," McKenzie said. "One of the things many of the middle schools do is set up an orientation to show students their classroom and their locker, how to open it. These might not seem like big things but they can be issues and create stress for kids if you don't plan for them."
Other things McKenzie said students often struggle with include using a bathroom with other people in it and using automatically flushing toilets for younger children, and the idea of going from one classroom to another and needing different books and binders for each for middle schoolers.
Once school has started, parents can continue the conversation.
"The biggest thing for parents is to not overdo it, but just continue to talk about things at school and be specific," McKenzie said. "Parents can start broad and then narrow it down to try to get some of the details to see if there's a level of anxiety or mistrust about school. All the sudden you won't hear about math, you'll hear that they got in trouble or that they're having trouble with friends they sit next to."
With strong involvement, parents have the tools to set their student up for success during a transitional time.
"If they see things that concern them, I always tell parents you only get one shot at these kids, and if you're concerned, it's imperative that you do something," Vereecke said.
---
Tips for Transitioning Kids to Kindergarten
1. Send a note to the nurse and the teacher if your child has allergies or special needs, even if you've already indicated it on other forms.
2. Visit the school and meet the teacher before school starts, if possible.
3. Start your school routine early.
4. Label everything, including backpacks, lunchboxes, etc. with name, address, phone number where parent/guardian can be reached, name of teacher and how child gets home from school.
5. Read books together about starting school.
6. Be positive.
7. On the first day, smile, give your child a hug and say a quick goodbye.
8. Wait to ask the teacher specific questions. She is busy with the children on the first day.
9. Be supportive and instill confidence. Ask what was fun about the child's day. Look at pictures and papers or ask what stories the teacher read and what they did outside.
10. Read everything the school sends home. Check your child's backpack every day.
Source: NAEYC.org
Tips for Transitioning to Middle School
1. If students are required to have a combination lock, buy one in advance and let your child practice getting it open.
2. Visit the school before it starts and, if possible, get a copy of your child's schedule and walk from room to room with your child. Stop by the gym, locker rooms and lunchroom. Many schools have orientation days before school starts, so find out if your child's school will be doing this.
3. Don't buy backpacks that can store 50 pounds of materials. Keep them simple so that they won't be too heavy. Small backpacks help keep your child more organized. Some schools have rules about backpacks. Go over all school rules and expectations with your child before school starts. Explore the school's website with your child.
4. Take time to learn more about adolescent development. For example, it's typical that a student's academic performance may drop upon entering middle school, and that the student may be overwhelmed with time management and organization.
5. Encourage your child to join a club or group in order to get to know other students.