Transitioning from Middle School to High School
Tips from teachers and students on how to make the most of your freshman year.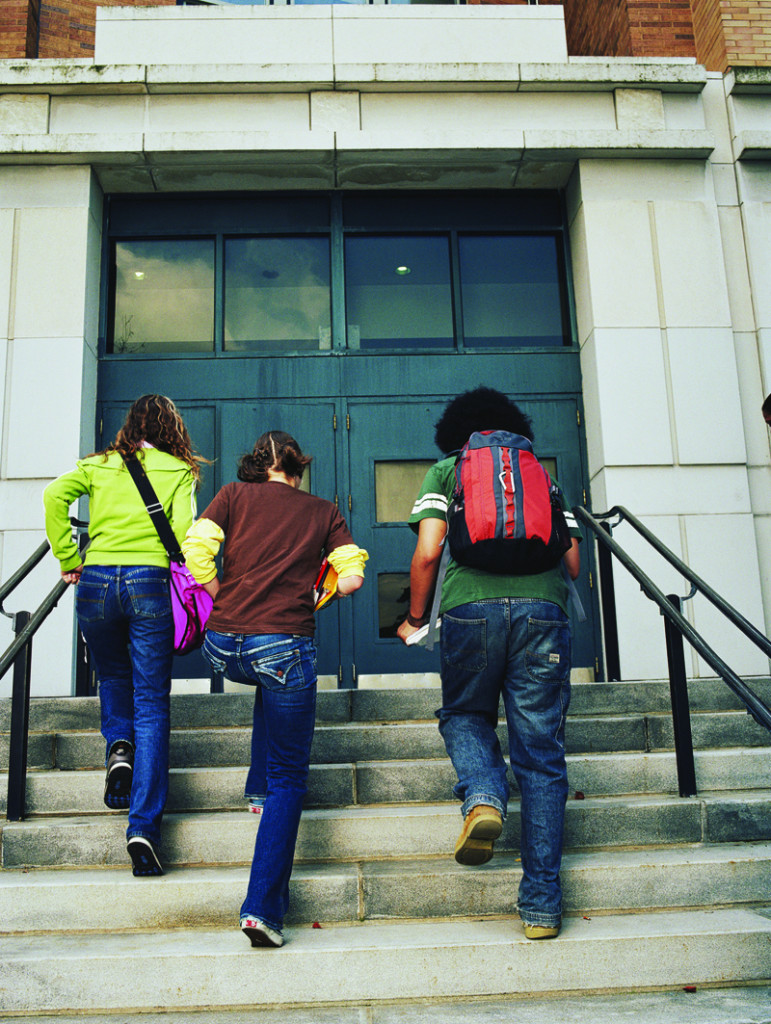 The end of the summer signals the start of the new school year. While it's always an adjustment returning to the rhythms of homework, early bells and slamming lockers, transitioning from middle to high school can add another layer of stress for both kids and their parents. New building, new peer group, more freedom and more responsibility seem to arrive overnight.
"The transition to high school from middle school is difficult for some students, but not all of them," said long-time Tulsa educator James Furch.
Furch was an educator for 42 years and was Booker T. Washington High School's principal from 2009-14.
"The curriculum is more difficult, and high school teachers expect more from their students in regard to their assignments," he explained.
Furch advises parents to stay involved, paying attention to their child's study habits and addressing any concerns about academics or social issues with the school's counselors.
Make New Friends and Get Involved
Sam R. and Grace L. just completed their freshman year at Washington. Each of them had anticipated that the transition to high school would be challenging. Sam came from Carver Middle School, a feeder school to Washington, so many of his friends also enrolled at Washington. Grace, however, came from a private school, and she only knew a handful of kids at the start of her freshman year. Both Sam and Grace emphasized the importance of making new friends and getting involved.
"Transitioning from middle school to high school is challenging, but it's also rewarding," noted Sam. "Meeting new people, whether it's students, teachers or counselors, is the most important aspect of the transition."
Grace offered similar advice. "Don't procrastinate. Branch out and make new friends."
Embrace New Opportunities
While Sam admits the social adjustment wasn't always easy, he viewed that time as an opportunity for growth and self-exploration, too.
"To any and all entering freshmen, I have one word for you: search. Search out new opportunities, new friends, and new passions," Sam said. "Freshman year is the year that you will take on a slightly new identity. When placed into a brand-new environment, one focused on growth, you are given a lot of room and resources to become more of 'yourself' than you have ever been. This is an opportunity you will rarely be gifted; don't waste it. You are a professional at being yourself. High school is about becoming the best self you can be."
Advice for Parents
While parents may be tempted to take a big step back when their kids enter high school, parental involvement is still very important even as roles and responsibilities change. A listening ear and emotional support are always needed. Encouraging kids to get involved with school-related clubs and extracurricular activities as their schedules permit helps ease the transition and can provide a structure for more introverted kids to make friends. As a parent, attending open houses and conferences keeps lines of communication open and helps keep small problems from turning into big ones.
"I would tell parents to make sure their kids are doing okay and just be supportive," Grace suggested.
Sam also advocates support, but with some distance. "High school is all about change, so parents can be tremendous help if they nurture that change. But also remember to let it happen," he commented. "I think the best way for parents to help their high schooler is to help them change and push them to change and find new things and become their adult selves. However, also remember that independence is the end goal."
Transitioning to high school can be stressful for both students and their parents. Learning to navigate a child's increased responsibilities and growing independence can be a challenge for all involved, but with the right balance of support and encouragement, high school can be a time of growth and maturation.
As Sam said, "It's all about finding your place and learning how to thrive in that place."
Julie Wenger Watson is a freelance writer who's worked in all aspects of music promotion. She's also Co-Director of "Live From Cain's," a public radio show pilot.