Baby On Board:
Summer Vacation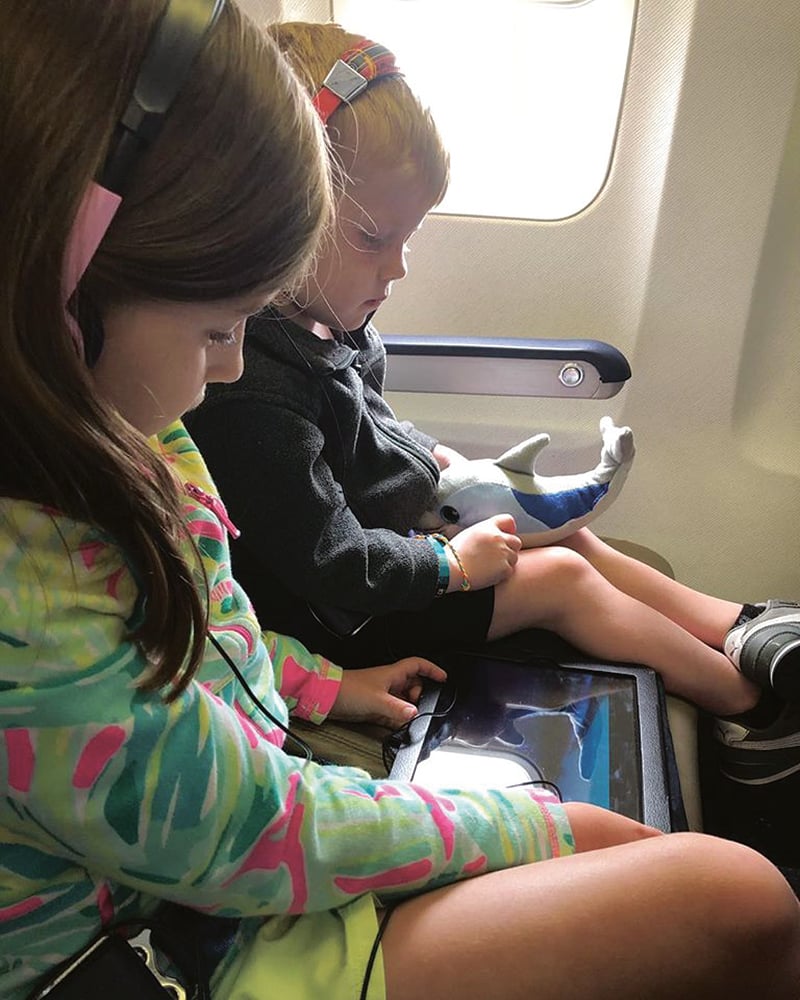 Summer is in full swing and that means it's time to travel. Whether you're packing up the car to visit the grandparents or flying off to a tropical island (lucky you!), the notion of traveling with your young kids probably fills you with an equal measure of excitement and dread. The packing, the planning, the schedules…the nightmares!
It's during these times that I always try to remember the advice of my children's pediatrician. We were once discussing the stress of the holiday season when he told me his family's secret to relaxing. "Lower your expectations and you'll lower your stress." I realized that holds true for travel, too.
Stressing to the max about planning the prefect family vacation is ridiculous, because that vacation doesn't exist, nor will it ever. When did it not become perfect enough to just spend time with my family? Yes, no one wants to spend hours on the road with a screaming child in the backseat. But what if, instead, that time was spent sitting in the back with your kids, singing songs, reading books and knowing that a few tears and tantrums are part of the journey? I think those expectations could be good enough for me.
Now that's not to say we should throw preparations to the curb. Just like the scouts, good parents are always prepared. We just must also prepare that it might not all go as planned, and that's okay, too.
Here are some tips from the American Academy of Pediatrics that might make your trip a little easier and fun.
If a long road trip is in your summer plans, try to stop driving and give yourself and your child a break about every two to three hours.
All children under 13 years of age should ride in the rear seat of vehicles.
If you're traveling by plane remember to allow your family extra time to get through security – especially when traveling with younger children.
Babies need passports, too. If you're traveling outside the country, remember to leave yourself ample time to get your baby a passport. Most airlines allow you to "lap" your child for free without a ticket if he or she is younger than 2 years, and you're traveling within the U.S., but you'll need to obtain a ticket (and pay taxes and fees) if you're traveling internationally.
Know your rights. The TSA allows you to carry on breast milk, formula and baby food as well as medically necessary liquids and gels in "reasonable quantities" exceeding 3.4 ounces. So feel free to pack whatever your baby needs to eat or drink on your flight.
In order to decrease ear pain during descent, encourage your infant to nurse or suck on a bottle. Older children can try chewing gum or drinking liquids with a straw.
Strollers and car seats can be brought through airport security and gate-checked to make travel with small children easier.
Make sleeping arrangements early if you plan on using a pack 'n play or crib at your hotel. That way they won't run out.
Pack a few of your baby's favorite toys and books from home. Not only will they keep him entertained in the car and/or on the flight, they can also pass the time in the hotel room and make him feel a little more secure as his normal routine is disrupted.
The most important thing to remember is to enjoy your trip and don't forget about you. With all the preparations for baby, it's easy to forget that it's your vacation, too! Most hotels and resorts offer babysitting services, if you feel comfortable taking advantage of them. Or, take turns having "down time" while your partner tends to the baby's needs. Load up your e-reader with some good vacation reads (for naptime) and relax. Happy vacationing!
---