Bell Times
Thoughts on school start times and supporting Food on the Move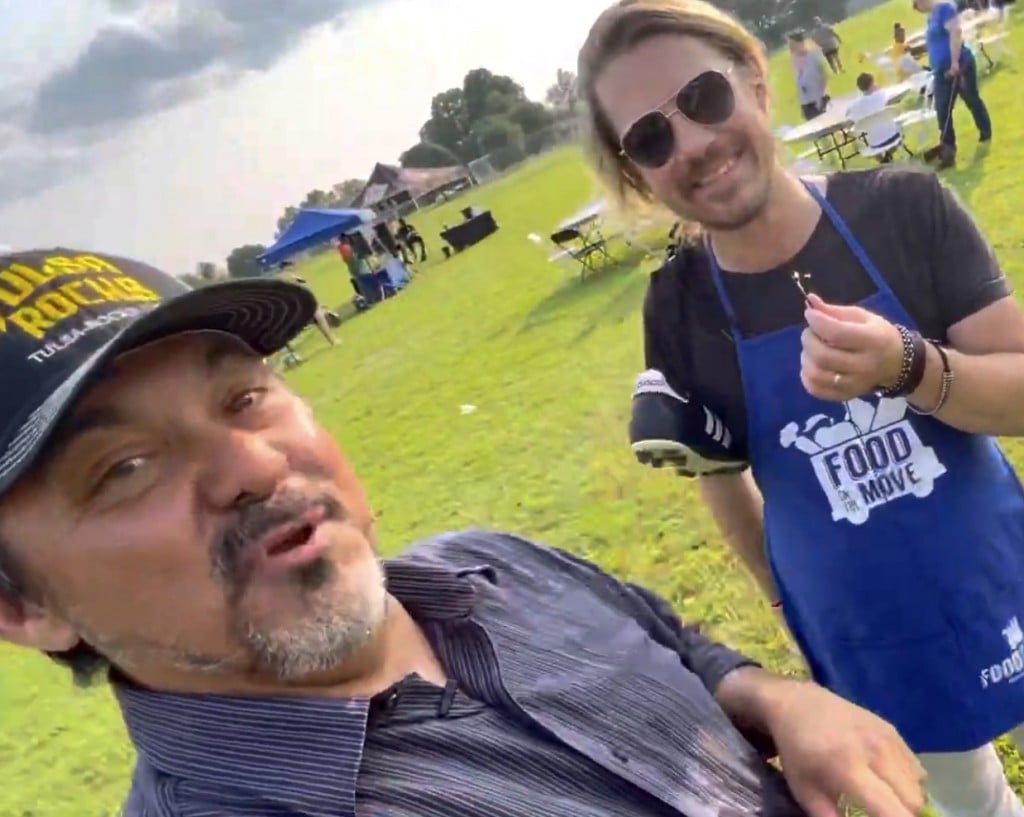 It was such an honor to be asked to moderate the Q&A Screening of a movie: "The Sneak Over." It was filmed in Tulsa and except for one, is an all-Oklahoma cast and crew. This was part of the Circle Cinema Film Festival. Thank you to Chuck Foxen and Betty Casey for the invite. I encourage you to watch the movie and support local filmmakers. My son Atticus gave it a Two Thumbs Up. I give the Oscar for Best Flatulence. Here is the link to the trailer and some pictures from the screening. https://dai.ly/x7uos9i
The non-profit I chose to support this week is a familiar one, Food On The Move. Their founder is the one and only Taylor Hanson from the beloved Tulsa band Hanson. More about how you can help Food on the Move at the end of my blog.
BELL TIMES
Before reading this, pleeeeeease give me some feedback. The good, the bad and the ugly. As a single parent, I'm always eager to hear constructive advice. Email me: Lynn@Tulsa-Rocks.com.
I was very excited a few months ago when I got the notice that my first choice of schools for my son had been accepted, Thoreau Demonstration Academy. My son's previous teacher at Key Elementary connected with him very well, and he made huge advancements in his level of understanding his classwork and overall attitude towards learning. So, I highly regard her opinion as to what is best for my son academic-wise. When she suggested Thoreau as a good fit for him, I didn't hesitate to use that as my #1 pick. Plus, my friend Leslie's twins (one boy, one girl) both went there. As a parent, she said the school was great and said her kids enjoyed their time there. Plus, I know them personally and they both turned out to be very well-educated, totally awesome adults.
Although yesterday, I received a letter from his new principal, Audrey Doctor, saying the bell times have changed. The letter states:
"Our school day for this year will run from 7am until 2:30pm."
If you do the "time math," that means his bus will arrive at around 6:00 am. So, his alarm will go off around 5:15-ish. I always get up before him to make coffee, make sure his backpack is ready and uniform is ready, etc. So…that has me getting up around 4:45 am.
Channel 2 Segment about the new Thoreau bell times
So, in turn, that means for him to get the proper amount of sleep, he will have to be in bed by 7:00 p.m., so bath at 6:00 p.m. and dinner at 5:00 p.m. In junior high he will have much more homework than in elementary school, so he will have to do it before dinner. I have not found a job yet, but I assume I'll be working, and he will be on his own to do it. And, given his work ethic during elementary school, I am not optimistic this is going to work.
I've talked to many who think 7:00 a.m. is too early for a start time. If we lived across the street from the school (like we used to), it wouldn't be such a big deal because he could walk and be in class in 5 minutes. But now we live near 21st & Garnett and the one-hour, one-way commute on the bus really pushes the time ridiculous early.
Some may read this and think, what's the big deal? I get up every day for work at the same time. Yes, adults and high school kids have the will to hear the alarm and get out of bed, but not my 11-year-old. And yes, I've tried many different approaches to wake him up, even a pitcher of cold water; he liked it, wanted me to do it again.
All of this is doable for sure, and I totally would, if it was the only option. But his neighborhood school is only a half a block from the house and within walking distance. Plus, I have another child to take care of, so if I end up having to take my son to school because he missed the bus (which he does often and after time #3, they cancel the bus), then I must get her up hours before she has to be at school, which is not fair to her.
The reasons for the earlier start times were given on the email as: "…students enrolled in after school activities", and "… teachers have commitments after school." Shouldn't the school times be priority? That's why it's called "extra" curricular activities, right? One example the principal gave was if a student was enrolled in a karate class after school, then some parents were having to remove that student from class early. In my opinion, then shouldn't that student have a different karate class time? I may sound cold to some, but remember, school should come first, everything else is secondary.
Also, I thought this kind of a decision one month from the first day of school was pushing it. We've had distance learning for a year and a half, so why wait this long to make such a drastic decision? Had I known about this early bell time before the deadline to turn in my school requests, I probably would have made a different decision choice besides Thoreau.
Principal Doctor and I have traded voicemails but have not (yet) been able to talk this through, but I'll keep you posted!
FOOD ON THE MOVE
Here is a video interview I did with Taylor Hanson this past Tuesday. He is the founder of Food on the Move. Their next "block party" is Tuesday at Greenwood Cultural Center. There will be lots of information about health and nutrition, plus "Pay as you can" fresh fruits and vegetables and food trucks. For more, here is there website and my interview: www.foodonthemoveOK.com.
---