The Year of Distance Learning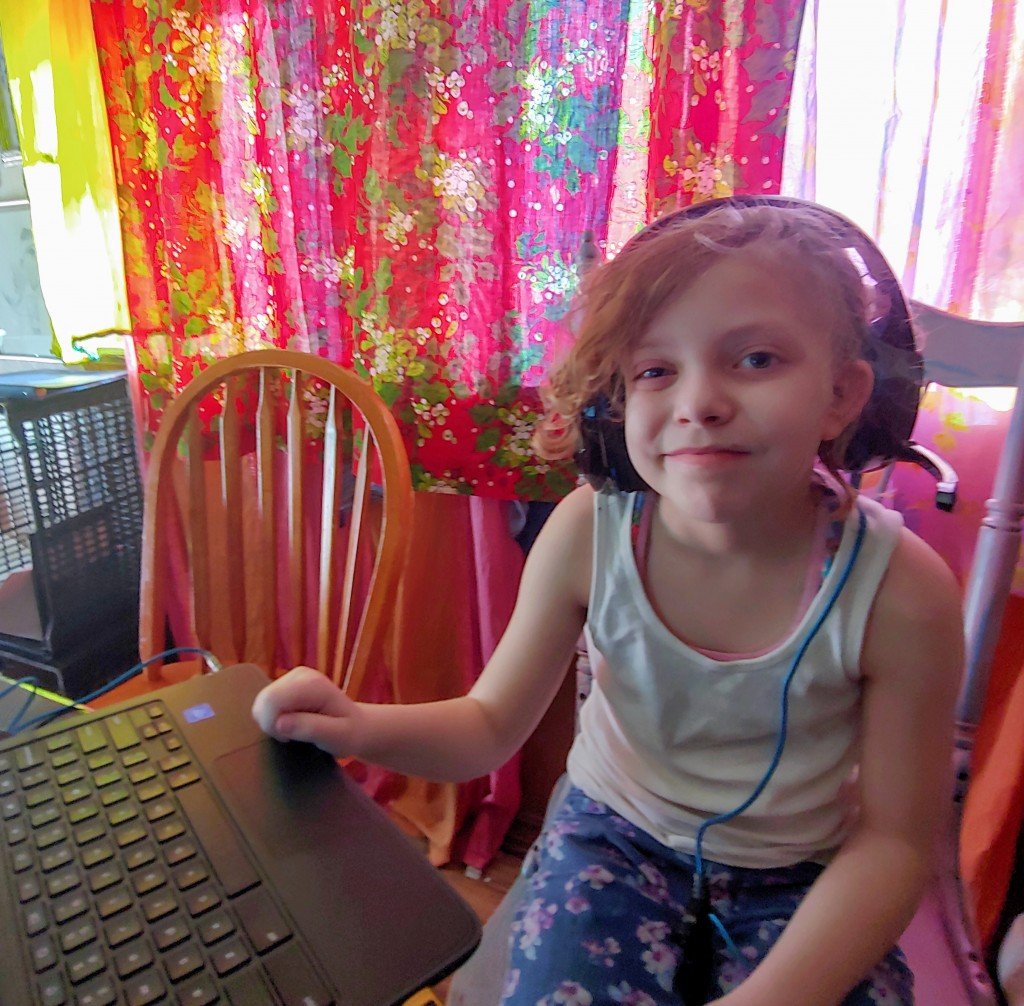 It's 6:45 a.m. on a Tuesday…again. I've already attempted to wake up Lucy twice. I'm too short to see on top of her bunk bed, but I already know without looking that her eyes are still closed.
I run the gamut of parental manipulation tactics from offering a comfortable hoodie to threatening privilege loss until at last she's whining and I'm frustrated knowing that after the drama of this morning chaos, no blissful silence awaits where I sip coffee peacefully after shipping her off to school.
Instead, we'll spend the next two hours checking on the kids to see who is working and who is trying to game the system by turning their camera off and spacing out the second we start our own work day. I'll work well into the evening tonight because I spent the day managing my kids' schoolwork, which, in turn, means I'll be putting away laundry at midnight. Again.
I have to be honest with you. I don't love trying to balance a full-time remote job with household responsibilities and helping three kids with school, and frankly, I'm terrible at it. For starters, I'm not a very good disciplinarian, and I can barely handle my own personal time management, let alone oversee my kids'.
But my frustration at the situation is its own kind of privilege; unlike many parents, we count ourselves lucky because we're at least able to work from home.
Despite two of our family members' asthma, the decision to not send the kids back at the semester was a difficult one. Like many parents, we found ourselves weighing the cost of having the kids at home against the risk of possibly contracting or spreading the virus.
Social creature that she is, Lucy cried when she found out her friends would be going back to school without her, a gut punch to any resolve we had about the soundness of our decision. Her dad explained that he didn't understand why the school system was bringing everyone back when the COVID numbers were higher than they'd ever been and Tulsa's mayor had recently appeared on MSNBC talking about just how bad things are here. It was clear she understood and didn't fault us but was merely frustrated at the situation.
On November 30th, many of Lucy's fourth-grade classmates were originally scheduled to return to class. Tulsa Public Schools made the announcement that all grades would be immediately shifting back to distance learning until after winter break due to the Tulsa Health Department recommendations.
After all of the ups and downs of this year, the news did not even make a little baby dent in my social media feed, maybe because people are just resigned to the pure whateverness of it all at this point. It did serve to rinse away the nagging guilt that comes with making an impossible decision. And for that at least, I'm grateful.
This week's news that two vaccines are in production and on the way is good news, but production and distribution take time, meaning we're not quite in the denouement yet. Nonetheless, it's a reminder that the pandemic will end eventually, and whatever we have to do for the time being is temporary.
From the isolation to the economic challenges to the heartbreaking loss of so many lives, it's been painful enough to go through the pandemic as an adult. But the impact it's had on our kids is almost too much to absorb. I think about all of the significant world events that marked my own childhood—the end of the Cold War, the fall of the Berlin Wall, the Challenger disaster—and how much each of these historical inflection points defined the world and experience of my generation.
I think about every year of my childhood, the school day conversations and the time spent sharing the challenges of childhood with friends. And in all of those thoughts, I worry about my own kids spending a year outside of the world, apart from other kids their age processing events their parents never imagined we'd face in our lifetimes. Like most parents, I worry about the lost schooling and their mental health as well.
I understand the urge to place blame. Anger is one of the five stages of grief, after all. But anger hurts the angry more than it solves anything.
And when you really think about it, so much of this situation comes down to the kids learning adult truths early. It comes down to learning that sometimes you only have bad choices in life, and sometimes you have to get through the challenge in front of you the best you can so you can regroup somewhere else down the road.
Last year, the kids and I accidentally entered a 5K. Once we realized our mistake, it became clear pretty quickly the only way out was through, and I had to spin it the best I could to the kids, especially to Arthur. As often happens with asthma, the realization that he'd forgotten his inhaler caused him to have anxiety about breathing, and I knew he needed to stay calm to keep his asthma from worsening.
And although we can't count the markers and guess how far the finish line is, just like that 5K, the end of the pandemic is coming, and knowing that makes it easier.
With Thanksgiving and Christmas here, it's important to stay the course and do as much as we can to not jeopardize the return to normalcy that is coming soon enough. If we just hang on a little longer, we'll be back to pool parties, movie theater nights, vacations, comic cons, and music festivals before we know it.
Here are a few things to remember as we round the final corner:
It's okay to be tired of the pandemic as long as you're still being safe.

It's okay to hate wearing masks as long as you keep wearing them or stay home.

Now is a great time to start daydreaming about your next big post-corona vacation or epic party.

A lot of us are terrible at helping our kids with distance learning. It's not just you.

Their teachers know we're all bad at it, and they forgive us.

Don't argue with anti-vaxxers. You're not changing their mind and life is too short.

Just keep swimming.
I know we're all tired, but it won't be long now. So as much as I'm dreading another month of Chromebooks all over the house and exhausting mornings, I'm reminding myself again that the only way out is through.
And next year? Next year is going to be awesome.
Thanks for reading, stay safe, and have a lovely week in your nebula.
Author's note: This post has been edited from its original text. Special thanks to reader Lauren, who alerted me that the fourth graders never actually made it back to school on November 30th as originally planned.
---