The Succulent Shop
A TulsaKids Family Favorite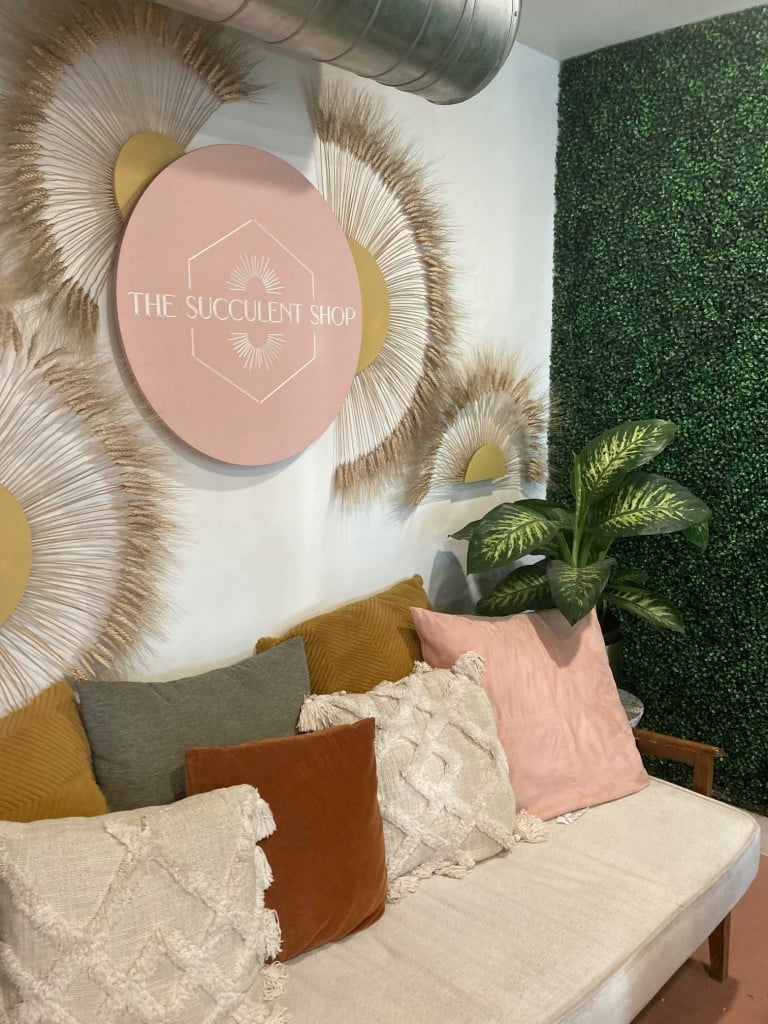 A couple of weeks ago, I had the opportunity to visit The Succulent Shop in Broken Arrow for the first time! The Succulent Shop has been on my radar for a couple years, thanks to TulsaKids' Family Favorites. This year, TulsaKids readers voted The Succulent Shop as their Favorite Place for a Girls' Night Out. But alas, I rarely venture to BA.
Now, however, I can say that I've been to this local "sip-n-shop plant boutique," and if you're curious about it, too, keep reading!
Pick Your Plant and Pot
When you walk through the doors, you're greeted by greenery everywhere, a bar area and shelves of planters and other goodies. Your task is to choose a plant and a pot, which you will take upstairs to the planting – or potting? – area. There are tiny succulents, and larger plant varieties. Itty-bitty pots, and larger planters. Plenty of different looks and colors to choose from.
I grabbed a smaller succulent off the wall of succulents, and a simple greenish planter. The planter was around $8-10 dollars, and the succulent wasn't too pricey. I think it was one of their $4.75 ones, which is the starting price.
Heading Upstairs
Upstairs, you'll find 5 tables that seat about 6 people each. In the middle of these are bowls of various dirt mixtures, as well as tools like tiny shovels.
An employee made sure we all had a metal cookie sheet to work on, and instructed us as to which soil would work best with the plants we had picked. Succulents need one type, and other tropical plants need a different mixture. We learned how to separate our plants from the dirt they were in, and re-pot them into the next pot and soil.
On the far wall, you'll find decorative items, which allow you to personalize the plant even further. These include a rainbow of colorful sand, plastic dinosaurs and other animals, identification cards, etc. The colorful sand is free, and then the other additions cost from about fifty cents to two dollars. I stuck with some sand and a little dino. And am happy to report that, a couple weeks later, it seems to be thriving!
Drinks!
Did I mention there was a bar downstairs earlier? Yes! But you can also order once you're settled in upstairs. They had an impressive menu of seasonal cocktails and other beverages. Since I had to leave early, I stuck with a mocktail. Some kind of gingery lemonade, which was delicious! And all the drinks were elevated by being served in attractive glassware.
Rentals and Workshops
Plan ahead by renting a table – or even the entire upstairs venue. Table rental starts at $25 for an hour, plus any materials purchased – plants, pots, etc. If you're hosting a larger event, rent the upstairs loft or patio for $150/hour (two-hour minimum).
If you want a more structured experience, check out upcoming Plant Workshops on the website's calendar: thesucculentshop.com/plant-workshops.
The Succulent Shop Contact Info
Find The Succulent Shop on Broken Arrow's Main Street at 319 S. Main St., Broken Arrow.
Hours
11 a.m.-7 p.m. Monday-Wednesday
11 a.m.-9 p.m. Thursday and Friday
10 a.m.-9 p.m. on Saturdays
11 a.m.-5 p.m. on Sundays
Check their calendar or call ahead to make sure they're not closed for a private event.
---