The PSAT: Your Key to Earning a National Merit Scholarship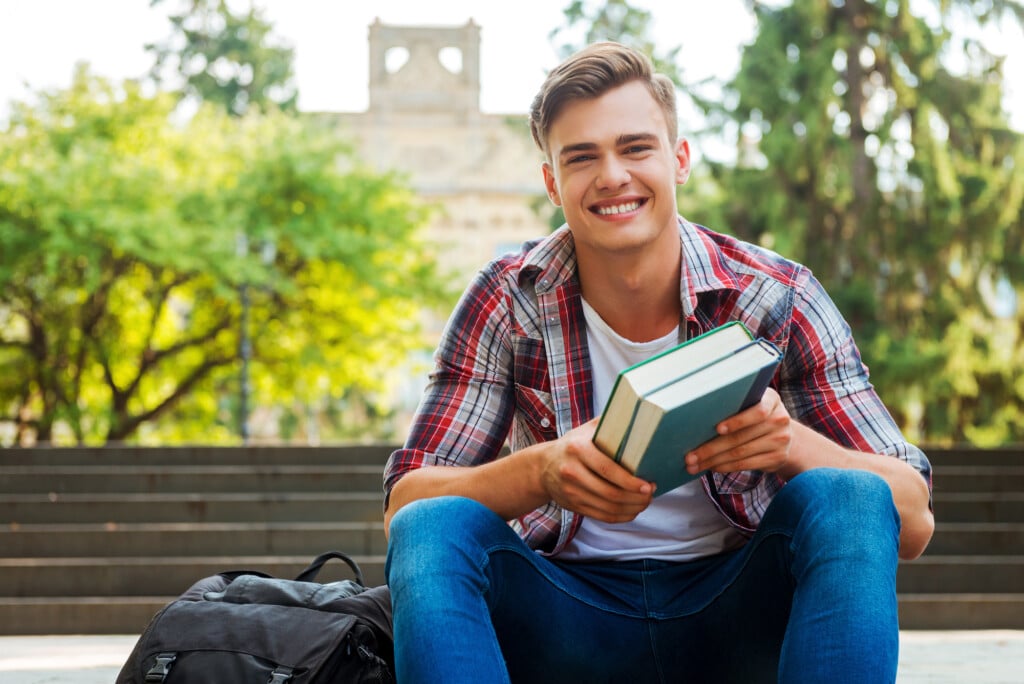 Many juniors in high school roll out of bed, grab their #2 pencil and head to the PSAT testing site never having studied or prepared for this exam. After all, it's just a practice SAT test, right? Wrong. Although a high score on the Preliminary SAT won't help your chances of getting into college, it's actually the only way you can earn the National Merit Scholarship – and a chance at a full ride to college.
I know from personal experience. My son, Anthony Conroy, knew what was at stake and prepared for the PSAT, earning a full ride to the University of Oklahoma (OU) as a National Merit Scholarship (NMS) winner. In fact, combined with his other scholarships, he had a surplus of $500 every semester. "Each semester I got paid to go to college," Anthony said.
On the other hand, his friend missed the scholarship opportunity by a few points because he didn't know the PSAT was the qualifier and didn't study.
Why Take the PSAT?
Not only is scoring high on the PSAT your gateway to the NMS, but it can also help prepare you for college entry exams. Think of it as a dress rehearsal for the SAT with no audience because colleges won't see your scores. The structure of the PSAT exam is similar to the SAT. It has the same sections and timing, making it a great practice test. But if you want a shot at the highly competitive NMS, scoring high isn't the only requirement.
According to the PSAT/NMSQT student guide, only half the finalists earn a Merit Scholarship since it's not solely based on test scores. In addition to the PSAT qualifying score, scholarships are awarded to recipients based on "the Finalist's academic record (course load and difficulty level, depth and breadth of subjects studied, and grades earned); PSAT/NMSQT scores; the student's essay…and the school official's written recommendation and characterization of the Finalist."
NMS winners are well-rounded students who demonstrate character and commitment to making a positive impact through participation in extracurricular activities and leadership roles within and outside of school. If you've neglected these areas in high school, it's not too late to focus on activities that highlight your talents and service by volunteering for community or church projects.
How to Prepare for the PSAT
While it's not impossible to roll out of bed and earn a qualifying score for the NMS without studying for the PSAT, it's extremely rare. So don't count on it. Preparation is key.
Anthony studied for several months before the PSAT, practicing the techniques on how to do well.
"My parents hired a tutor, and it paid off," he said. "I got a full ride, making the money spent on the tutor a $60k-plus investment."
If you can't afford to hire a tutor or a group prep class, you can find official PSAT practice tests online or in study guides. The Tulsa City-County Library also has resources. It's important to use official study materials from the College Board. These are the most accurate representations of the test.
Familiarizing yourself with the format, structure and content not only eases test-taking anxiety, but helps you navigate the test faster. Since the PSAT is a timed test, taking practice tests helps your time management skills. One thing Anthony learned from his tutor was test-taking strategies for handling challenging questions with process of elimination, educated guessing and underlining key information in reading passages.
"During the practice exams, I would skip over the questions I wasn't sure about and not waste time," he said. "I practiced pacing my work so when I completed all the questions in each section that I knew, I was able to go back to the questions that took more brain power." His test-taking skills got so good that he was able to go through the test twice in the time allotted, allowing him to double- and triple-check his answers.
In addition to test-taking strategies, practice tests assess where you are weak in Reading, Writing and Language, and Math so you can study those subjects more in depth.
In addition to preparation, getting adequate rest the night before the test is important so you can stay calm, focused and confident. If you've prepared, trust your gut and know that a non-qualifying score is not the end of the world. There are other scholarships available and ways to pay for college.
Other Scholarship Opportunities
While Anthony earned a full ride to OU because, at the time, OU offered it to National Merit Scholarship winners, that might not be the case for your college. Research the value of the NMS at the college you wish to attend and make your decision accordingly. Anthony could've settled for less scholarship money at the other colleges, but he chose a full ride at OU, easing the financial burden on himself and our family.
Information about the National Merit and PSAT is available at nationalmerit.org; satsuite.collegeboard.org/psat-nmsqt
Types of Scholarships
NMS is not the only scholarship available. There are many scholarships for which students can apply.
State-funded Scholarships
Visit org for a list of state-funded scholarships, grants and financial aid programs.
Local Universities and Colleges
Visit your specific college financial aid.
Guidance Counselors
High school counselors have valuable resources for finding scholarships, especially those offered by local organizations, businesses or community groups.
Community Foundations
Thanks to donations from community organizations, corporations and individual donors, these scholarship opportunities are available for incoming, re-entry, continuing and transfer students based on aptitude and hard work, not on their socioeconomic status. cfok.org/scholarship-funds; cfok.org/students
Professional Associations and Organizations
Explore scholarships offered by relevant professional associations or organizations. scholarships.com/financial-aid/college-scholarships/scholarships-by-grade-level/graduate-scholarships/professional-organizations/
Employers and Parent's Employers
Check if your employer or your parent's employer has any scholarship programs. Starbucks' College Achievement plan Covers 100% tuition for employees enrolled in Arizona State University. starbucks.com/careers/working-at-starbucks/education
Local Businesses and Corporations
Some local businesses and corporations offer scholarships as part of their community outreach or corporate social responsibility initiatives.
Nonprofit Organizations
Various nonprofit organizations in Oklahoma provide scholarships for students based on academic achievement, financial need or community involvement.
Religious and Civic Organizations
Rotary Club, Circle K, Key Club, Jaycees and Kiwanis International are a few examples, as well as religious organizations. financialaidfinder.com/student-scholarship-search/association-sponsored-scholarships/civic-organization-scholarships; scholarships.com/financial-aid/college-scholarships/scholarships-by-type/religious-scholarships
Minority-based Scholarships
For ethnic or racial minorities such as Hispanic, African American, Asian American, Native American, LGBTQIA+, Disability and even scholarships for students who will be the first in their family to attend college. unigo.com/scholarships/minority
Online Scholarship Databases
Websites like Fastweb, Cappex, and Scholarships.com have search tools to help find scholarships based on various criteria. The Big Future scholarship is worth 40K to students just for planning their future. bigfuture.collegeboard.org/pay-for-college/bigfuture-scholarships
Whether you're hoping to win a National Merit Scholarship or searching for other scholarship opportunities, remember to carefully read the eligibility criteria, application requirements and deadlines. It's essential to stay organized and apply to as many scholarships as you qualify for to increase your chances of receiving financial assistance for college. Once in college, keep looking for new scholarships you can apply for, and you might just get the money for college.