The Branson Aquarium and Other Branson Fun!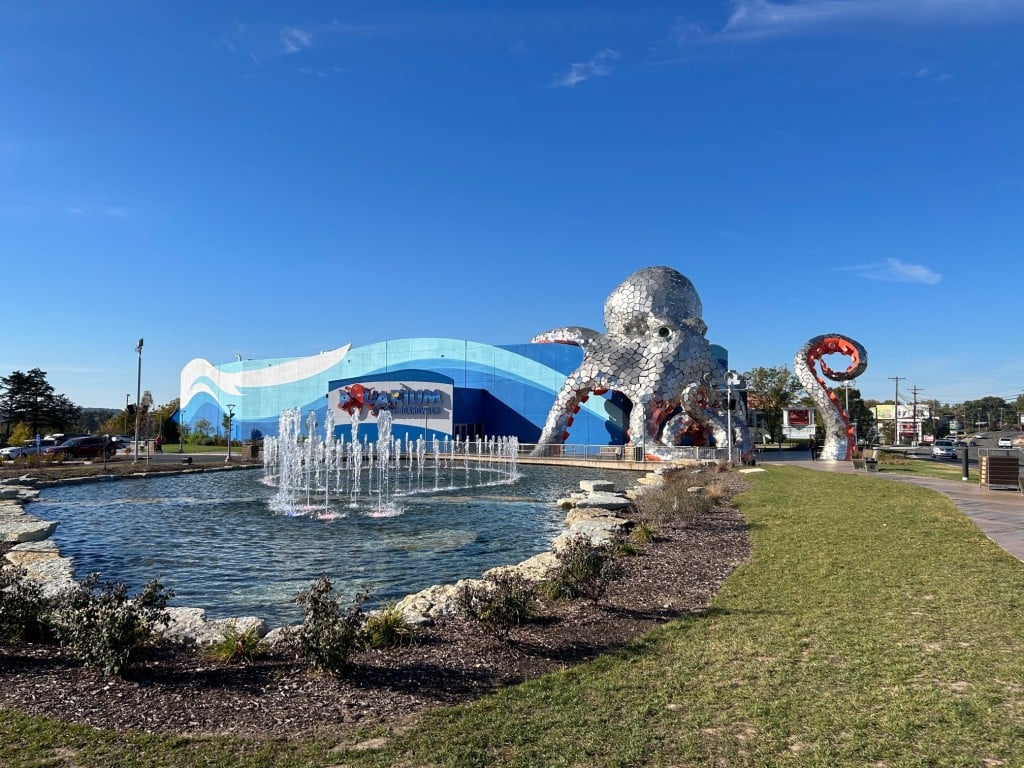 Earlier this week, I wrote about our Fall Break trip to Silver Dollar City, which was part of a two-day media trip to Branson. Our other day was spent visiting some other Branson attractions. These included the Aquarium at the Boardwalk, Branson Ferris Wheel and Track Family Fun Parks. In the evening, we had tickets to see Reza: Edge of Illusion. Keep reading to learn more!
Branson Aquarium
The Aquarium at the Boardwalk is a relative newcomer to Branson. It opened in late 2020. If your first question is, "How does it compare to the Oklahoma Aquarium?" I will say that it's quite a bit smaller. But also, it's very much created to be bright and visually fun for kids. There are some unique elements you won't find locally, like the jelly infinity room and kelp forest climbing area. There is also an auditorium where you can take a 3-minute "5-D" submarine adventure! The seats shake and move around, so it really feels like you are diving and flying quickly through the ocean!
One of my favorite things about the Aquarium was the ambiance-creating music they had playing throughout. It was never obnoxious, and really created a cool atmosphere. There were also several unique underwater creatures, some I don't think I'd seen before.
They also have some fun photo opportunities, in the mermaid room particularly.
And no modern aquarium would be complete without some 360-degree viewing spaces for the kids! (And occasional adults.)
The Branson Aquarium is open seven days a week, and advance tickets are recommended. Tickets range from about $30-35 (ages 12+), $16 for ages 4-11. Kids 3 and under get in free. Also, check for deals because certain Branson attractions will cooperate to offer discount ticket packages if you plan to visit multiple places. Learn more at aquariumattheboardwalk.com/tickets/
All in all, I think we spent about an hour to an hour and a half at the Aquarium, and felt like that was plenty of time to see everything.
Fuel Fresh American Grill
After the Aquarium, we were invited to lunch at Fuel Fresh American Grill, which is located right next to the Branson Ferris Wheel and Track Family Fun Parks #4. We enjoyed our meal very much. I went with barbecued nachos, since Joss wanted those AND a giant pretzel, so we shared.
Mom was happy with her salad, and Jim with his Black Rifle Royal Burger. The latter is "Our delicious burger, seasoned with our Black Rifle coffee rub and cooked perfectly. Topped with pecan smoked bacon, cheese, and a fried egg. With lettuce, tomato, onion, and our signature sauce." Anything with coffee, count me in!
Track Family Fun Parks
There are several Track Family Fun Parks throughout Branson. We passed a couple others as we drove along the main strip, but we went to the one next to the restaurant and Ferris Wheel. The main building houses the arcade and ticket counter, but there are also three go-kart tracks, bumper cars, a couple mini outdoor rides and – the giant Ferris Wheel!
Spending time in an arcade is never going to be top on my priority list of things to do in a new city. But having access to the go-karts made it totally worth it. And safe to say, Joss is a big arcade fan, so he was thrilled. Plus, between the four of us, we racked up enough tickets to get him a whoopee cushion and a few other goodies.
The arcade and go-karts may have been Joss's favorite part of the trip. He was certainly grinning ear-to-ear on his first solo go-kart ride, and I let him take the wheel in our bumper car. He thought that might be enough to get him a driver's license, so I did have to disappoint him in that regard. The three different go-kart tracks ranged from an easy kiddie track, an intermediate "classic track" and the four-story Heavy Metal High-Rise! (Actually, there may be four go-kart tracks…but we only saw three.) They measured Joss before giving us our bands to determine which tracks he could drive on by himself.
Pricing can either be a la carte, or you can purchase a 2-hour or day pass for about $45-50. The arcade games cost between $.75 and $4.00, according to the website. I think the 2-hour or day pass would definitely be the best value, if you want to try a little of everything. The unlimited day pass includes unlimited Ferris Wheel Rides as well.
Joss and Jim sat this one out. And after riding, I think I may be a little leery of heights too! There wasn't a line when we rode, so they told us we were welcome to go around twice, but … I couldn't do it. Once was plenty! But if you like heights, then go for it! You get a great view of the city, and it is a very solidly built Ferris Wheel. Pricing is: $12.99 for ages 12+; $9.99 for ages 4-11; kids 3 and under are free. Pricing does not include tax.
Reza: Edge of Illusion
This is a long post, but I'm trying to fit all of our Branson fun into two posts! The final activity we did on the trip was attending a Reza: Edge of Illusion show at Branson's Famous Theater (actual name).
It's billed as a family friendly show, and there were a lot of kids in attendance. Joss liked it, but afterwards, he asked, "Why did so many of the illusions involve murder?" You know…cutting people into multiple pieces, piercing them with giant screws. So…use your best judgment there. Obviously, no one was harmed, but still. They also tried to sell a lot of merch and photos throughout the show, so it did feel very…tourist-oriented.
Before the magic show, we returned to the Ferris Wheel area because we'd seen an Andy's Frozen Custard location there and needed dessert. So good! This was also the longest line we ever had to wait in in Branson, ha. I mean, it wasn't too long, but everything else was unbelievably clear.
Chateau on the Lake
Oh, and I would be remiss not to mention Chateau on the Lake, where we stayed. Our rooms were clean and comfortable, with great views of Tablerock Lake and the fall foliage. Plus, they started decorating for Christmas while we were there, and it's definitely going to be beautiful over the coming months! We enjoyed the indoor swimming pool, but there's also an outdoor swimming pool, workout facility, theater and multiple on-site restaurants. It was also easy to get from the hotel to any of the activities we did.
Final Thoughts
So that was our trip to Branson! On the way home, we stopped by Lambert's, to try their famous throwed rolls! Jim said there's always a long line out the door before they open, but somehow we got there right before they opened and were near the front. Success! Anyway, it was a great opportunity to make a final memory on our Branson vacation.
---