6 Things We Loved About Silver Dollar City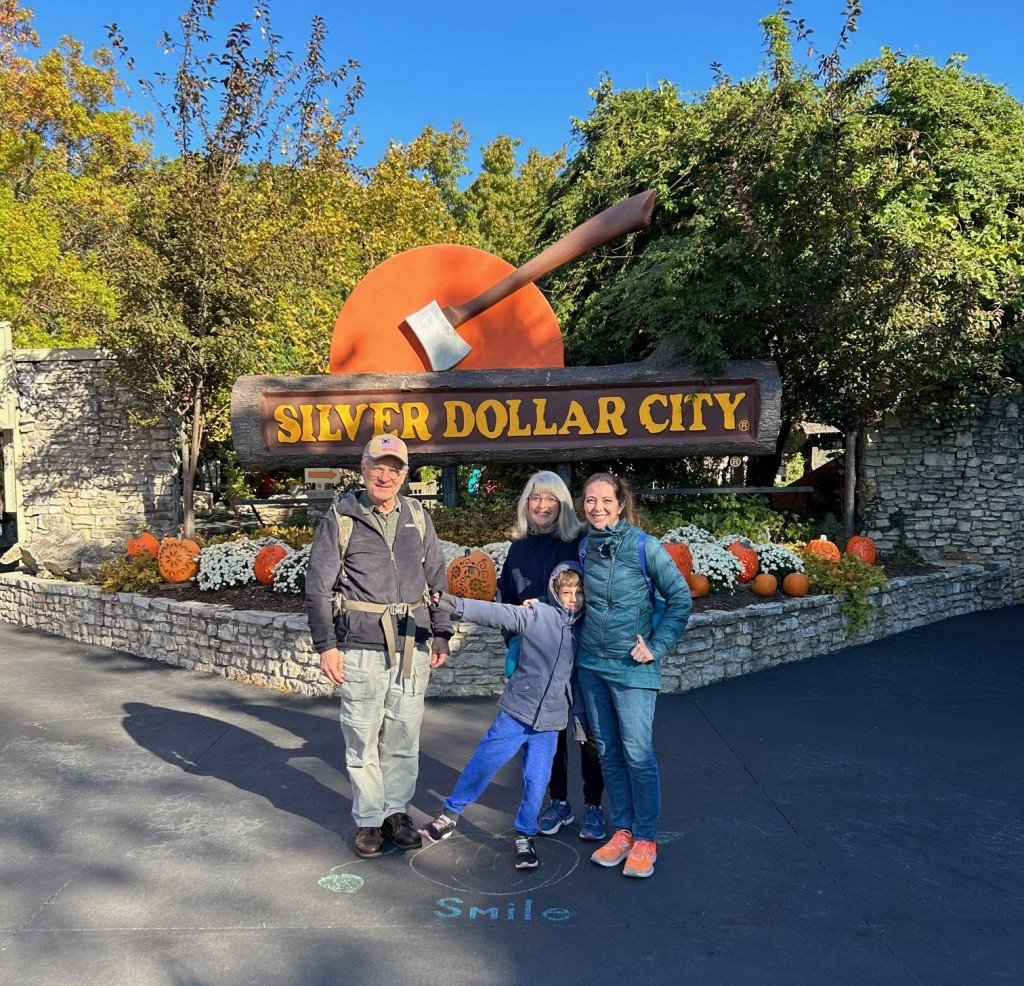 It's a rainy Monday after Fall Break, and I'm so grateful for it! I'm also glad we had sunny weather for our Fall Break trip to Silver Dollar City! Thanks so much to the City of Branson and Silver Dollar City for inviting us out to experience the theme park's Harvest Festival and everything the park has to offer year-round. Our group consisted of myself, my mom, step-dad and Joss, age 8. Here are some things we all particularly enjoyed.
1. Lots and Lots of Pumpkins!
Silver Dollar City's Harvest Festival runs through October 29, so unfortunately, there's not a lot of time left to see it! But do consider adding it to your Fall Bucket List for 2023. The whole park is full of thousands of pumpkins, some real, some not so much. They are arranged in gorgeous towers and whimsical sculptures, making for a park full of fun photo ops.
We arrived at the park nice and early – 10 a.m. And although we were probably ready to leave around 4:30-5 p.m., we wanted to stay for the evening Pumpkins in the City Kick-off. There was a pumpkin dance party and rides that lasted into the night. However, I think I was confused because somehow I thought the entire Pumpkins in the City area was off-limits until evening. However, once we finally headed back there, it was a really nice section of park with lots of rides. I think it was the dance party area that was closed off until the evening festivities began. I wish we'd headed back earlier because by the time we did, Joss was beyond tired, and the displays in this area were the best. (See the giant spider above.)
If you go for the Harvest Festival, be sure to check out the special menu items available. These include pumpkin pizza, pumpkin chili, pumpkin pie corn dogs and soft pretzels, etc. Pumpkin EVERYTHING!
We went on a good week. They were already starting to get ready for their next seasonal event, An Old Time Christmas. This runs Nov. 5-Dec. 20, and features 6.5 MILLION lights and other fun. Read Kristi Roe Owen's blog post about their Branson visit last winter for more info: tulsakids.com/everything-dreamy-about-our-magical-branson-christmas-vacay/
2. Clara Belle's World Famous Cinnamon Bread
We got some nice perks for doing a media tour of Silver Dollar City, including a coupon for a free loaf of Clara Belle's Cinnamon Bread. Our itinerary recommended that we walk very quickly to get this. I don't know if they usually sell out or what, but we needed breakfast anyway, and it sounded like a delicious way to start the day. When we arrived just after opening, they only had the original cinnamon bread ready, which was totally fine, but there are other flavor options as well.
As promised, it was gooey and delicious. Basically a cinnamon roll in loaf form, and pre-cut into slices we could eat right then. They also serve coffee in Clara Belle's, so grab a cup if you need a boost!
3. Gentle Rides
Joss had a bad experience on a mini ferris wheel a couple years ago, and has been unenthusiastic about rides ever since. And since he's too short for most of the larger rides, that wasn't really an option anyway.
His favorite ride – that we ended up riding three times! – was The Flooded Mine. Actually, I rode it four times because the first time he wanted to sit out until I'd reported that it was a nice, gentle, no-scares ride. You don't even wear a seatbelt on this one, that's how gentle it is. Basically, the theme is a prison mine flooded, and the prisoners are trying to escape. You sit in a little boat and each person has a gun to shoot at targets throughout the ride. I'm not sure our guns ever worked properly, or how you were supposed to know if they were, but it didn't matter. Joss loved seeing the funny displays and pretending to shoot anyway.
We only went through this once, but that was more an adult decision. Joss wanted to do it again. But the tilted floors of Grandfather's Mansion were a little disorienting! Everything is topsy-turvy here. It's not really a ride, more of an interesting walk-through experience. Think trick mirrors, etc.
I think if the park had been more crowded (the lines were nonexistent when we went, woot!), I wouldn't have enjoyed this. There are narrow hallways, and you're in enclosed rooms that aren't too big for the most part. But as it was, it was pretty fun.
If you have younger kids, Fireman's landing is full of rides they'll enjoy. Although in Joss's case, he wasn't so thrilled that we cajoled him into riding Lucky's Dizzy Dogs. I enjoyed it, though. And afterwards, mom and I rode a kid-friendly version of the FireFall. We felt a little silly (at least I did) riding a kid's ride without our child, but it was fun.
Other rides in Fireman's Landing include a larger play/climbing area (that I didn't tell Joss about because I didn't want to lose track of him), a small swing ride, a balloon ride that looked very fun. There's a splash pad as well, during the proper season.
Carousel
Again, thanks to the non-existent lines, we rode Hugo & Mary's Carousel in Half Dollar Holler twice in a row. Half Dollar Holler was developed for young kids. Here, you'll also find a smaller climbing area and a Build-a-Bear-type workshop. I mean, you can't go wrong with a carousel, and even mom and I enjoyed riding.
We had meal tickets for two meals, but after lunch at Rivertown Smokehouse, we didn't really need dinner! I wanted to eat here because it was COLD the day we went (40 degrees or so), and I thought it had indoor dining. It did not, however, there were heaters on the patio, so we were warm enough. I enjoyed their pumpkin pulled pork sandwich, while mom and Jim each had ribs. Joss ordered off the kid's menu – mac and cheese (not his favorite type) and a side + fruit. His favorite part of the meal was the ribs – there were plenty to share – and his pink lemonade Hi-C.
Delicious food, if you're a fan of barbecue! But there are a ton of food options at Silver Dollar City. Find a list at silverdollarcity.com/theme-park/attractions/dining/
5. Craftsmen and Shopping
Don't go to Silver Dollar City without some spending money! We enjoyed seeing the blacksmiths at work, and the pottery studio. And of course we had to buy a pound (or so) of salt-water taffy! There are also candy-making and glass-blowing demos, etc.
Find a list of craftsmen at silverdollarcity.com/theme-park/attractions/craftsmen/
I'm so glad we did the Marvel Cave tour, although my knees were not so happy mid-way through. But Marvel Cave is really how Silver Dollar City got its start. Our tour guide told us the little cart you take to get back to the beginning is the oldest ride at the park, and sometimes it doesn't work! I'm still not 100% sure if they were tricking us with that or not – but if it ever doesn't work, you have to do the whole 1-hour cave tour in reverse, apparently.
It was fun learning the history of this natural wonder. Earlier cave explorers were hoping to find lead or marble in the cave, but instead they found lots and lots of bat guano! Which thankfully for them was worth quite a bit. However, when that was all mined, eventually the cave was turned into a tourist attraction. Early tourers descended into the cave with ladders and candles – no, thank you! A couple times they turned off the electric lights so you could experience the total darkness.
This experience is not for everyone. If you don't do well with heights or small spaces, think again. I forgot exactly how many stairs are in the cave, but I think it's about 700. However, it was a really neat experience, as the cave is all-natural, other than the added pathways and lighting. (For which I was very grateful!)
If you do the last tour of the day, I think you get to see the thousands of bats that still live in Marvel Cave fly out into the night, which would be AMAZING. We saw just one – adorable – bat on our tour.
Planning Your Visit
I was grateful to a friend for recommending we download the Silver Dollar City app the night before. This app contains a map that guides you to attractions, restaurants, etc. We made use of this several times, as it's easy to get a little lost! It's also an easy place to browse rides and restaurants, and to find a schedule of demonstrations, etc.
Their website also has several planning guides. For example, a guide to going with young kids, a guide to visiting if you don't want to do any rides whatsoever, etc. Find all those at silverdollarcity.com/news/
Basic tickets for ages 12-65 are $79/day. Kids 3 and under get in free, and there are discounts available for younger kids and seniors. There are also group discounts and add-ons, and check out the Special Offers page if you're hoping to save money.
As far as parking, we had a parking pass (yay!), but there are shuttles that take you from the lots to the park entrance. So don't worry about parking further away. They'll take care of you!
Hopefully this helps if you are planning a visit to Branson soon! Again, we were there from about 10 a.m. to 6 or 6:30 p.m., which was plenty long enough. There were definitely areas of the park we missed, but it was a full, full day! Here are a couple more pictures, and let me know in the comments what your favorite Silver Dollar City attractions are!
---