Taylor King's Season of Giving
Providing water to children in Ethiopia and laptops to New Hope Oklahoma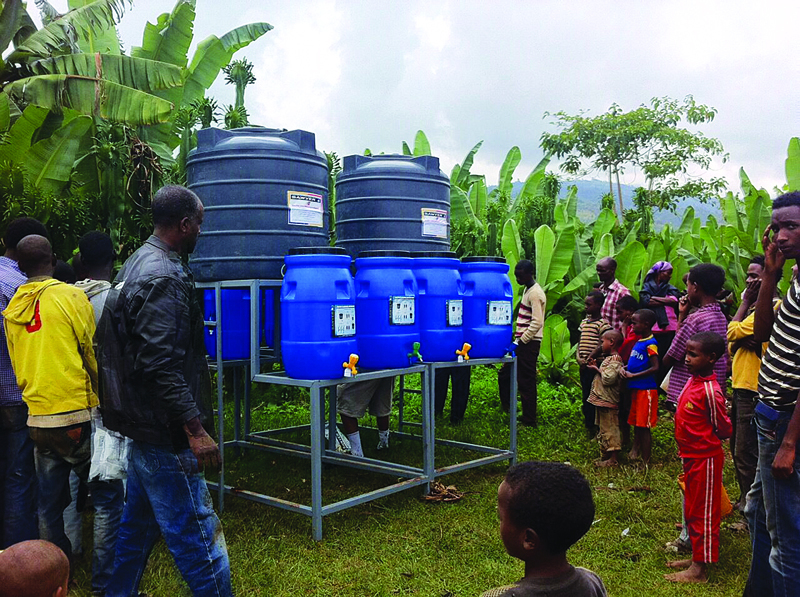 Clean water is something that people living in the U.S. are accustomed to, but for others around the world, it can be a scarce commodity. Taylor King was only 17 years old when she learned that children in rural areas of Ethiopia didn't have easy access to clean drinking water. This fact, coupled with her desire to help others, led her to spearhead a project to raise money that would help provide water filtration systems to schools in Ethiopia. As a result, over 4,000 children have benefited. And, most recently, the foundation's focus on giving back has expanded to include a local partnership with New Hope Oklahoma.
TK: Tell us about you.
Taylor: I was born and raised in Tulsa. I went to Edison Middle School and Bishop Kelley High School. Both my older brother, Brody, and my younger brother, Jaxson, attended Bishop Kelley as well. I am currently a sophomore at the University of Michigan – Ann Arbor where I am studying political science. In a few months, I will be moving to Washington D.C. to conduct research on our criminal justice system and to work a full-time internship through a program at my university called Michigan in Washington.
TK: How did Children's Prosperity Project begin?
Taylor: My foundation started my junior year of high school when I needed to organize a capstone project. I began with the desire to bring clean water to rural areas of Ethiopia. Eventually, my idea was refined to bringing water filtration systems to schools in Aserado Mero, Ethiopia. We raised so much money that I decided to make an actual non-profit out of my project, and now we install filters in Ethiopian schools, and provide notebook computers to Oklahoma children of incarcerated parents upon the students' graduation from high school.
TK: How did the name of the foundation originate?
Taylor: I wish there was a funny or interesting story for the origin of the name, but it really just came up during a brainstorming session in the car with my parents. I knew I wanted something about helping children, but I also wanted something that wasn't too much of a mouthful to say.
TK: Who does the Children's Prosperity Project help?
Taylor: Children's Prosperity Project helps students at schools in Ethiopia and the children of incarcerated parents right here in Oklahoma (with our partnership with New Hope Oklahoma).
TK: What levels of assistance does the foundation offer to children in need?
Taylor: In Ethiopia, we install water filtration systems in schools which serve to further incentivize education in those areas because there are few places with easily accessible, clean water. Additionally, I partnered with my cousin, Shay, for her Bat Mitzvah service project. We raised money to put bookshelves and books in a few schools of Shay's choosing in Ethiopia. In Oklahoma, we work with New Hope Oklahoma by giving notebook computers to high-school graduates of parents in prison.
TK: To date, how many children have you been able to help?
Taylor: We have helped well over 4,000 students around the world so far!
TK: How can someone who is interested in helping your organization become involved?
Taylor: Right now, most of our work is done at a distance or through partnerships with other organizations. If one wishes to volunteer at an event, they can email us at childrensprosperityproject@gmail.com.
TK: Can you share a success story from the foundation?
Taylor: I have seen a number of students from New Hope go on to college or to careers beyond high school who have used their computers to help further their goals! Additionally, some of my family went to Ethiopia this year and reported to me that the filtration systems are still working in wonderful condition at the schools.
TK: How are people able to find out about your organization?
Taylor: People can find us on Facebook: www.facebook.com/ChildrensProsperityProject
Nancy A. Moore is a Public Relations Coordinator at Montreau, Adjunct Professor at Tulsa Community College, and has been writing for TulsaKids for almost 20 years.