Taking a Family-Friendly Trip to Chicago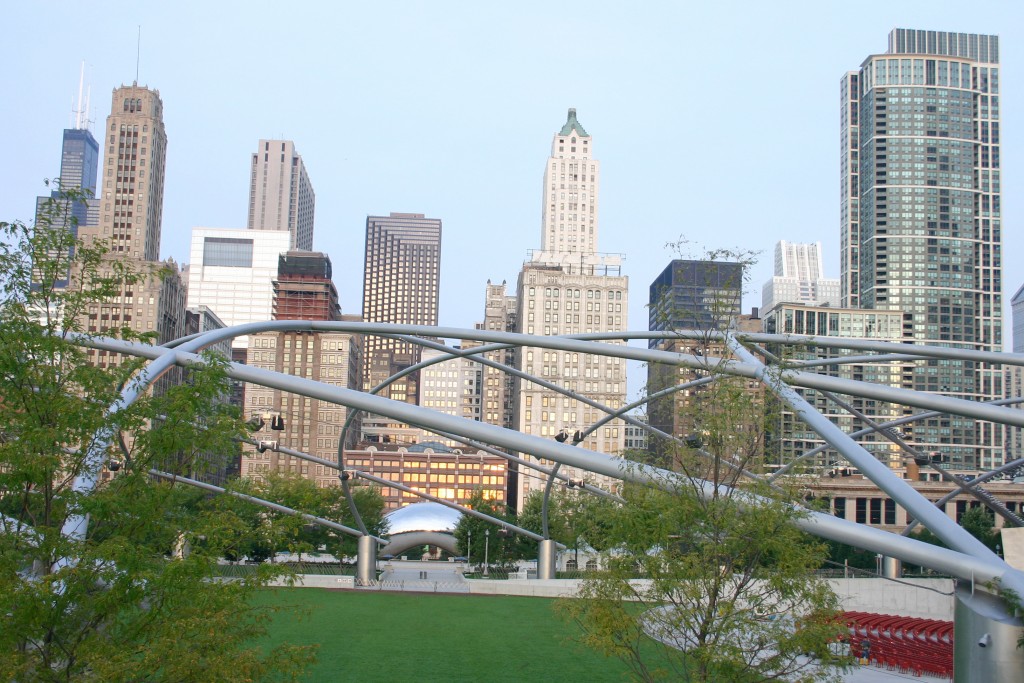 At the ripe age of 9, my son, Garrett, is quickly becoming a big city aficionado. He studies books, reference guides and Internet sites to learn about cities all over the world and then eagerly suggests which ones he wants to visit next. Aside from opportunistic and hard-to-meet requests such as Tokyo and Buenos Aires, he has often begged for a jaunt to Chicago.
Since we often touch down there en route to see family in New York, I agreed to extend our stop-over beyond the walls of Chicago O'Hare airport and set aside time for exploring America's "Second City,"* which, by most standards, is second to none and is first rate when it comes to kid-friendly fun.
The Beauty of Lake Michigan
Humungous Lake Michigan, one of the Great Lakes, serves as the Eastern anchor for much of the city's festivities and attractions. We marveled over the glory and magic of the waterfront, spending many hours at Navy Pier and several lakeside parks where festivities, shopping and dining are plentiful.
Built during World War I and used as a Navy training pier during World War II, it is now the city's top tourist attraction, and for good reason. Along the 3,000 foot-long pier, we uncovered a shopping and dining mecca, an amusement park with one of the world's largest Ferris wheels, a world-class children's museum and a dockside full of touring boats.
For some of the best views of the skyscraper-laced city, we hopped on the Seadog, a high-speed boat that intertwines a 30-minute high speed cruise along the lake with an hour-long calmer ride along the Chicago River for an education in Chicago-style architecture.
Afterward, we suited up for an afternoon dip in Lake Michigan. Sprinkled along the lake are public beaches, and swimming in this large blue lagoon may be one of our fondest memories for it coupled a breathtaking view with a refreshing plunge.
Parks, Parks and More Parks
The Chicago Park District manages 570 parks, and the most famous and visited of them all are Millenium Park and Lincoln Park.
To see what all the buzz was about, we allocated a large chunk of time to sightsee at Millenium Park. This 25-acre space contains numerous attractions and sits adjacent to museums including the Art Institute of Chicago. But the main delight for us was the strikingly beautiful contemporary sculptures such as the famous bean-inspired 3-D mirrored band shell, "Cloudgate," designed by renowned architect Frank Gehry. Second to this was the eye-catching interactive Crown Fountain, a technologically advanced water feature, containing two clear brick towers with beautiful LED lighting and moving photos of Chicago residents from all walks of life. Kids are encouraged to waddle in the water, which Garrett happily chose to do.
For a completely different outdoor experience, 1,200-acre waterfront Lincoln Park features a top-notch zoo with many exotic animals. Much to our surprise, it's free to the public. And, the Regenstein Ape House is a new and exciting exhibit. Aside from the zoo, there is the Lincoln Park Conservatory, a gorgeous, gigantic greenhouse filled with stunning flowers and fauna.
The Infamous Willis (Sears) Tower
Chicago is overflowing with tall, handsome buildings and the most famous of these is the 110-story Willis (Sears) Tower. Once the world's tallest building until Asia and Dubai busily erected a few slightly higher, it still remains Number One in North America and affords sweeping panoramic views of Chicago's cityscape. The coolest feature here is the open-glass outcropped viewing station with a glass-bottom floor. While inside of it, you feel a sense of free flight, like a bird—airborne and floating high atop the bustling city below.
Shop and Dine 'Til You Drop
Every Chicago street brings a new and exciting venue for shopping, dining and exploring. Perhaps the most heavily trafficked of these is North Michigan Avenue, also called The Magnificent Mile. I'd compare it to New York's 5th Avenue for it is flanked by many of the same shops and boutiques. Traveling with a 9-year-old boy, I made sure to visit the multi-storied Apple and Niketown stores. (For girls, there's an American Girl store, too!)
Chicago has rightfully earned its reputation for outstanding international cuisine and, if on an adult getaway, I might have spent more time trying out culinary masterpieces. But, for this visit, we brought our voracious appetites to Pizzeria Due (the sister restaurant to Pizzeria Uno) where traditional deep-dish Chicago style pizza is served up just right. We also had to check out the infamous flagship McDonald's, which takes up a whole city block and, along with the expected menu, contains McDonald's memorabilia and photos of custom-designed Golden Arch restaurants worldwide.
Compared to many major metropolises, Chicago is easily accessible from the airport, eliminating the need to rent a car. We hopped on the El train, which is economical, quick (an hour or so) and kid-friendly (24-hour passes cost only $5.80). So, whether your family's passion is history, architecture, water-related activities, art and/or dining and shopping, Chicago serves up first rate, first class fun without the need to spend too much time or money getting there or getting around.
*This name stems from population rankings up until the 1980s, when Los Angeles became the second largest, after New York. Historians also state that the title refers to the rebuilding of Chicago after the devastating fire in 1871, which practically destroyed all the old structures.