Surviving Family Gatherings with Toddlers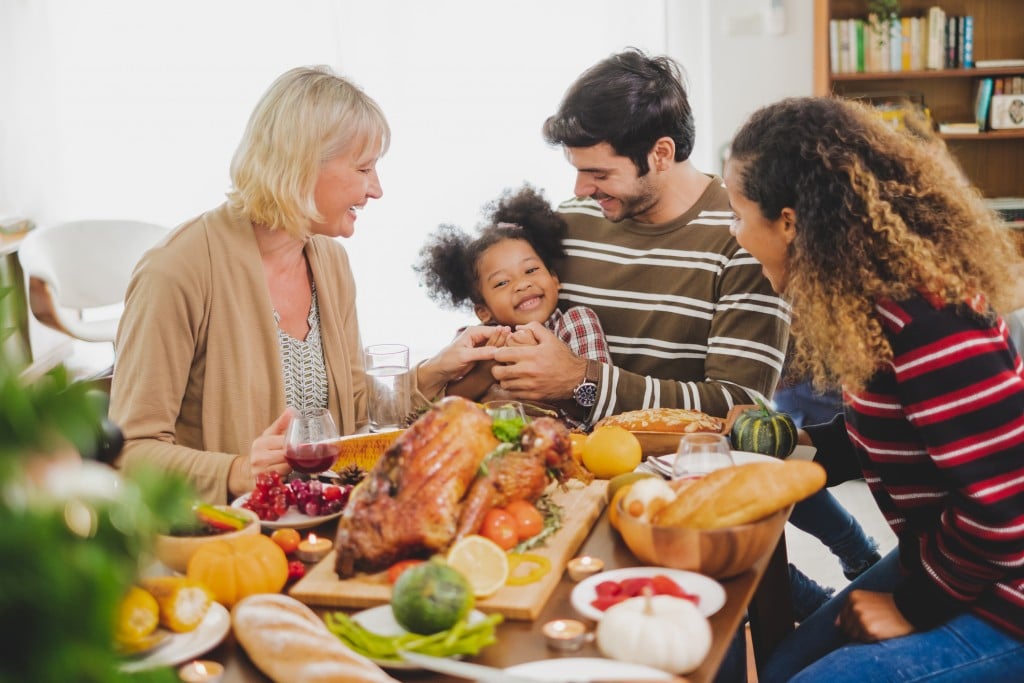 Thanksgiving 2020 was a bit of a bust for most families during the height of the COVID-19 pandemic, but with more and more families getting vaccinated, testing more often and taking precautions to prevent illness, gathering safely for the holidays might be within reach. We all know from the songs and movies that holidays are supposed to be an exciting, meaningful time for families to reunite and celebrate the things we cherish. We set aside time for family traditions, we give thanks, and, of course, we eat! But sometimes holiday gatherings are less magical and more, well, stressful.
The vacation from school and work means a break from routine, something kids and parents alike depend on for stability. Many families travel, facing traffic and long airplane rides, to attend one or more family get-togethers with rarely seen relatives who expect kisses and catching up. And most of these occasions will involve unfamiliar vegetable dishes.
How can anxious or easily frustrated children hope to survive all that? The U.S. Child Mind Institute has some tips to help all kids—and parents—enjoy the party.
Minimize conflict over behavior
Your child might know the rules and routine at your house, but in the excitement and novelty of a relative's home, things can get stressful. Try to keep some kind of routine with your toddler so even though they are in a new space, they still have a stable bathtime or bedtime routine.
Talk to your hosts early
Besides preparing your children, sometimes it's necessary to prepare your relatives so they know what to expect. If your toddler doesn't like to be held or kissed, or perhaps they get nervous around new people…these are all good things to share with your hosts and family so everyone is on the same page.
Plan ahead for some peace and quiet
For kids who are easily overstimulated or sensitive to things like noise and crowds, the U.S. Child Mind Institute recommends arranging for another room they can use when they need a break. During family gatherings you want to achieve a balance between being social with relatives while also knowing that, if things get too overwhelming and intense, there's a place to take a break and just be quiet.
Keep kids occupied
Kids, especially young children, like structured activities, and they'll probably be missing them from their normal routine. Fortunately, the holidays lend themselves to art projects and family-friendly activities that kids enjoy. You can even start new family traditions like cutting out and decorating sugar cookies or throwing a ball around outside.
Think about the menu
Family gatherings centered on a meal can put a lot of pressure on toddlers who are picky eaters or who have sensory issues that limit their diet. If you are going to someone else's house for dinner and you know the menu will be a problem, try packing something your child will eat and bringing it with you.
Manage your expectations
Don't forget that managing your own expectations of what the holidays "should" be like is the most essential step to any holiday gathering. As parents we should check in with ourselves over what our own expectations are and not extend them to our kids. It would be great if the kids could sit at the table and eat a nice holiday meal with us, but they're probably not going to want to sit still for a long time. It's important to appreciate that kids might find the fun in other things, and that's OK, too.
---