Stay-at-home Summer Fun
Ideas for those days you just don't want to leave the house.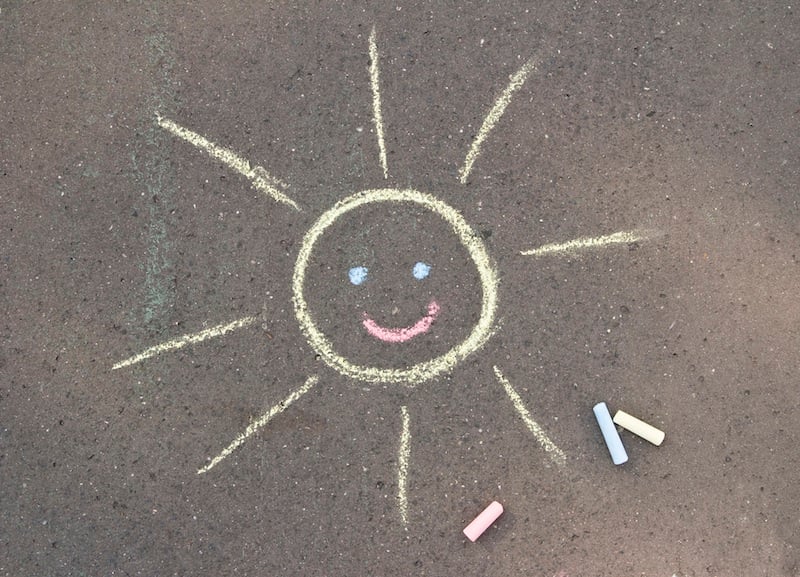 Originally published July 2017.
We asked some of our readers for their favorite stay-home summer activities. They gave us some fantastic ideas!
Do you have a favorite stay-at-home summer activity? Feel free to share it in the comments!
---
From Kimberly Honea
1. Nighttime Glow Stick Hide-n-Seek
Hide glow sticks, which can be purchased from the dollar bin at Target, around the yard. Take turns finding them!
"This is a great before-bathtime/bedtime activity because it requires a lot of walking!"-Kimberly Honea
2. On-the-Fence Painting
Purchase a large roll of paper ($15-18 on Amazon.com for 100 feet) and attach a portion to your fence. Create a giant masterpiece using Crayola kid paint, cheap paintbrushes, plastic cookie cutters, or just your hands!
3. Dance Move Competition
Turn up your favorite up-beat music, like hits from the '60s and '70s, and challenge your family to a dance move contest! Who can come up with the coolest new move? What about the funniest? Don't forget to get a prize for the winner!
---
From Jen Handsel
Jen Handsel with son Noah, 3
4. Build Something Cool with Cardboard
Decide what you want to build. What is your child into right now?
Find a picture online that you can use as an outline.
Break the shapes of the outline picture down then look around your home for items that could be used to replicate those shapes.
Assemble and decorate.
Jen's Tips for your next Cool Cardboard Build:
Check Dollar Tree for cheap craft items, but used recycled items when possible
Use your imagination
Always have a rough sketch or picture to model your project after
Let your children help!
"Some of the best things that my son and I enjoy doing are crafts. I especially love working with paper and cardboard. With cardboard there are endless possibilities! Using cardboard for art is always something that can be done year round, for rainy days or summer break; a cardboard box unleashes a child's imagination and creativity."–Jen Handsel
---
From Kelly Knight
Kelly Knight with daughters Emily, 10, and Claire, 8
5. Host a Tea Party
The Knights' tea parties always feature cucumber sandwiches that are usually paired with a non-caffeinated, fruit-flavored tea. Fancy hats are optional.
Cream Cheese and Cucumber Sandwiches:
Combine a shredded, deseeded cucumber with a block of cream cheese and a little salt. Chill several hours.
Spread the cream cheese mixture between two slices of white, de-crusted bread. Cut into triangles or use cookie cutters to make fun shapes! Repeat until cucumber mixture is gone.
---
From Cady Shaw
6. Themed Movie Nights
For their Pirates of the Caribbean Movie Night, Cady Shaw and her family made hot dog pirate ships, "fish and chips" (goldfish crackers and doritos), and Pirate's Booty Brownies. They also served Swedish Fish and "cannonballs" (Whoppers) along with extra chocolate gold coins. And of course, they wore eye patches!
Other ideas: Dr. Strange Movie Night (eat strange foods in strange ways), Princess and the Frog Movie Night (serve gumbo and beignets, decorate Mardi Gras masks and wear beads)…the possibilities are limitless. Just choose a movie and see what your imagination comes up with! If you're stuck, there's always Pinterest.
---
From Kay Stroup
Kay Stroup with daughter Evy Castillo, 11
7. Bake Your Best Banana Bread
Kay Stroup and her daughter, Evy, enjoy baking a variety of delicious things. But their favorite is this spiced banana bread Kay's mom made her as a child.
Banana Bread
2 c. sifted flour
1 tsp. baking soda
1/2 tsp. baking powder
1/2 tsp. salt
1 tsp. cinnamon
1/2 tsp. allspice
1/8 tsp. ground cloves
1/2 c. shortening
1 1/2 c. sugar
2 eggs
3 large ripe bananas, mashed
1 tsp. vanilla
1 c. chopped pecans or walnuts (optional)
Preheat oven to 350 F.
Sift together flour, baking soda, baking powder, salt, cinnamon, allspice, and cloves.
With an electric mixer, cream sugar and shortening. Add eggs, mashed bananas, and vanilla; mix well.
Slowly add in dry ingredients, using a spatula so you don't over mix. Stir in chopped nuts, if using.
Pour batter into a 9x5x2 inch greased pan or bundt pan. Bake 60 minutes. (Alternately, bake in greased muffin tins or cups for 20 minutes.)
Remove from oven and let cool 15 minutes, then remove from pan.
---
TulsaKids Editors' Recommendations
8. Game Night
Try a new board or card game! Our favorites include Bananagrams (ages 7+), Sushi Go! (ages 8+), Fluxx (ages 8+), Munchkin (ages 10+), and Go Nuts for Donuts!
9. Family Storytime
Grab a classic that's fun to read aloud, like "Charlie and the Chocolate Factory" or "The Phantom Tollbooth." Bonus points if you do different voices for different characters.
10. Make Something Slimy
Oobleck
Pour 1 c. water into a bowl.
Add 1.5-2 c. cornstarch a spoonful at a time, stirring or mixing by hand as you go. You'll know you've added enough when the oobleck's consistency is somewhere between a liquid and a solid.
Add food coloring!
Enjoy the ooze, then clean up and—if you have it—read "Bartholomew and the Oobleck" by Dr. Seuss.
---