Spaghetti on the Wall Visits Oxley Nature Center
Why did it take us so long?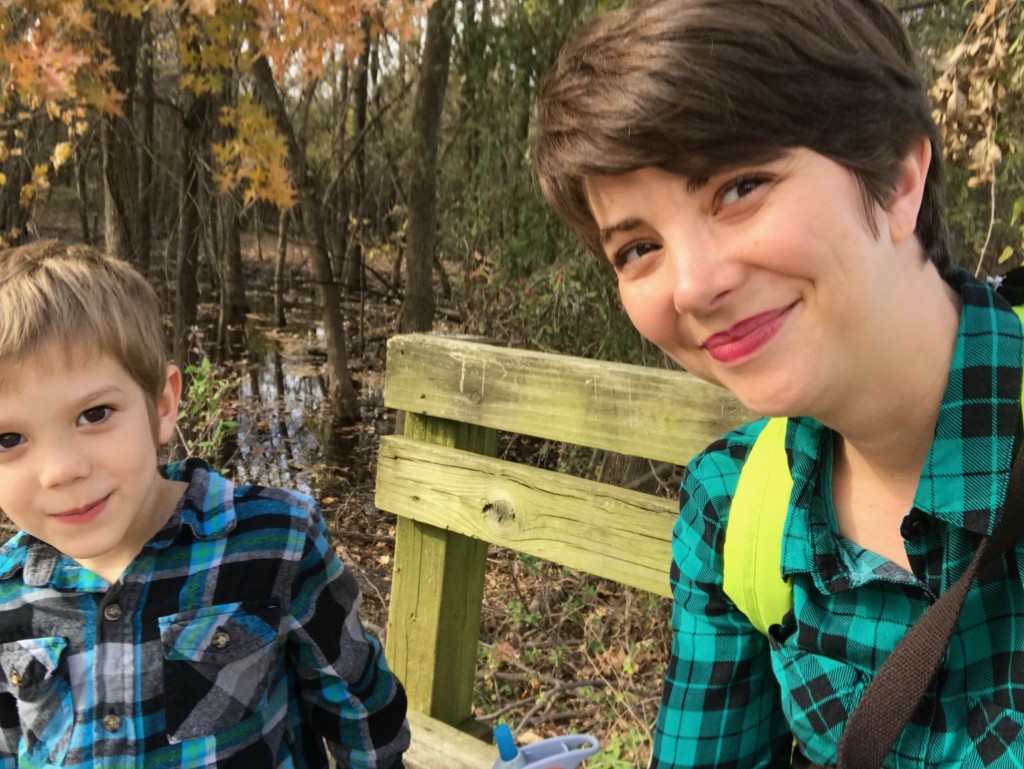 Inspired by the threat of sub-thirty temperatures several weeks ago and Margaritte Arthrell-Knezek's Guest Blog post on Oxley Nature Center, Joss and I decided to make the most of a 70-degree day with a visit! This was long-overdue. I've lived in Tulsa since 2004 (minus a couple years), and this was my first time going.
If you're looking for an expert's advice on visiting Oxley, definitely check out Margaritte's post. But since we enjoyed our visit so much, I figured I'd go ahead and post about it in order to encourage any other potential first-time visitors!
Coming in for a landing! An additional bonus is getting to see all the low-flying private planes as they come in to Tulsa airport.
Getting There
Oxley Nature Center is located on the Northern end of Mohawk Park. You get there via the main Zoo/Mohawk Park entrance off of 36th St. N. Then you drive past the Zoo entrance, through Mohawk, about a mile until you reach the Oxley gates. This drive made me realize that we need to add Mohawk Park to our list of go-to places as well, as it is a huge space with a playground, picnic areas, disc golf, etc.
You may have to pay $2 per car to enter Mohawk Park (from April 1-October 31 on weekends and holidays), but other than that, visiting Oxley is free.
Interpretive Center
I'd heard good things about the Interpretive Center at Oxley, but it was wonderful to see it in person! Of course, this was Joss's favorite part of our visit. Mainly because there was a plastic "tree house" you could crawl through. Now he wants me to build him a tree house, ha!
The walls are covered in beautiful murals, complete with interactive elements
He also loved pressing buttons to listen to different woodpecker calls. My favorite part was the smell. Because there is a large stone fireplace in the center of the Center, the whole place smelled like a cozy cabin!
This section was about beekeeping and nature in your backyard
We should have stopped by the front desk before heading out because they had trail maps, an animal print identification sheet–and even sturdy walking sticks available for rent! So by all means, stop by and talk to the volunteer before heading to the trails if you've never been to Oxley before (and even if you have).
The Trails
Although we missed out on the printed trail map, I did take a photo of the large map in the parking lot. Not only did this help us keep track of where we were, it also listed the distance for each trail, so we could pick and choose which trail we wanted to try based on its length. There are multiple trails, many of which run into each other. Altogether, I think we ended up on four or five different trails.
They were all well marked, and none of the individual trails are too long. So I felt confident that even if we got a little turned around, we wouldn't end up lost and accidentally walking for miles. Additionally, we passed several wooden benches and even a picnic shelter (complete with restrooms), so it was easy to sit down, snack and recharge when necessary.
Several of the trails were very muddy–I don't know if this is because of recent rain or ongoing trouble caused by the spring floods–so we did skip a couple trails or turn back when things got too puddly.
The trails take you through several different landscapes, from prairie to marsh to forest. There were multiple large lakes, home to turtles and waterfowl–absolutely gorgeous! If you want to experience the beauty of fall in Oklahoma, this is a good place to start.
Besides turtles and ducks, we also saw a sweet snake sunning itself on a log, and even a beaver sleeping in its dam! Thankfully, someone else alerted us to the beaver's presence, or I wouldn't have thought to look for it. It was so exciting to peer through the sticks and see brown fur, and then later, a little face!
Look at that little face! It needs a boop!
Oxley Events and Hours
As Margaritte mentioned in her blog post, Oxley Nature Center hosts several events each month, listed here. I would especially be interested in attending their Annual New Year's Eve Celebration, which features a New Year's nature walk followed by hot chocolate, apple cider and campfire stories.
Oxley Nature Center is open from 8 a.m.-5 p.m., although if you park outside the main gate, which closes at 5 p.m., the website says you are welcome to hike till 9 p.m. The Interpretive Center is open from 10 a.m.-4:30 p.m. (12-4:30 p.m. on Sundays). Again, admission is free. Cost for upcoming Oxley events is $8 or under, so those are pretty affordable, too.
Visit Oxley's website at oxleynaturecenter.org, or find them on Facebook or Instagram.
---