Sofia Noshay-Beginning the Year with Positive Intentions
Noshay is the founder of Jujuu subscription gift boxes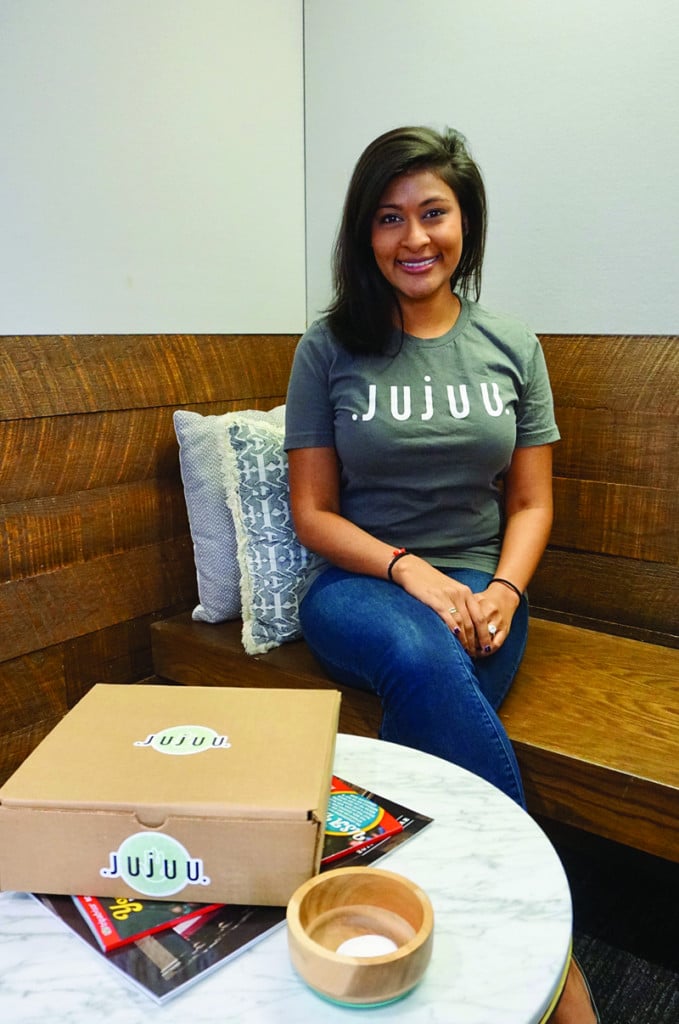 If one of your goals for the New Year relates to being more intentional about the products you purchase and consume, one way to achieve this is through a new endeavor from a company right here in Tulsa. Sofia Noshay, founder of Jujuu, curates boxes of goodies that support, sustain and sync with the goal of social responsibility.
Jujuu grew out of Noshay's desire to enable a group of Tulsa Public School children to see the movie Hidden Figures. In order to do this, she organized a fundraiser through a crowd-sourcing site and was met with great success. After seeing the positive responses from the community and the children who benefitted from the experience, she decided to keep pouring positivity into the city she loves best: Tulsa.
TK: What sparked your interest in starting Jujuu?
Noshay: I started Jujuu about one year ago, simply to bring more positivity into the world after a particularly polarizing time in our country's history. The fleeting thought of a day at the movies – with tremendous community support – turned into 4,000 Tulsa kids getting to see Hidden Figures and four students winning prizes for impressive essays on hidden heroes right here in Oklahoma. We awarded a science museum membership, a trip to NASA Space Camp and two college scholarships. Let's just say after the ugly (happy!) crying subsided, I was hooked in wanting to continue making an impact.
TK: How was the name of your company chosen?
Noshay: "Jujuu" actually tells a lot about my own personal story. I am the product of Indian ("Gujarati"or "Guju") immigrants and married to the most incredible Jewish guy. Good karma or "juju" comes about through doing good for and with others, and that's why Jujuu exists!
TK: What is the mission of Jujuu?
Noshay: To empower intentional living. Meaningful consumerism, community connectedness, and giving back sound overwhelming but are surprisingly attainable with small yet purposeful pivots. We offer Jujuu Box, carefully curated subscription and gift boxes that give people an easy way to jump-start living a life of intention and lasting joy. The fun part is we get to highlight many local makers and businesses that create these "goods that do good."
TK: Can you tell me about your Jujuu Team?
Noshay: While I operate Jujuu on my own, it is not without significant love and support from the Tulsa community. The Mine (Tulsa-based social innovation fellowship) and BetaBlox (local incubator/accelerator) both provide significant research and business acumen to ensure our lasting success. And, of course, we wouldn't be doing this without the countless local makers who pour their hearts into their craft.
TK: Jujuu is now taking a new direction. What do you attribute this to?
Noshay: I suppose intentionality is something I have always been drawn to, even when I didn't have a term to define it. Much like my personal journey, I took, and will continue to take, small, purposeful pivots with Jujuu to most effectively empower others and make a difference. Our new direction – subscription and gift boxes – is a fun way for our community to jump right in and see the lasting impact intentionality can have in their own lives.
TK: You describe Jujuu as a social enterprise. Can you explain?
Noshay: When people think about consumer goods that give back, brands like TOMS and Warby Parker stand out. These are actually social enterprises – companies that apply business strategies to maximize their social impact. And while big brands may come quicker to mind, a plethora of similarly-minded, yet smaller-scale goods exist, including right here in Tulsa. My goal is to put Tulsa on the map with these goods. Jujuu will be marketed across the U.S., and hopefully, will bring well-deserved notoriety and economic prosperity to our community because of it.
TK: What types of products do you foresee being included in the boxes?
Noshay: All sorts of goodies! Each box's contents will share a theme, like intentional home living or eating well. So, for example, our foodie box might highlight Glacier Confection, a chocolate shop with a cult following (present company included). Why? Other than being a local business creating only with the highest-quality ingredients, Glacier's core mission is to raise support and funds for the families of fallen soldiers. The high quality of all goods Jujuu Box will feature is a given, but the story behind them is what we believe really sets them apart.
TK: Who benefits from the sale of these boxes?
Noshay: Jujuu offers a unique model in that everyone wins. The makers of socially responsible goods are supported in their craft both in concept and financially. Jujuu's consumers experience items they may not have otherwise and further their own missions to live with intention. And finally, Jujuu's growth will allow us to create local jobs, support local businesses, and invest right back into the local community and causes we love.
TK: Wrap-up:
Noshay: We've seen a lot of wins with Jujuu over the last year, but I am most proud that Jujuu simply exists. It's easy for anyone to daydream about an idea, a passion, a pipedream, but as I have and continue to learn, it's completely different to have the courage to publicly announce and promote that passion to the world. Some might say it's crazy. I say it's my intention to leave Tulsa a better place for our city's children, being realized.
Nancy A. Moore is a Public Relations Coordinator at Montreau, Adjunct Professor at Tulsa Community College, and has been writing for TulsaKids for almost 20 years.