Sleeping Under the Stars:
Tips for getting outside and staying outside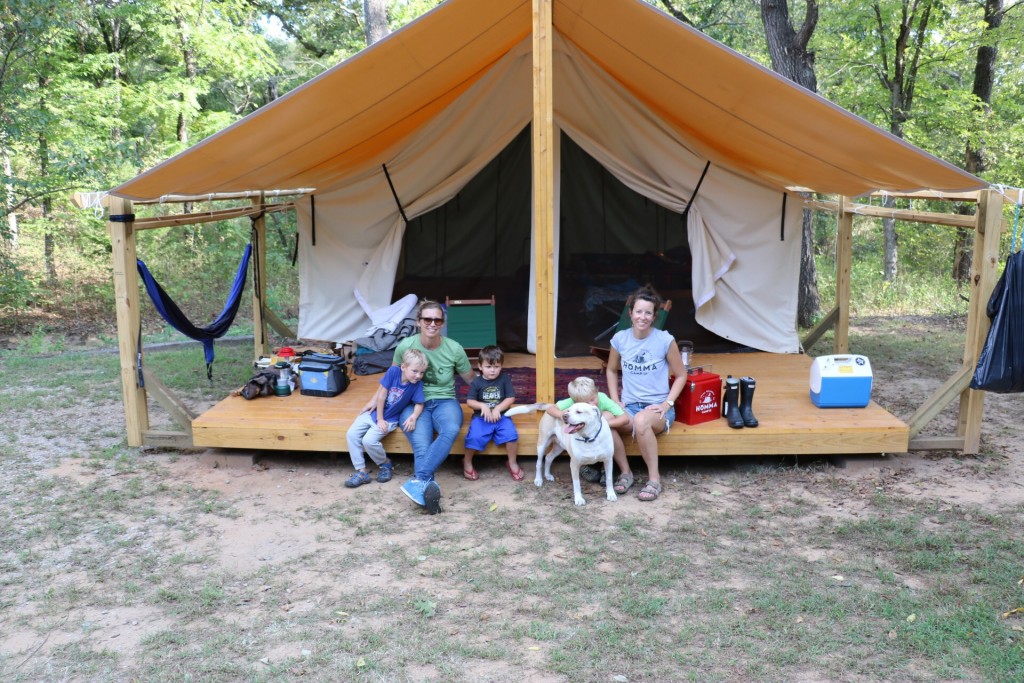 This article was written for TulsaKids' 2021 Summer Family Fun Guide.
Camping may sound like a simple pleasure, but a good deal of planning is required to ensure all campers are happy campers. We've spent a lot of time camping with our family of six and a lot of time setting up camps for other families. Here are some of our tips for sleeping under the stars successfully.
Location Location Location
Your campsite will be your home for the weekend. Consider what's important for your camping experience: shade, sun, woods, water, playgrounds, hiking trails, boat rentals, flushing toilets and hot showers? Visit travelok.com/state-parks to browse campgrounds and, when you find one you like, be sure to check the amenities and campsite map to find the perfect spot!
Gear Check
Having your gear organized before you go is crucial. Pull your tent out and make sure there are no tears or mildew damage. Count your stakes and poles. Use transparent tubs and sacks to pack gear so you can see what's what. Think about what you'll need first (like your tent) and load it last so it's easily accessible when you arrive at your campsite. Start organized and stay organized so you don't have to spend half the morning looking for a spatula while hangry campers look on!
Food Over the Fire
If you want to eat well while you're outside, you'll need to prep at home. Marinate your meats, chop your vegetables, make breakfast burritos and wrap them in foil to reheat over the fire, bake and take some brownies or muffins. Campfire cooking is romantic, but the weather does not always allow it. Pack some sandwiches and other options that don't require cooking.
Most campsites will have a fire pit with a grill and a charcoal grill. Be sure to bring lighters, firestarters, and skewers, but buy your firewood as close to your campground as possible. Moving firewood can introduce pests.
And, whatever you do, don't forget the holy trinity: marshmallows, chocolate bars, and graham crackers!
Creature Comforts
Keep things simple or go full glamp? Camping is a gear-intensive activity, so there's something to be said for just tossing your sleeping bags on the ground. If sleeping on the ground is not for you, there are plenty of options like sleeping mats, cots, and air mattresses. We use lightweight, tri-fold mattresses that come with a carrying case and wood bed frames that fold in half (but our tents are big).
If you want to be comfortable, it's important to consider the season. Temperatures are more mild in spring and fall, but summer and winter camping can be enjoyable with the right gear and planning. At the height of summer, camp near water so you can cool off during the day and choose a campsite with electricity so you can run a fan at night. In the winter, camp near hiking trails so you can warm up with physical activity and use heated blankets at night.
Doing Nothing
When we set up camp for clients, we're often asked: What is there to do? We're glad to point people towards recreational activities like fishing and hiking. But we always say the real pleasure in camping is stopping to sit around the campfire with people you love and do nothing.
Jessica Brent is a writer and co-owner of Homma Camp Co., a local company that provides luxury outdoor experiences from fully outfitted camp outs to backyard slumber parties to picnics in the park. When she gets outside, Jessica likes to hike where the grass is tall and the flowers are wild.
---