SkasdiCon:
The Indigenous Comic Convention that you will definitely geek out over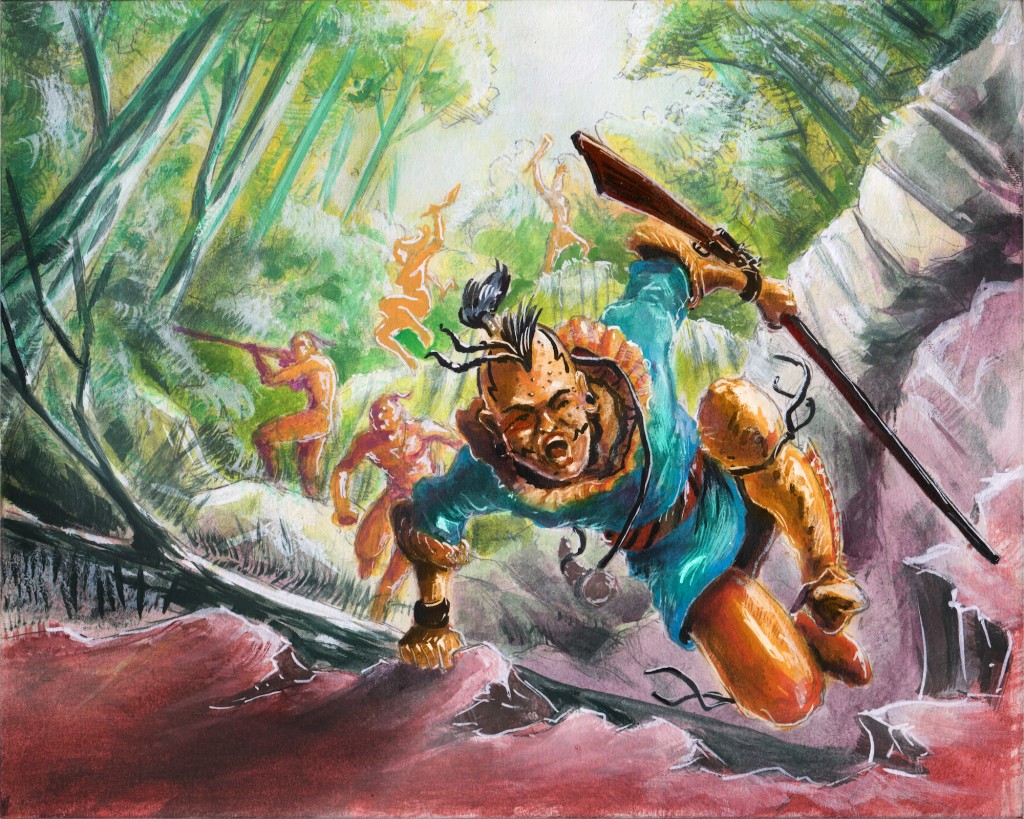 Geek culture is about bonding over the things we love as fans and creating and interpreting those stories as individuals. This has always been one of the things I find so beautiful about the con and cosplay community. It's about falling in love with a story and having a conversation with, engaging with other fans, making the story or world your own, and sometimes, creating something new that's inspired by what you love about the original story – or even what you don't.
There's just something so wholesome and brilliant about the energy and talent that goes into creating new art or painstakingly building a cosplay, whether it's a perfect replica of the original or a fresh new take like the Totoro Sailor Moon, a Starfleet uniform with a hijab, or an Indigenous cosplayer like Casey of @hot.glue.burns creating an awesome Native take on Captain America.
Anyone who has been to Tokyo, OK knows that Oklahoma has some of the most talented artists, cosplayers, and creators this side of the Mississippi. And so many of those artists are Indigenous folks. As the mom of two Cherokee kids who love manga, anime, pop culture, cosplay, and fantasy, I was so excited to learn that the Cherokee Nation is hosting SkasdiCon, the Cherokee Nation's their first-ever Indigenous comic convention on November 5th at NSU.
I spoke with Callie Chunestudy, one of the lead coordinators of the Cherokee Nation cultural tourism and events team, to find out what we have to look forward to – and it's a lot.
November is Native American Heritage Month, a national celebration of Indigenous heritage that was first celebrated in 1990. SkasdiCon will be the first event of Native American Heritage Month for Northeastern State University, kicking off a whole series of events honoring Native culture.
As Callie reminded me, one of the great things about comic con culture is how energized the geek community is, emphasizing, "The culture is very here and now, as is Cherokee culture, and it is intertwined with our pop culture."
And because fan culture is so unifying, it's a space where everyone can come together whether they're a Native geek or just a geek who loves sharing that space with geeks of all backgrounds and cultures. As we say in Trekkie culture, "IDIC – infinite diversity in infinite combinations."
SkasdiCon is all about inclusiveness – "Creating a space and time for people to be together," as Callie put it. "The main goal of the event is to create an awareness about the Indigenous nerd culture" – with the word nerd used in the most endearing way. Right there with you, Callie.
There's often so much Native erasure in mainstream media that Indigenous geeks often just aren't represented at all. Callie observed that there are "Indigenous comic books nerds, Indigenous fan art from every genre of sci-fi and fantasy. We want our youth to come and our youth to feel included." She also noted that the event hopes to inspire young people to keep creating and keep striving for those goals.
Skasdi ᏍᎦᏍᏗ Vibes
Skasdi ᏍᎦᏍᏗ, pronounced "s-ka-s-di," is Cherokee slang. According to the SkasdiCon website, it "represents pride, impressiveness, awesomeness, fierceness or feistiness, which can all describe many comic book and video game characters represented by artists and cosplayers that participate at comic cons."
Vendors, Panels, and More
One of the best things about comic cons is the opportunity to support local and regional artists and get exposed to new talent. With 30 vendors at SkasdiCon, that's a lot of Indigenous talent to support. If you have geeks in your life that you need to shop for ahead of the holidays, supporting these vendors is a great way to support Native creators and get awesome gifts that are not mass-produced gifts from the Big Internet Store. There will even be a couple of Native tabletop game creators.
Like all good fan cons, SkasdiCon will include some pretty fantastic panels. One panel will feature Indigenous makers who will discuss their experience creating a modern animation in the Cherokee language. Seasoned Indigenous cosplayers will also participate in the panels.
Indigenous comic artists Rob Boney Jr. and Lee Francis IV will be present, and Nathalie Standingcloud of "Reservation Dogs" will also be there.
There will also be a screening of the first episode of "Inage'i" ("In The Woods"), a Cherokee language animation for children. The screening will be going on all day long, so be sure to check it out.
Indigenous Cosplayers' Competition
No con would be complete without a cosplay competition, and this one is a chance for Native cosplayers to share their incredible talent. If you're Indigenous and you want to compete, be sure to bring your citizenship card as it's needed to enter.
Here are a few things to know:
Come dressed up as your favorite pop culture character or Indigenous story

Register downstairs by 1 p.m.

The competition is at 4 p.m.

You can fill out the form ahead of time online or at the event.
Getting to SkasdiCon
SkasdiCon is family-friendly and free to the public. "It's gonna be the coolest day that Tahlequah has ever seen," Callie told me.
Although SkasdiCon is only one day this year, with all of the excitement building, it could easily become bigger and expand to more days, so definitely go check it out and keep the hype alive.
When: November 5, 10 a.m. – 5 p.m.
Where: Northeastern State University
University Center Ballroom
612 N. Grand Ave
Tahlequah, OK 74464
Cost: Free
---