Singing Along with 'The Sound of Music'
'The Sound of Music' will be playing at the Tulsa PAC through April 8.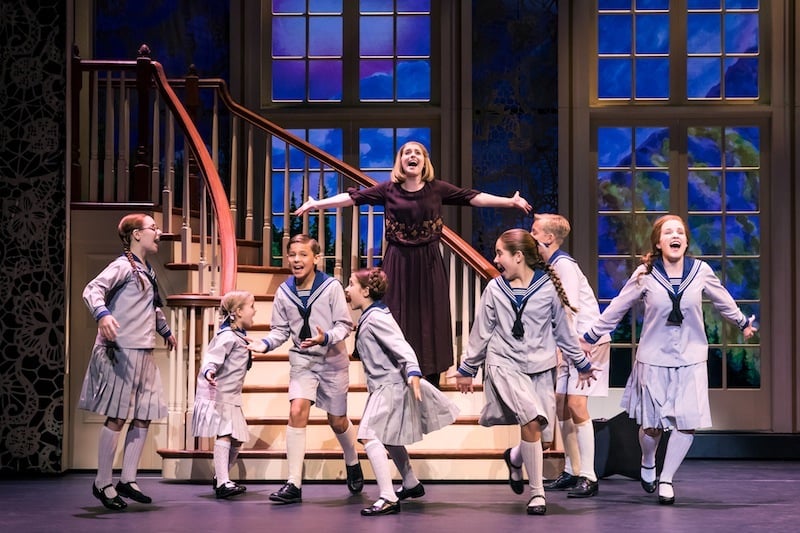 Last night I had the opportunity to attend opening night of "The Sound of Music" at the Tulsa PAC! One of the perks of working for a magazine is that we often get media tickets to shows, but between needing to pay a babysitter, nearly mortal tonsillectomies (it's a long story), etc., the only show I've been able to attend since starting at TulsaKids was "Rudolph the Red-Nosed Reindeer," which was fun and also special because it was Joss's first live theater experience(!), but I've been eager to see a Broadway production. So When offered tickets to see "The Sound of Music" Broadway tour, courtesy of Celebrity Attractions, I knew I couldn't pass this one up.
Of course, "The Sound of Music" is one of the most beloved musicals of all time, and no doubt many of you grew up watching the film and singing along. "The Sound of Music" is dear to me personally because in fourth grade, I got to play the role of Marta in our school's production (my primary line being "And I want a pink parasol!").
Going back further, my mom's family, which is composed of ten children, used to perform "Sound of Music" numbers around town as The Scheer Delights. They had costumes and everything! My grandfather passed away a couple of years ago, but I know the memory of him singing "Edelweiss" is a favorite of his children.
And of course, this version of "The Sound of Music" did not disappoint! There were many young children in the audience, and I kept thinking how inspiring it must be for them to see kids no older than themselves performing on stage. After their introductory scene in which they sing "Do-re-mi," the friend I went with turned to me and said, "2018 has just been made!"
I hadn't seen "The Sound of Music" in well over a decade, so it was fun to watch it as an adult (and a parent) for the first time. The scenes where Maria confronts Captain Von Trapp about his neglect of his children, who just want his love and attention and to be seen as individuals, and where the Reverend Mother tells Maria (sternly but lovingly) that the abbey is not a place for people to hide from their problems–that she must go back and face them instead, however difficult that may be–were particularly poignant.
And I don't think I'd ever thought about the words to "Climb Every Mountain" before. "Climb every mountain/ford every stream/follow every rainbow/till you find your dream./A dream that will need/all the love you can give/every day of your life/for as long as you live." Finding your dream, let alone living it, takes a lot of work! For Maria, of course, that meant fleeing the mountains of Austria with her new family to escape the Nazis.
The production did a great job of driving home the reality and terror of the Nazi threat. (**production spoiler alert**) When the Von Trapps sing at the concert hall toward the final scenes, four floor-to-ceiling Nazi flags unfurl behind them, which is absolutely unsettling.
Two final thoughts: Did you know that you can purchase wine in a reusable plastic tumbler (with a secure lid) that can be taken into the theater? I had never experienced this amazing-ness before, but sipping wine through the second half was fantastic.
Lastly, (again, this is a production spoiler), it is apparently the week of the 75th anniversary of the Broadway opening of Rogers & Hammerstein's "Oklahoma!" After the standing ovation had died down, the actor playing Captain Von Trapp invited everyone to sing "Oklahoma!" along with the cast and pit orchestra. It's no secret that Oklahoma comes in "last" according to a lot of national measurements, so it was not only incredibly thoughtful of the cast to prepare this extra piece for us, but it was really inspiring to get to indulge in some state pride for a moment and to remember that even though Oklahoma has a lot of difficulties right now, we are not without promise.
---
"The Sound of Music" will be playing at the PAC April 4-5 at 7:30 p.m., April 6 at 8 p.m., April 7 at 2 and 8 p.m. and April 8 at 2 and 7 p.m.
Find more information or purchase tickets here.