Share Valentine's Love with Recipes for the Whole Family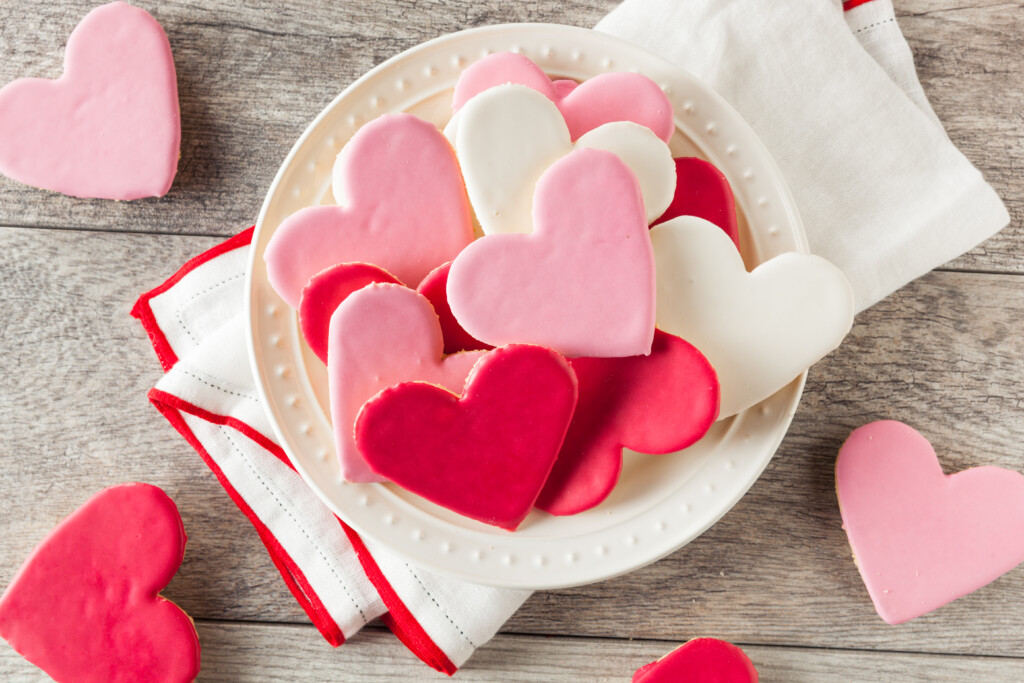 Most parents I know will be spending Valentine's Day at home.
There was a time when many of us made reservations, put on high heels, ate penne l'arrabiatta and drank red wine over candlelit tables.
For many of us, it's more likely we'll be in leggings and T-shirts, watching Bluey over plates of mac and cheese and grape juice.
After all, Valentine's Day falls on a Tuesday – smack dab into the work week and not an easy night to find a babysitter.
That doesn't mean you can't still celebrate this day of love. If possible, put the kids to bed a little early and enjoy a dinner for two at home.
Whether or not celebrating romantic love will be part of your Valentine's Day, we can all celebrate familial love. We do this every day, when we read Little Blue Truck for the twelfth time in a week, when we stumble into the kitchen to warm a bottle at 2 a.m., when we scramble to find a Moana Band-Aid for a cut knee, when we stay up late watching Netflix with our teens and when we stand in the doorway at bedtime, saying silent prayers, wishing sweet dreams and loving our kids until our hearts ache.
---
Treat your Valentines to a sweet breakfast. You don't need fresh blueberries for this recipe.
Blueberry Jam Muffins
1 cup all-purpose flour
¼ cup sugar
¾ teaspoon baking powder
1/8 teaspoon baking soda
1/8 teaspoon salt
½ cup sour cream
¼ cup butter, melted
1 banana, mashed
1 egg
½ teaspoon vanilla extract
1 to 2 tablespoons milk
½ cup blueberry jam
Mix dry ingredients together in a bowl. Stir in sour cream, butter, banana, egg, vanilla and milk. Add a little milk if batter seems too thick.
Spoon batter into 10 to 12 lined muffin cups, filling about half full. Drop one teaspoon jam into the middle of each muffin cup.
Bake at 400 degrees for 12 to 15 minutes.
---
A red-themed dinner is fun for the family on Valentine's Day. Make spaghetti and meatballs or order a pepperoni pizza! We also like this tomato soup. You can make it over the weekend, and it will be ready for Valentine's Day. It's especially good with grilled cheese sandwiches.
Kids' Favorite Tomato Soup
¼ cup olive oil
½ onion, chopped
1 tablespoon minced garlic
2 (14-ounce) cans whole peeled Italian tomatoes with juice
2 ½ cups chicken broth
3 tablespoons tomato paste
1/8 teaspoon ground nutmeg
1 cup whole milk
Salt and pepper
In a large stockpot, heat the oil over medium heat. Sauté onion, about 5 minutes. Add the garlic, and sauté another minute.
Add the tomatoes, broth, tomato paste and nutmeg. Bring to a boil, reduce heat and let simmer uncovered, about 30 minutes.
Use an immersion blender to blend, or work in batches to place soup in blender, pureeing a little at a time. Pour soup back into pot and add milk. Bring to a simmer over low heat. Season with salt and pepper.
---
These buttery cookies are fun to make with kids.
Valentine's Day Sugar Cookies
2 sticks unsalted butter, room temperature
1 cup sugar
1 ½ tablespoons heavy cream
2 egg yolks
1 ½ teaspoons vanilla extract
¼ teaspoon almond extract
2 ¼ cups flour
1/8 teaspoon baking powder
¼ teaspoon salt
Preheat oven to 350 degrees. In a large bowl, beat together butter and sugar until fluffy. Add the cream, egg yolks, vanilla and almond extract, mixing thoroughly. Add the flour, baking powder and salt.
Shape the dough into a flat disk, wrap in parchment and leave in refrigerator for 30 minutes. Lightly flour a flat surface, and roll out the dough to 1/8-inch thickness. Cut the dough into heart shapes.
Place cookies 1 inch apart on a cookie sheet. Bake 8 to 11 minutes or until the edges are golden. Let cool completely, then spread with icing.
CLICK HERE for Family-Friendly Valentine's Events
Natalie Mikles is a mom of three – 12-year-old twin girls and an 11-year-old boy. She writes about food, sharing recipes for busy families and picky eaters. She has been recognized for her food columns as well as features on families and issues affecting local children. She loves pizza and movie nights with her family.
---