"See It First" at Circle Cinema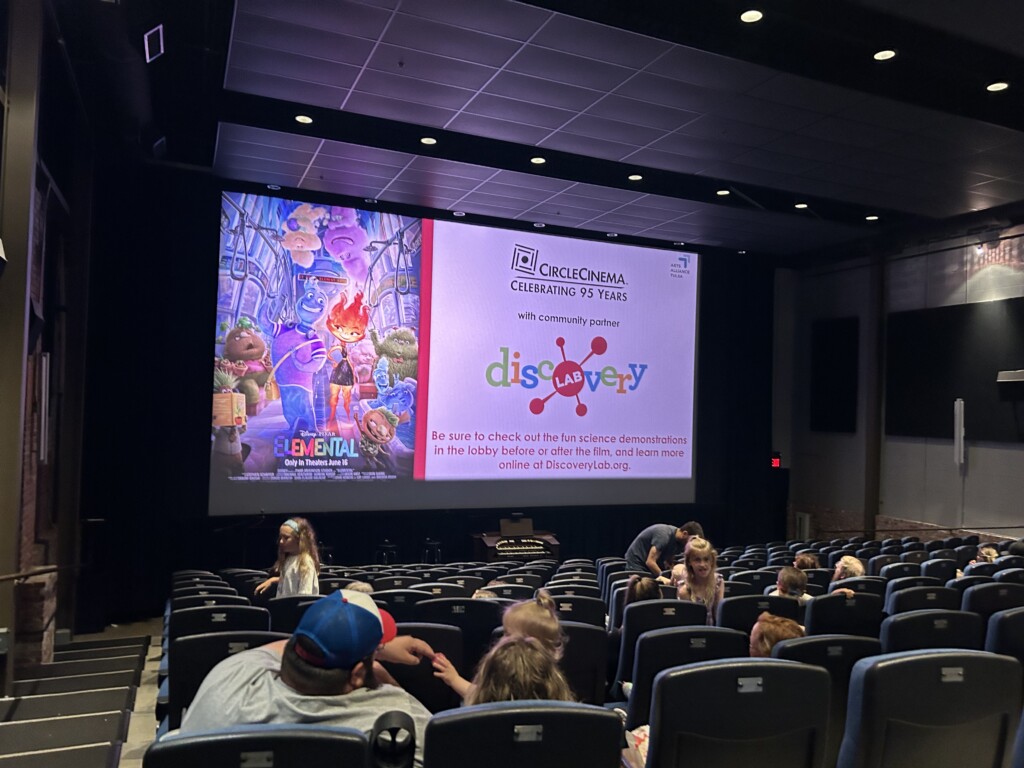 Circle Cinema has been hosting some fun "See It First" events for kids movies this summer. These give audiences a chance to see a feature film before its official release date. Even better, Circle has been partnering with local organizations to provide fun activities before or after the show! (They also offer "See It First" events for other films, more geared toward an older audience, but I don't know if those have special activities.)
A couple weeks ago, we went to "See It First" for the new "Little Mermaid" movie. Oklahoma Aquarium was there with goodie bags – and a real mermaid, available for photos. We had a great time (and the new movie is beautiful!).
Kid's Concession Deal
I was pleasantly surprised to discover that they also have a new kids concession box. You can get popcorn, a bag of cookies and a drink for just $5! Going to the movies can be so pricey. But with adult tickets at $11, and child tickets at just $7 – plus reasonably priced concessions – Circle Cinema makes it a lot easier. Plus, there are member discounts, and student, teacher, senior and military discounts. Thank you, Circle!
See It First: "Elemental"
Last night, we went to "See It First" for "Elemental," the latest Pixar film. Discovery Lab was doing science experiments in the lobby – a huge hit! And local artist Lauren Lunsford (Rainbow Girl) provided some "Elemental"-themed face paint!
As you might expect, being a Pixar movie, "Elemental" had me in tears more than once. The city they live in is gorgeous, and it's fun to see how the different Elements move through the world. What had me crying was the father-daughter relationship between the main character and her aging dad.
If you missed the "See It First" event, don't worry – it's now playing at Circle Cinema officially.
Other Kid's Shows at Circle
In addition to "Elemental" and "The Little Mermaid," the new "Spider-Man: Across the Spider-Verse" is also playing. I'm sad we missed the "See It First" Spider-Man event, but I do hope to take Joss to see it soon.
Starting next Thursday, June 22, Circle Cinema is hosting its Free Summer Movie series in conjunction with Tulsa City-County Library's Summer Reading Program. The first film up is "Puss In Boots: The Last Wish." Joss is out of camp next week, so we may have to swing by. Show up early, as seats are limited. But everyone who attends gets their choice of a free popcorn, drink or candy. Learn more at tulsakids.com/free-family-movie-series-at-circle-cinema-featured-during-summer-reading-program/
I don't see any kid-specific "See It First" events coming up on their Facebook page. There is a "See It First" for the new Indiana Jones movie, June 29. That film is rated PG-13. Might be fun to go, though….Should probably introduce Joss to the classic Indiana Jones movies first!
But hopefully they'll do more of these events for kids in the future, because we've really enjoyed them!
Family Membership
In late 2022, Circle launched a new Family Membership for $150. It covers two adults and up to three kids under 18. Universal membership benefits include a free popcorn with each member ticket, member pricing on tickets, concession specials, merch discounts and more.
I now have a Single Membership ($50), since I didn't need the full Family Membership. And I just realized that I missed the opportunity to get their 35-and-under membership for just $35. I'm 36! Ah well. circlecinema.org/memberships
---