Pack Up the RV and Go!
Sponsored by Dave's Claremore RV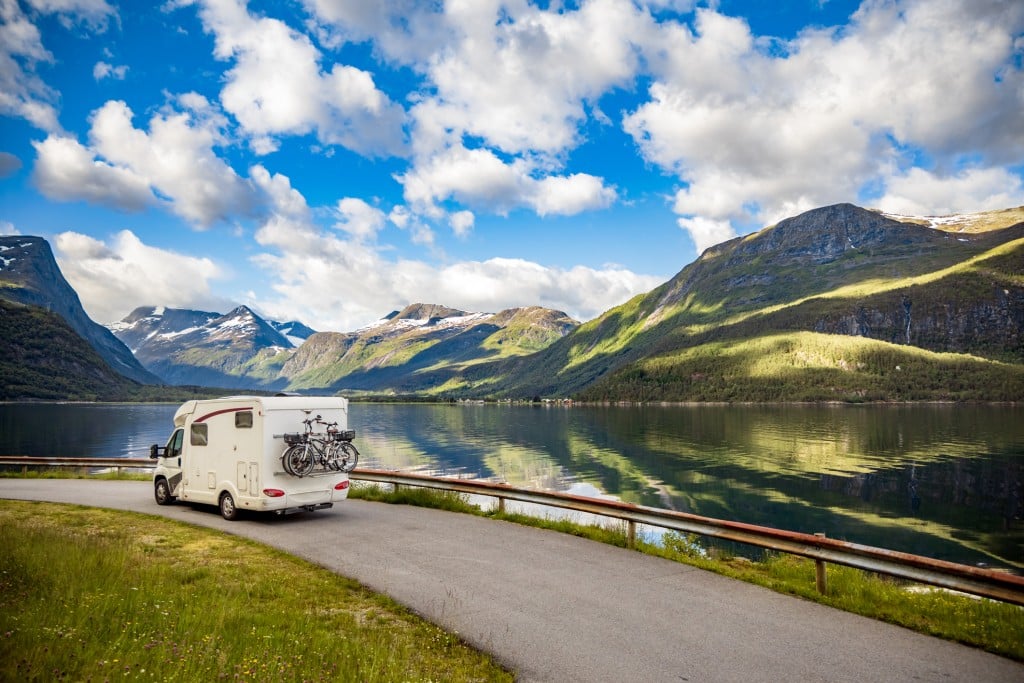 Even if you're a seasoned camper, packing up the RV for the first time is a whole new experience. Not only will you need the traditional camping necessities – s'mores ingredients, bug spray, etc., you'll need to make sure your RV is equipped to handle any situation. Below, RV-camping expert and mother-of-two Beth Hopkins shares her top RV packing tips:
Make a medicine cabinet kit.
Hopkins uses a shoe-box-sized plastic tub to pack health and hygiene essentials. This includes band-aids, hydrocortisone cream, cold and pain medicine, and any other medication your family requires.
Also in this box, she packs things like mouthwash, hair ties and travel-sized items. The bottom line, "You just never know what you will need, and it is best to be prepared."
Pack for indoor and outdoor activities.
When traveling with kids, you want to have a nice variety of activities. For outdoors, consider packing items like a soccer ball or hammock. "Never underestimate a simple cheap bucket," says Hopkins.
In the event of rain or just needing to spend extra time indoors, pack items such as books, games, coloring books and colored pencils. Hopkins cautions against using crayons, as they can melt in warm temperatures.
Bring a comfort item.
If your kids have a favorite blanket or lovey, don't leave it behind! Because you'll be in a new environment, "something familiar and soothing is key in helping to settle and get a good night's sleep," says Hopkins.
Prep food and snacks ahead-of-time.
Although you may be trying to avoid overpacking, Hopkins says this doesn't apply to food. "You'll be SHOCKED how hungry your kids will be when camping," she says.
Bring plenty of snacks and do as much meal prep as possible before leaving. This includes pre-cutting veggies and meat, or even pre-making things like chili so all you have to do is re-heat it once you're there.
Use the rule of 2s.
Bring backups of all clothing items. Hopkins always makes sure to have a backup of everything, from underwear to hats and jackets. You never know when a kid will fall into a stream, get muddy, etc.
Layers are your friend, too. Temperatures can vary, so be prepared for anything.
When it comes to shoes, pack a variety. Flip-flops or crocs are nice when you just need something to slip on quickly, says Hopkins, but of course you'll want sturdier tennis shoes for hiking and other activities. She recommends keeping a shoe rack at the entrance of your RV so everything is ready to go when you need it.
Other RV Packing Tips
We found the following tips at togorv.com/rv-living/how-to-pack-your-rv:
Documents: Make sure you have documents like your vehicle registration, RV manual, etc., readily accessible.
Electronics: Bring any adapters and chargers you may need, as well as lighting (flashlights, lanterns, etc. along with backup batteries), and a generator if needed.
RV Toolbox: Amazon sells emergency roadside safety kits and RV toolbox kits, which can grant peace of mind in a roadside emergency.
Water: Don't feel like you need to fill your water tank to the brim. This will add a lot of extra weight. However, do bring the amount of water you'll need for the trip.
Bathroom Items: Pack chemicals for your black water tank, along with a sewer hose and attachments, and sanitation gloves. Have RV toilet paper and disposable cleaning wipes.
Hygiene and Health: Bring a first-aid kit, including common medicines like pain relievers, allergy medications, as well as a thermometer. Don't forget the sun screen and bug spray.
Clothing and Linens: Pack for any and all types of weather. Bring whatever bedding and towels you may need.
Camping Gear: Even though you have an RV, you may want to bring a tent, sleeping bags, etc.
Entertainment: Bring some indoor and outdoor entertainment items, such as a hammock, squirt guns, camping chairs, etc.
Kitchen Essentials: Plan for both indoor and outdoor cooking, as well as your clean-up and storage.
Packing for Kids: Keep kid's items easily accessible. For example, store things in transparent containers so they can find what they need.
---