Rising to the Middle School Challenge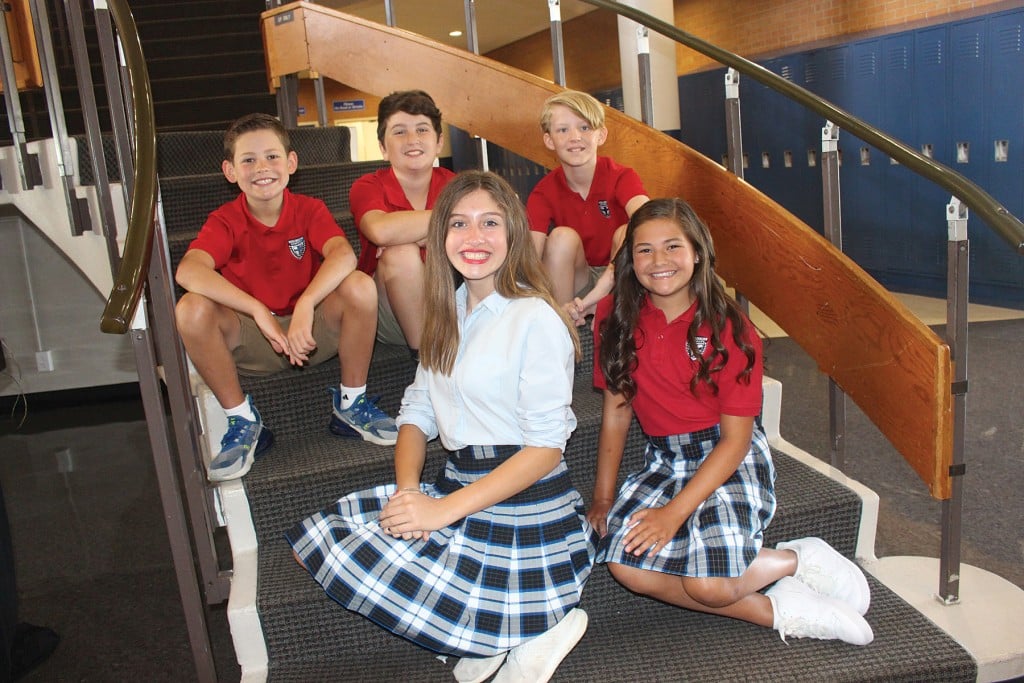 "People laugh when I tell them I teach 13- and 14-year-olds," Kristin Pebsworth says. "They're like, 'ugh.' But I love them. I love that age."
While many parents may think of middle school as a grim endurance test, Pebsworth, an eighth-grade English teacher at Tulsa's Metro Christian Academy and the mother of a recent middle school grad, celebrates the challenge.
"They're at an age where they're still impressionable, but they're really starting to make mature decisions. They have their own thoughts, and they have a lot of questions," she explains. "I love the wackiness of them. They're just so fun. I love getting to know them. I love being their cheerleader and really getting to know what matters to them – just taking a genuine interest in their lives."
If Pebsworth, who spends her days with this ever-evolving demographic, can find joy in the middle school experience, take heart! It's likely you can, too! As a teacher, the key is striking the right balance.
"I love to be silly with them and joke with them, but I think it's important to have the correct balance of being very approachable so they feel comfortable, but also an expectation of respect and how things need to be handled because I'm their teacher, their 'elder,' if you will. So high expectations coupled with a lot of grace, a lot of fun and a lot of laughter," she says.
It's a balance for parents, too, she notes.
"It's that passing of the baton between, 'I'm going to check and make sure everything is signed and everything is done' and 'this is all on you,'" Pebsworth comments.
Metro Middle and High School Principal Robby Davis believes expectations and communication are also important for a positive middle school experience.
"One of the things we understand about students is that when they walk through the doors, they don't just have academic needs, but they're a whole person," he says. "So we're not only looking at their academic development, but also as a Christian school, spiritually, as well as emotionally and socially."
Incoming sixth graders participate in the "Prepared Patriot Transition" program to help smooth the adjustment. Under normal, pre-pandemic circumstances, students have the chance to meet most of their teachers before the first day of school. The school's smaller size helps, too. The average total sixth-grade class has only around 75 students.
"Because of our size, our teachers are able to develop relationships with students. Every sixth-grade teacher will pretty much have every sixth-grade student, so they're able to get to know the students and talk about how they can support those kids," he says.
In addition to a middle school counselor, who provides emotional support to students when needed, Metro also uses a system called "Tribes" where small groups of students meet weekly with a teacher.
"It's another connection point for our students," Davis explains. "We want every student to have a relationship with an adult in this building whom they can trust and go to. It might be their math teacher or a coach. For some, it's their Tribe Leader."
Davis encourages parents to help their kids develop relationships with trusted adults outside of school, too.
"I encourage every parent to make sure they're developing a support network for their child," he says. "As a child gets older, there are certain issues or topics that they might not feel comfortable talking to their parents about, and it's important for them to have an adult, like an aunt or uncle, or maybe a family friend or youth pastor, they can talk to."
Both Pebsworth and Davis stress the importance of communication.
"Take an interest in their lives," Pebsworth says. "Kids really want to know that you like them and that you enjoy being around them."
Davis wants parents to stay involved in their kids' lives, too.
"I talk to parents a lot about being intentional with their kids," he says. "If you ask your kid how was her day, and she answers, 'fine,' press a little bit more. Get to know your kid's friends. Try to develop a relationship with their parents. Those are the kinds of things that build a strong support network."
The transition to middle school is challenging for both parents and kids under the best of circumstances. The pandemic hasn't made this easier. Davis and Pebsworth both have some advice.
"As parents, we have to be mindful that our attitude about things is going to shape the way our kids perceive those things," he says. "There are a lot of difficult decisions being made by school leaders and business leaders right now. If we can do our best to keep a positive attitude about that, as opposed to critical, negative or undermining, I think that's best for our kids."
Regardless of what the fall holds, Davis also recommends creating routines and schedules, such as family dinner or movie nights, as a source of comfort and predictability for kids during uncertain times.
"There's never been a more applicable time for the whole, 'one day at a time," Pebsworth says. "We're going to do the best with what we have at this moment. We can't worry about what's going to happen. Appreciate what you have and do the best with what you're given. Flexibility is the word of the year."
A true English teacher, she laughs and adds a final thought, "There's going to be plot twist after plot twist after plot twist. We're going to have to go with it, whatever it is."
Julie Wenger Watson is a freelance writer who's worked in all aspects of music promotion. She's also Co-Director of "Live From Cain's," a public radio show pilot.
---