Return of the Sunday Family Dinner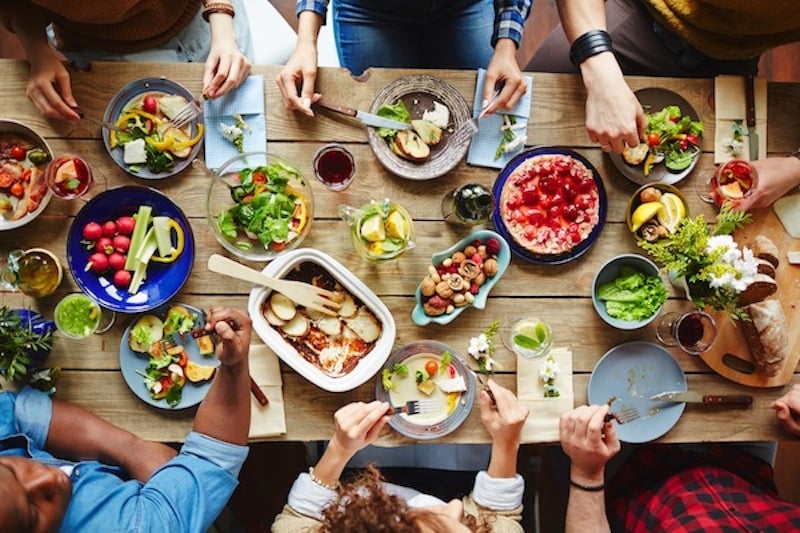 The words "Sunday family dinner" conjure up images of going to grandma's house on Sunday after church.  Walking into her house and being overwhelmed by the competing smells of roast beef and apple pie; sweet and savory combining to make you close your eyes and salivate in anticipation. But before you are allowed to indulge, you must set the table with grandmother's old, flowered dishes, jelly jar glasses and mismatched, somewhat tarnished forks, knives and spoons.  Every seat at the table is full; grandparents, parents, aunts, uncles and cousins crowded around the old farm table, elbows touching. After the prayer, conversation explodes: Grandpa retelling family stories for the 100th time, Aunt Rose giving a detailed account of her ongoing battles with gout, Uncle Gus expounding on the minister's sermons and Mom gossiping about any family member absent from dinner.
This may seem like a page from the past, but Sunday family dinners are making a comeback as people realize the need for ritual and family connection. The entire family may not be in the same town any longer but family can expand to include close friends, co-workers or someone you know is lonely and in need of a family meal and community.
A few years ago, our family began meeting again for Sunday dinners. Unlike the old picture where the woman fixes the entire meal, we all pitch in and have a potluck dinner every Sunday night. Bright red plates from Wal-Mart have replaced the Grandma's floral plates and are paired with the mish mash of silverware I've accumulated from two marriages.  The scars and water rings on the reclaimed wood table are partially covered with a vintage cloth I inherited from my Mom and if we're lucky, we have paper napkins but we've been known to resort to paper towels.
With three vegetarians, one vegan and 1 gluten intolerant person in the family, there is no roast beef in the oven creating savory aromas. The menu is always vegan and gluten free; lentil soup, vegetarian chili, and stir fried vegetables are some of our favorites. On busy days, we've even resorted to Chinese take-out but it's not the food we gather for, it's the sense of family and community. The tradition of sharing a meal and news of our lives keeps us connected.
Many times, our little family of 6 is expanded to include others, friends, in laws and co-workers. We love hearing about everyone's lives, sometimes playing the game Roses and Thorns, each person reporting on the worst thing and the best thing that happened that week. Our best conversations often get out of control, with us laughing loud and long.
Traditions and rituals are an important part of family.  If you don't have the history in your family, be the one to start Sunday night family dinner! It's a wonderful way to draw the weekend to a close and get ready for the upcoming week.  Family does not have to be defined biologically, you can create your own "family" with friends, neighbors or co-workers.  Many single parents find Sunday the loneliest time of the week so it might be a great time to gather other single parent families together for a meal and fellowship. Make Sunday family dinners a fun new tradition!